The Perfect Start To Your Perfect Day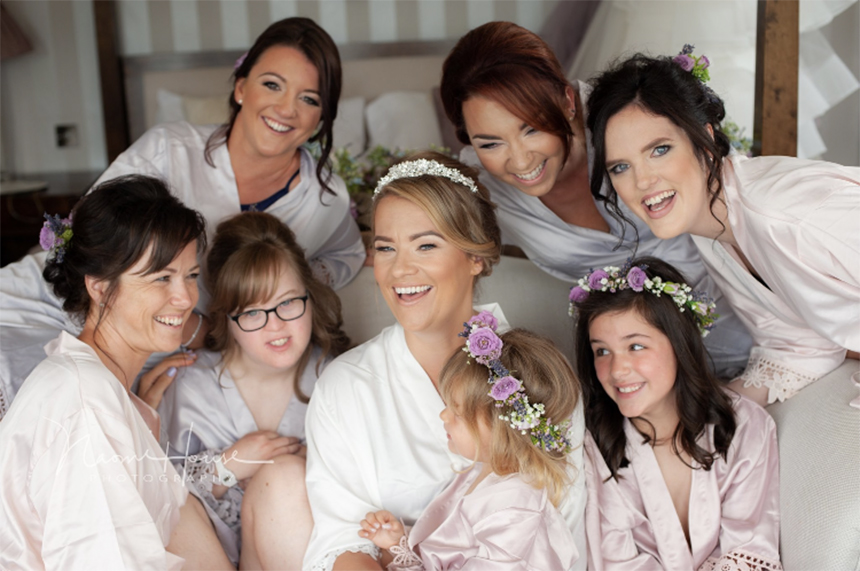 The Perfect Start To Your Perfect Day – Bridget Foster
The Lake District is the heart of weddings and I meet people from all over the world that come here.  People get married any day of the week nowadays and everyone wants to be different but everybody's wedding morning pretty much runs the same.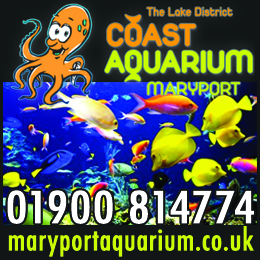 Who better to give you an insight into what is expected than your hairdresser?
Majority picture a wedding morning of mad panic of chaos but I don't know where people get this from.  If you have booked the right people, your morning will be scheduled perfectly.
Here are my top tips to prepare you and to ease your mind if you're anxious.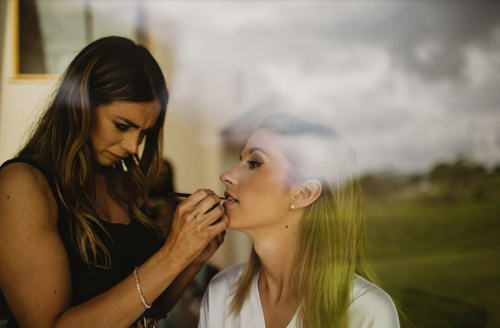 Booking your Artist
I always need the exact date of the wedding before getting into any conversations further. Girls book me 18 months in advance. I don't like taking any more advanced as life can throw surprises.  A year is about average.
Cost
"They bump the cost up when you mention wedding". This frustrates me. Yes, the cost is more but I am reserving your whole day up-to 18 months in advance. My alarm is set at a ridiculous hour to turn up ready to do my best, non-stop, all day. I have to clean my whole kit ready for the next job and stock products. My products are the best I can find.
We do so much behind the scenes. Plus it's our livelihood. We are self -employed. No holiday pay, no sick pay, no perks of a contracted job and still paying off my student loan, which is where I gain my artistry skills.
I would never put a price on a look but I do price my time, skills and knowledge.
Trials
I like to book trials within the same season. Winter, summer. Skin is similar and needs are similar. I change my techniques and products to suit the skin in front of me at that time. Colours will generally stay the same. Textures won't, these vary as much as your skin.
Within the information I give out, I have a section about coming for your trial. Its best to come alone or with a close friend.  For me, it's an opportunity for me to get to know you and discover what you want. I can't do this with people distracting you or giving an inexperienced opinion.
It's important to be very open with your artist about what you like and don't like. Sometimes clients hold back from telling us what they want as they think its un-achievable.  You can buy extra hair if you need too. Get a dewy look without it sliding off. It is nice to see your options.
Prep & set Up
Makeup – We need daylight. Position our clients facing the window with a table close enough for us to work off.
Hair – Good light with a mirror and a plug facing the client.
These can be positioned in different places if needed.  Regardless if you have booked a makeup and hair separate.
Try to allocate plenty of space if you want your bridal party with you throughout the morning.
Children are advised to stay clear of the "getting ready" stations.  Kits are packed accordingly and hair tongs are hot and dangerous.  Mam's are advised to have a special hour to themselves while they are having hair and makeup done.
Videographers and Photographers
We both have a job to do. I have built up some great friendships with photographers, so I know the effort and hard work they put in for your day.
Think about getting ready for photos. A few in your dressing gown with hair and make up complete are lovely.  Rollers and a bare face, well that's up to you.
It can be hard working with someone hovering behind you. I like the space. So I like to make sure you're at least 90% complete by the time they arrive. I also like to get out of the way so the photographer gets a chance to get some great photos of you.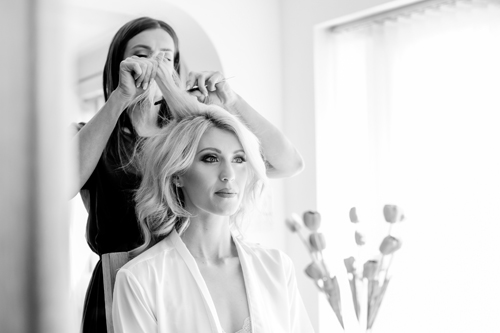 Food
I like coffee and water. That's all I need. A swig of champagne is all you need during your time with me.  The bridal party can eat while waiting but not during.  Time this accordingly.
Follow Bridget on Facebook or visit her at www.bridgetfoster.co.uk
The Perfect The Perfect The Perfect
Share It: