Discover whats on in Cumbria
Dan Snow comes to The Carnegie Theatre! -
March 8 @ 7:30 pm

-

9:30 pm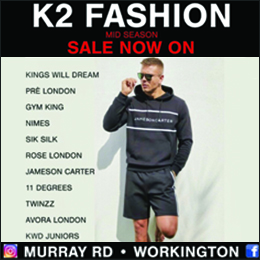 Dan Snow will be bringing his show to The Carnegie Theatre on Friday March 8.
Known by most as 'The History guy', Dan will be taking to the stage to talk about where his career has taken him and some of the things he has learned along the way. We spoke to Dan to find out what his show will entail.
Everyone is passionate about something and for Dan there is nothing that gets his gears going more than history. Having visited Cumbria on several occasions Dan is looking forward to coming back, he said: "I think Cumbria is truly one of the most glorious places on the planet. It is just beautiful and full of history. I will be talking about some of the local history on the night, which I am really looking forward to".
Dan has presented many TV documentaries and his career has covered a lot. After graduating from Oxford university with a double first degree in history, Dan's work in television began. He first appeared on our screens in 2002 with his father Peter Snow, who is also a historian.
Since then Dan has become a well known historical presenter and his career has taken him to many fascinating places, however it isn't travelling that Dan deems the highlight of his career, he explained: "The true highlight of my career has been attending war memorial services and meeting some of the people who fought in the world wars. It is a truly humbling experience to listen to their stories."
History has always been of interest to Dan. His family all share a passion for history and Dan spent much of his childhood exploring castles and grounds where famous battles took place: "There was no escaping it really. History was in everything we did, my father used to tell me all about different events from the past and I always found it fascinating."
The enthusiasm for learning about the past is something Dan thinks should be shared by everyone.
"Basically, if you want to understand anything that is happening on our planet at the moment, we have to look back. Our history has shaped the world we live in now."
Standard tickets cost £26 or you can have a ticket and a pre-show mealDDan Snow for £41. For more information visit www.carnegietheatre.co.uk
Want to share an event with us? Submit event