Sizzling Stone – Perfectly cooked every time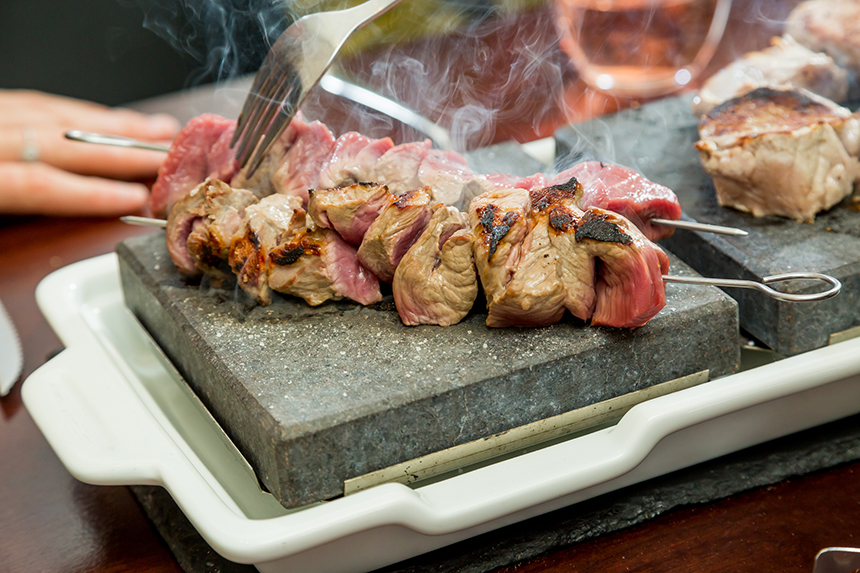 Keswick's steak restaurant, The Sizzling Stone, has gone from strength to strength over the past five years. Owners Alison and Jason Dodson are delighted because initially, they only wanted to test out a novel idea.
"There wasn't a steak restaurant in Keswick at the time," explained Jason.  "We'd owned and run Ravensworth House for ten years and 'Where can we get a good steak?' was the overwhelming question people kept asking us.  So we thought we'd trial the hot stones in our dining room and see what happened."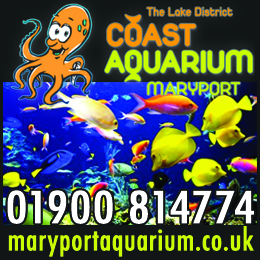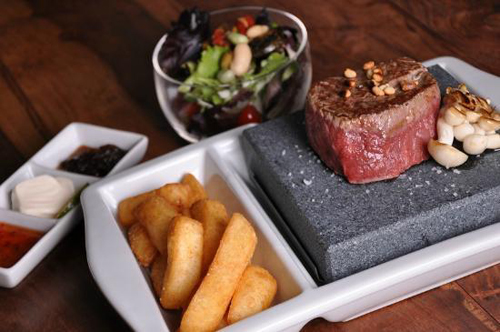 A recent expansion to The Sizzling Stone proves the couple was right to pay attention to their customer's needs as the restaurant was closed earlier this year for major renovations.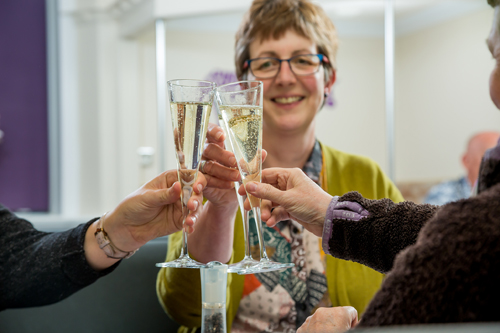 An extension was added to the back for a purpose-built commercial kitchen which has given The Sizzling Stone an extra dimension.  The flat roof of the new kitchen has created a small, sunny and wonderful roof terrace.  The added space has given the Sizzling Stone the opportunity to add a few extra seats but Jason insists the dining experience will still be something special:
"It might sound a bit corny but we are humbled when people choose to dine with us when there are so many places in Keswick.  I'd much rather our customers enjoyed the whole experience and recommend us to their friends and family.  Cooking on the hot stone is different anyway, it naturally leads to a more relaxed and slower-paced dining experience.
We pride ourselves that we don't rush anyone, I'm a big believer that people should be able to finish their meal and relax with a couple more drinks.  They can even retire to the roof terrace and enjoy the last of the evening sunshine."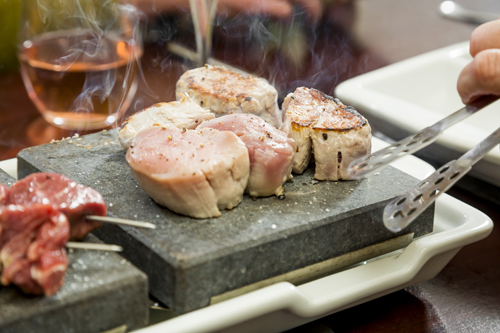 The team believe that their strong work ethic is the key to their success but Jason believes their determination to support local business and farmers also plays its part:
"We work closely with local farmers, we always have done and almost everything on the menu is locally reared and produced.  Our meat is sourced from three farms within the CA postcode, which means we can ensure quality because we know how the animals are kept, animal welfare is paramount to us.  Our steaks are then cut differently and dry-aged for extra flavour.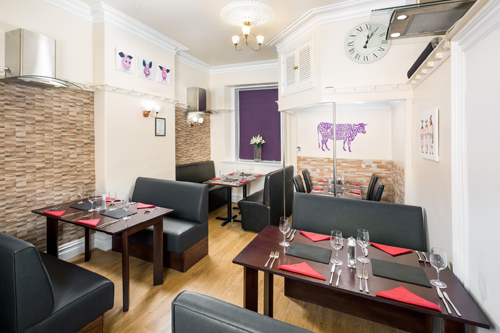 It's essential to keep the food miles down and we're lucky because our beer is supplied by the fantastic Keswick Brewery, which is practically in our backyard.
Unfortunately, our wines aren't local but we work with a prestigious supplier that sources directly from the grower, you won't find our wines anywhere else in Keswick.  We have a standard wine list to suit most budgets and a cellar list for those wishing to have something extra special.
We are undergoing Gin revolution at the moment and we've sourced some excellent local gins, we currently have well over 20 bottles and a good selection of spirits and rums."
The steaks are the star of the Sizzling Stone menu but fish and vegetarian alternatives such as Halloumi Kebabs are on offer too.
The revamped restaurant is a wonderful modern space to dine in and its town centre location makes it a very appealing option for a night out in Keswick, so why not spend the night?  There are three tastefully decorated rooms upstairs.  The guest house was always highly rated, and while Alison and Jason's focus has changed to the restaurant, the rooms have always remained to a high standard.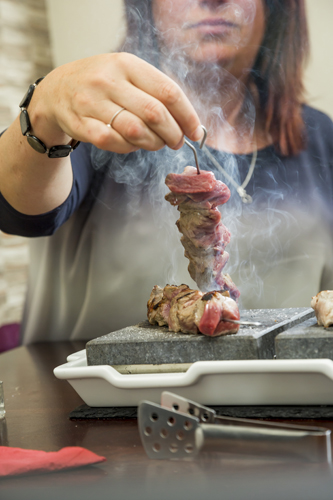 For a perfectly cooked meal, from the finest Cumbrian produce, you can't go past the Sizzling Stone.  Just mind the plates, they're very hot but you won't leave hungry!
Visit www.thesizzlingstone.co.uk or call them on 017687 44852

Share It: