Apricot Panna Cotta, Peppermint Jelly and Apricot sauce.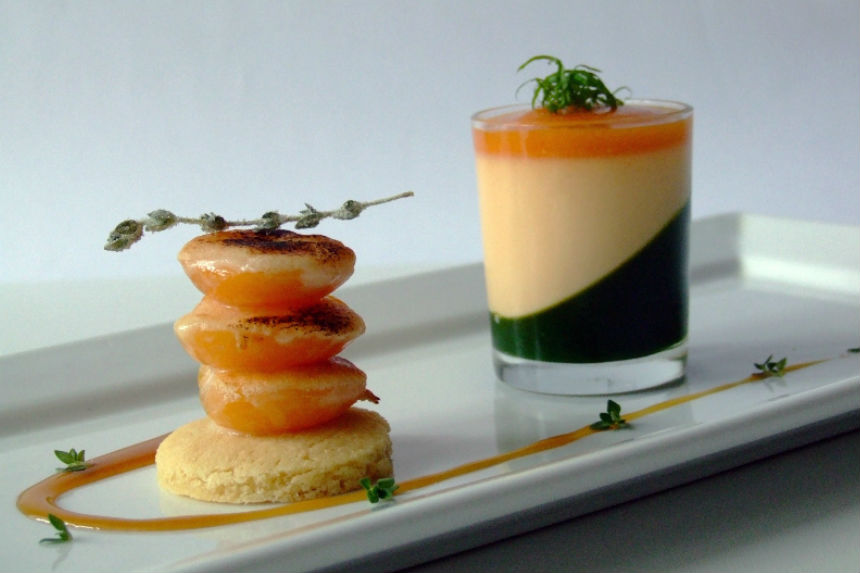 Apricot Panna Cotta, Peppermint Jelly and Apricot sauce.
With Valentine's Day just around the corner then the lovers out there will be itching with ideas to keep their `other half` sweet. This dessert is guaranteed to impress, it looks complex but with a little time and patience plus an Egg box then you`ll find that it all comes together rather attractively. Try to use plain shot glasses then the dessert can have its eye catching effect of "How on earth did they do that"? Alan Spedding shares his secret to successfully pulling off this striking pud.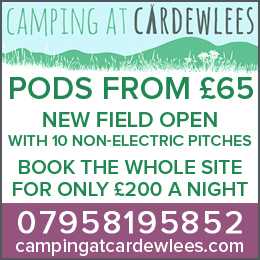 Ingredients to make 6 servings.
1 Big handful of fresh Mint leaves (about 60g)
6 Tablespoons of a simple Sugar Syrup (105g)
6 Tablespoons of Water (90g)
1 ¼ Teaspoons of powdered Gelatine (5.6g)
1, Bring a large pan of Water to the boil then quickly blanch the Mint leaves for 15 seconds. Drain and then put the Mint leaves into ice cold water before draining and squeezing dry.
2, Put the Mint into a blender, add the sugar syrup and the Water then blend at high speed until the mixture is a smooth puree. Drain the puree through a fine sieve.
3, Put roughly 2 tablespoons of the Mint syrup into a bowl and sprinkle the Gelatine over the top. Let this settle for around 1 minute to soften before Microwaving gently until the Mint / Gelatine mixture has melted. Don't let this boil, it`ll only take about 15 seconds. Add this warmed Gelatine mixture to the rest of the Mint and stir well to blend everything together.
4, Put your moulds (I used shot glasses) into an empty Egg carton at a nice angle then pour the Mint jelly mixture into the glasses equally and carefully.  Transfer gently to a fridge to set for about 2 hours.
For the Apricot Panna Cotta
3 Tablespoons plus 1 Teaspoon of Caster Sugar (40g)
1 Teaspoon of powdered Gelatine. (4.5g)
250g of Apricot Puree (use tinned Apricots if you can't find fresh)
120g full fat Blue top Milk
120g of fresh Double Cream.
1, Mix the Sugar and Gelatine together in a bowl.
2, Put the Apricot puree, Milk and Cream into a small pan and bring gently to the boil over a medium heat. Turn off the heat and then whisk in the Sugar and Gelatine mixture for about a minute.
3, Let the Panna Cotta mixture cool down to room temperature, transfer to a jug and then gently pour this creamy mixture over the Mint jelly inside the upright glasses. Allow these to set in the fridge overnight.
4, Top the mixture with a spoonful of the Apricot puree and some shredded mint leaves.
To Serve
I like to serve this dessert on the plate with some oven Roasted Apricots sitting on top of a fresh piece of Butter Shortbread with some of the Apricot cooking juices. If you can`t be bothered with all of that then just serve it in a Wine glass and some shop bought Shortbread fingers to dip in. The dessert looks quite technical but with all of the ingredients weighed out beside you then it ends up pretty simple to do. It definitely has the "Wow" factor for your Valentine.
Share It: