Christmas Baking Recipes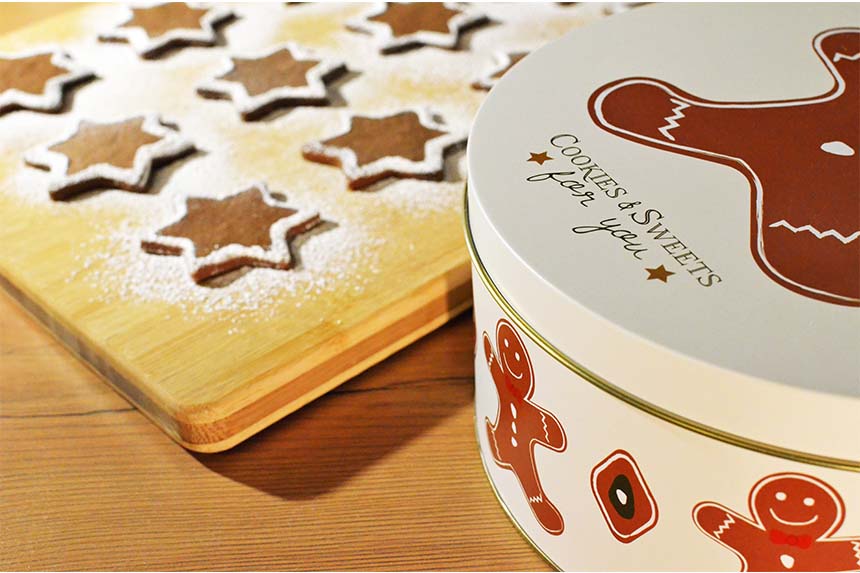 The season wouldn't be complete without these Christmas classics. The relatively simple recipes are ideal for bakers of all ages and abilities and will go down treat over the festive period.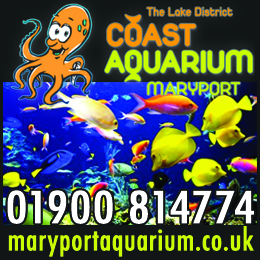 Mince Pies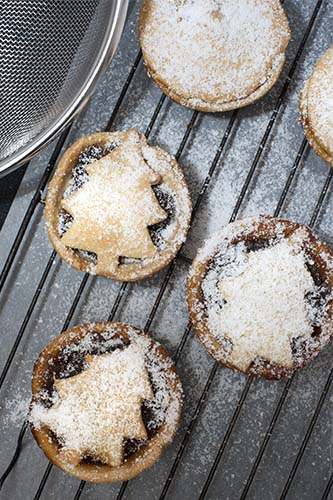 Ingredients
350g – 450g mincemeat
Milk or egg to glaze
For the pastry
250g plain flour
125g butter
45ml water
Pinch of salt
Method
Mix the flour and salt together, cut butter into small cubes and add to mixture. Rub the butter into the flour between finger and thumb tips, until the mixture looks like breadcrumbs.
Add the water evenly over the surface and stir until the the mixture begins to stick together in large lumps. Collect the mixture together and knead lightly for a few seconds to give a firm, smooth dough
Allow to rest for 15 minutes before rolling out to roughly 0.3cm thick. Cut into 20 discs using a round, fluted cutter and cut another 20 with a smaller cutter or a festive shaped cutter for the lids
Line a cake tin with the larger discs and fill with mincemeat. Moisten the edges of the lids and place firmly in position on top of the pies. Brush with milk.
Bake in the oven at 220C (gas mark 7) for 15 – 20 minutes, until light golden brown. Leave to cool on a wire rack.
Serve warm or cold, dusted with icing sugar
Gingerbread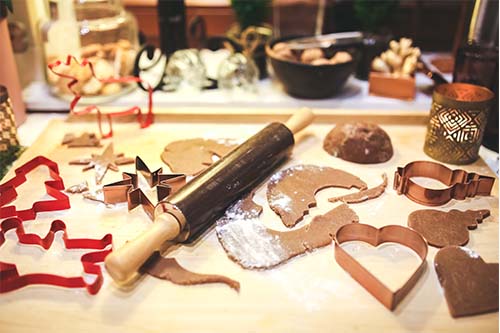 Ingredients
350g (12 oz) plain flour
5ml (1 tsp) bicarbonate of soda
10ml (2 tsp) ground ginger
100g (4oz) butter or margarine
175g (6oz) soft brown sugar
60ml (4 tbsp) golden syrup
1 egg, beaten
White icing for decoration
Method
Grease three baking trays. Sieve the flour, bicarbonate of soda and ginger into a bowl. Rub in the butter. Add the sugar
Beat the syrup into the egg and stir into the bowl
Mix to form a dough and knead until smooth (or use a food mixer)
Divide into two and roll out on a floured surface to 0.5cm thickness. Using a cutter, cut out shapes until all the dough is used. Place on baking sheets.
Bake in the oven at 190C (gas mark 5) for 12 – 15 minutes until golden brown. Leave to cool.
Once cool, pipe on white icing to decorate
Share It: