Mix up some of our favourite Festive Cocktails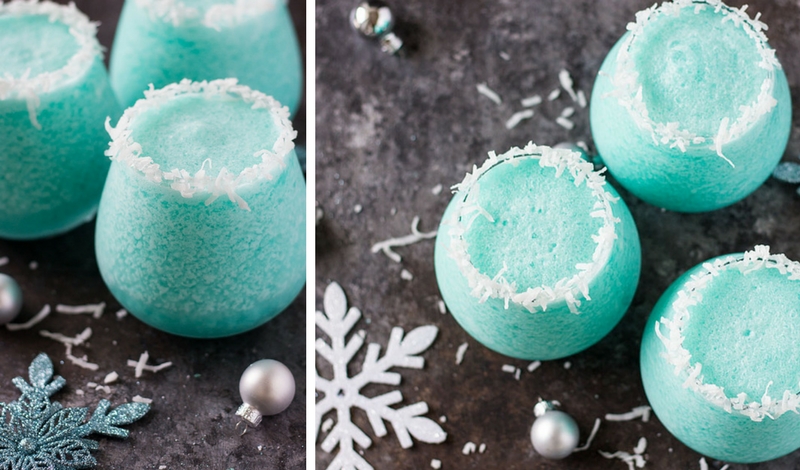 Everyone could do with a little kick start on these cold winter nights.  We have a great selection of Christmas Cocktails for you to choose from.  There's a couple of out and out classics and a few that are a little bit offbeat. Try them out on friends or family.  Enjoy. 
Traditional Mulled Wine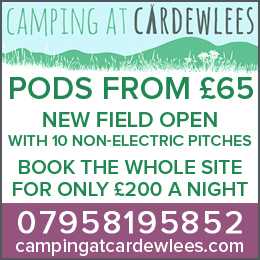 Ingredients:   750ml bottle red wine,   1 large cinnamon stick,   2 star anise,   4 cloves,   1 sliced Orange,   4 tbsp caster sugar,   100ml sloe gin (optional but amazing)
Method
Put the red wine, cinnamon, star anise, cloves, orange and sugar in a large pan. Cook on a low heat for 10 mins. Remove from the heat and cool, leaving to infuse for about 30 mins. To serve, heat without boiling, stir in the sloe gin (if using) and pour into mugs or heatproof glasses.
Christmas Coffee Cocktail
Ingredients:  120ml of strong coffee,  50ml amaretto liqueur,  50ml coffee liqueur,  25ml butterscotch schnapps,  25ml creme de cocoa,  Fresh whipped cream and grated chocolate – for garnish
Method
Combine coffee and liqueurs in a glass. Stir to combine and top with fresh whipped cream. Garnish with grated chocolate.  Serve warm or over ice.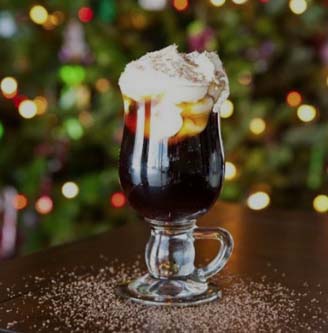 Jack Frost Cocktail
This winter cocktail tastes like a festive version of a Piña Colada
Ingredients:  Light corn syrup or honey for rimming glasses,  Flaked coconut for rimming glasses,  8 cups ice (more or less depending on desired consistency),  1 cup pineapple juice,  ½ cup blue curacao,  ½ cup light rum,  ½ cup cream of coconut
Method
Pour a thin layer of corn syrup (or honey) onto a plate and dip the glass rims into the corn syrup, then dip in coconut flakes.  Add ice, pineapple juice, blue curacao, rum and cream of coconut into blender until desired consistency is reached. Pour into glasses and serve immediately.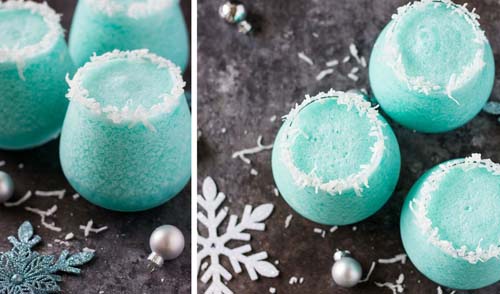 Classic Champagne Cocktail
Ingredients:  1 white sugar cube,  2 dashes bitters,  20ml of Cognac,  Enough champagne (or your favourite Sparkling Wine or Prosecco) to fill the glass
Method
Place the sugar cube onto a spoon and add the bitters.  Drop the soaked sugar cube into a champagne flute and add the cognac. Give a stir until the sugar is dissolved. Top up the glass with champagne and enjoy.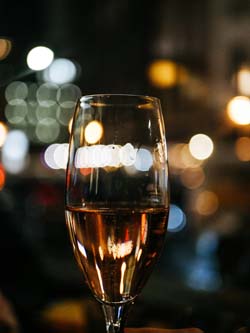 Share It: