Defense improvement Is Vital If Carlisle's Promotion Push Is To Be Maintained
MARK Twain popularised the saying "lies, damned lies and statistics" to describe the persuasive power of numbers, particularly the quoting of statistics to bolster weak arguments.
However there is one inescapable statistic that haunts Carlisle United's push for promotion from League Two this season.
Leading football statistician Kevin Pullein keeps tables not just of points won and lost, but has an interesting statistic on clean sheets. And that's where United's otherwise impressive record comes unstuck.
Carlisle's record of preventing opponents from scoring stands well below the 20 per cent mark, a stat. that would see them in the bottom six, not the top three. Their main promotion rivals all have clean sheet records of somewhere between 45 and 60 per cent and, unless the Cumbrians can deal with the problem, then they will continue making life harder for themselves.
Defending has been a Carlisle weakness, not just this season but even more in previous campaigns. However, there is one bright light that gives me hope that, in the closing weeks of the season, United can get their act together at the back sufficiently to sustain their promotion challenge.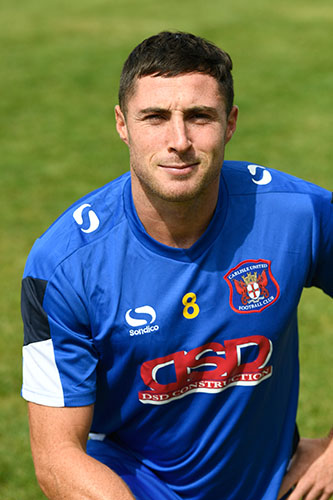 It's the return, not of a defender, but of experienced midfield man Mike Jones. He, along with captain Danny Grainger, has missed a substantial proportion of Carlisle's games through injury since the Luton game in early December. United have clearly missed Jones in that solid role in front of the back four where he is such a good reader of situations and a concise, effective passer of the ball.
That drawn Luton game came at a heavy cost because, up to that point, Grainger had scored a remarkable seven goals from his fullback position. Furthermore United have patently missed his leadership influence. The loss of two of United's most consistent and in-form players at one fell swoop would have affected any side, even those with a far larger squad to pick replacements from.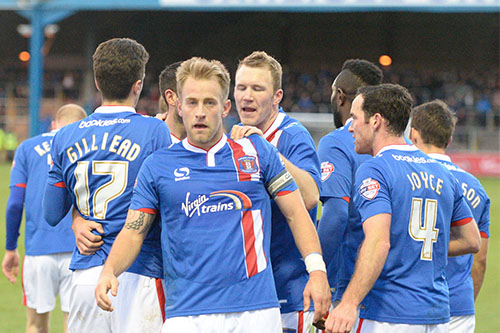 If Jones can stay fit for the remainder of the campaign, and United can get their skipper back for the vital run in, then confidence must be high that they can sustain the promotion challenge they have worked so hard to build thus far.
It's all too easy at times to build expectation. Remember where Carlisle were when Keith Curle arrived. "When I took over the team had suffered a lot of defeats," he said. "That has a ripple effect right through the club and into the community. We are changing that bit by bit and the fans understand that."
Just as Mike Jones was returning to the line up, United effectively lost nearly 30 goals with the departure to Bradford of Charlie Wyke and an injury to free scoring midfielder Jason Kennedy which required surgery.
If United's form since the turn of the year has resembled a blip, then it's hard to be too critical when you consider the enforced changes. They had no choice in the sale of Wyke once the player had triggered a release clause in his contract and Bradford had matched the valuation. Arguably Carlisle had to sell for around £250,000 a player with a half million pound plus scoring record. But there it is, and to lose Kennedy, another key part of their pre-Christmas success story, rubbed salt into the wounds.
Not all Curle's recruiting for the current season has been an unqualified success, although the likes of Jones and Nicky Adams have been worth whatever they are paid and more. Ex-Morecambe duo Shaun Miller and Jamie Devitt have fired fitfully while Shaun Brisley has not always looked the part in defence although Curle believes there's more to come from him.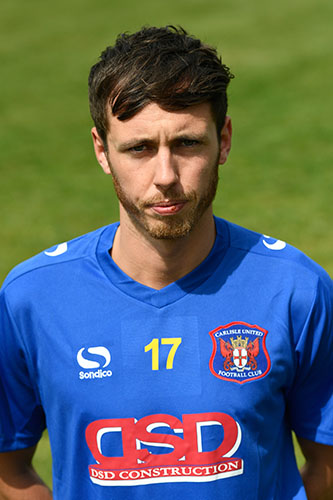 It was a hectic transfer window this time with lots of outgoings of fringe performers and the arrivals of Jamie Proctor from Bolton; George Waring from Stoke, both on loan; James Bailey who has been playing in Canada; and the signing of John O'Sullivan after he left Blackburn.
Carlisle's promotion hopes are very much predicated on the new boys' contribution, even though Curle urges people to temper expectations. In the case of Proctor, quickly a fans' favourite, he said:"I don't want to put too much pressure on Jamie."
For Curle, hoping to keep players fit, getting his best men back for that final push, and the need to integrate new players fast, are all factors between now and the end of April. But most of all, maybe, is the need to establish a good case for the defence!
Share It: