St Nicholas Gardens – Whitehaven in Bloom
Saint Nicholas Gardens
It's fair to say that tough economic times had led to reduced council budgets.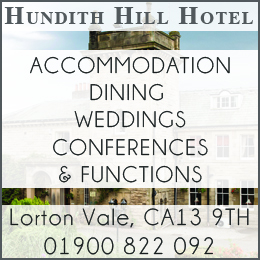 And while social media has given us all a platform to voice our displeasure at the changes wrought in our towns, it can be easy to get hung up on the negatives and gloss over the positives when they take place.
I was in Whitehaven town centre recently and I noticed drastic changes in St Nicholas' gardens,  I was actually stopped in my tracks and I felt compelled to take some time out to wander the grounds.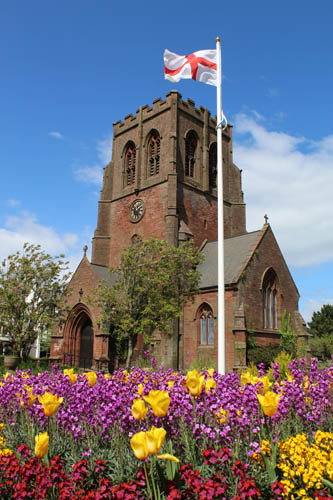 It's been a few years since I've done that because the gardens have not weathered the economic storm all that well.  They were overgrown, lacked colour, were not welcoming and a source of pride was no longer a space to enjoy.
That has changed, work is underway to restore St Nicholas' gardens to their former glory.  The flower beds are full of colour, the grass is neat and overgrown areas have been tackled.
I decided to dig a little deeper into the revamp and have since learnt the rejuvenated gardens are part of a bigger drive to bring colour and life back to the town.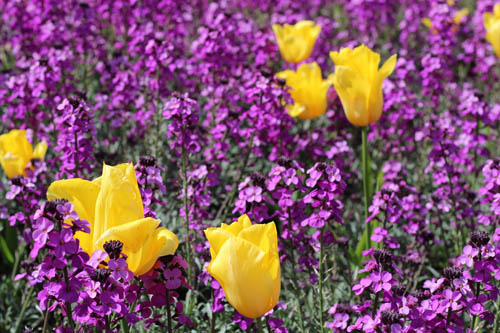 According to town councillor Brian O' Kane it's come from a combined effort between the Town Council, Copeland Borough Council and the Church: "For the past four years the Town Council has tried to rejuvenate the gardens but an ancient law from the 19th century has been cited to scupper the plans.
But we believe this is something the people of Whitehaven want.  This is not about politics, this is about our area and community.  The people of  Whitehaven want to see their town centre rejuvenated.  St Nicholas' gardens are a space for everyone to enjoy.
We want the grounds to look like they did 15 years ago.  They have been a source of pride for generations and their decline was symptomatic with how people perceived their hometown.   Many of the gardeners who were recently working on the grounds were responsible for its upkeep back in the day, so their heart is very much in it to restore them."
With local companies volunteering time and services when work started on the gardens, it has the makings of a real community-driven change.
Expect to see improvements spread further through the town centre when Whitehaven takes part in Cumbria in Bloom.  The Town Council will be hanging over 100 baskets and colour will start springing up with numerous planters taking on a new life.  Visitors will notice things have brightened considerably when the triangle bed near the Pelican Garage and the Badge Bed near Coach Road are planted out.
With new seats and bins on the way, it's hoped the community will want to spend more time in St Nicholas' gardens, community spirit will lift and some pride restored.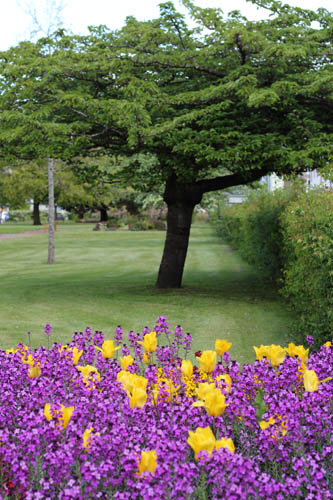 With so much going on and bright displays dotted everywhere only the hardest hearts can claim nothing is being done to improve the town.  The town council are organising various family friendly events focused around St Nicholas' gardens and, with the recent improvements, they have a lovely canvas to work with.
Local traders will take over the gardens on Friday the 14th of June, where fantastic local food and products will take centre stage.  Add a huge range of live entertainment and it's an event not to be missed.
That's followed by the outdoor photography exhibition from the 17th to the 23rd of June, come and admire the entries which will take pride of place in the gardens as local photographers compete to win the top prize.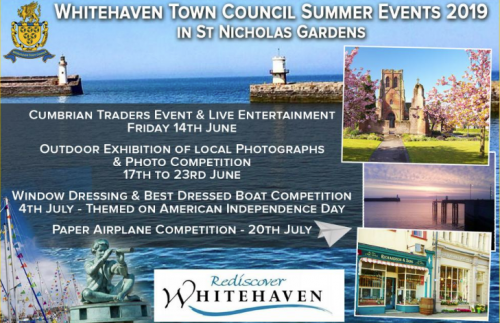 On July 4th, the towns connection with John Paul Jones and American Independence Day will be on show.  The Red, White and Blue will fly from shops, pubs and houses as they attempt to impress in the Best Dressed Window Competition.  Expect plenty more colour in the harbour as the Best Dressed Boat is up for grabs as too.
The Paper Airplane Competition promises to be a family friendly event on the 20th of July.
Everyone wants the centre of Whitehaven to be a place people want to spend time in. The gardens and town centre are a work in progress, it's a big job that won't happen overnight but it's a great step towards beautifying the area.
Get down to town and take a look for yourself.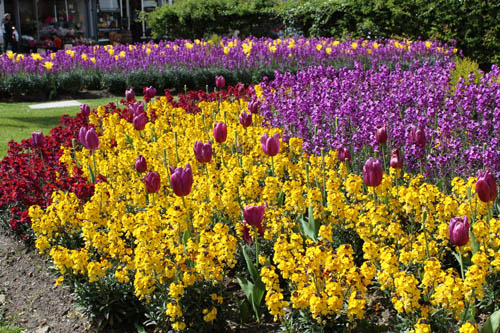 Visit the Town CouncilFacebook page here for up to date information.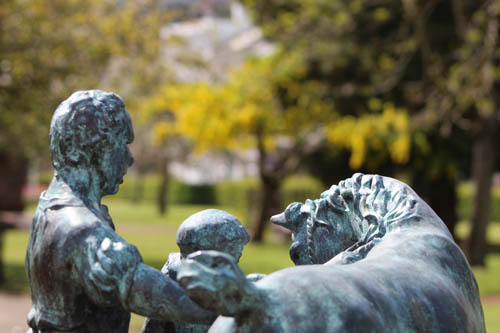 Share It: