Home Grown Cumbrian Grub: Hartley's Ice Cream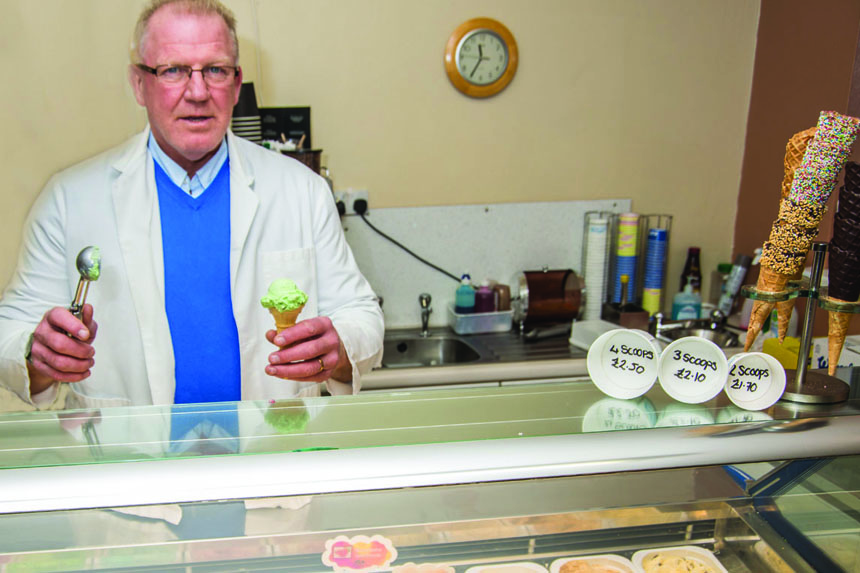 Those who live in Egremont and its surrounding areas are no stranger to the familiar sound of the hooting horn coming from the iconic white Hartley's ice cream van.
At 25 years old, I will still rush around the house looking for some change, just so I can have a scoop of the famous vanilla ice cream, complete with 'Fudgerydoo' and strawberry sauce.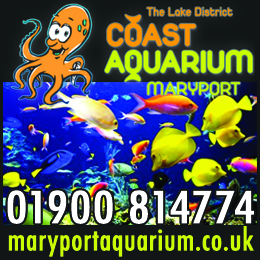 Hartley's Ice Cream has been causing such scenes since 1931, and today, the parlour in Church Street, Egremont stocks a lot more than just vanilla.  The company started in the early 1930s by Grayson Hartley who sold his ice cream from an unlikely choice; a motorbike and sidecar.
Owner Mark said: "It's been able to keep going since the early 30s through different hands and ownership and still is very successful, all we really need is the sunshine – it's not very often, but when it's here we can sell up to 700 ice creams in a day.
"The flavours come from trying to keep up and ahead of the game. We get ideas and just put them together and see how they work with each other. We try and do research and development along the way and we try and have flavours that fit the season, so in summer we do key lime pie, summer berries, and passion fruit with coconut, something fruity. All the ice cream we make, besides the chocolate, is vanilla based."
Passing the business through the family, Grayson's son, Bill Hartley took over the company and successfully ran the shop along with a small fleet of ice cream vans for more than 40 years.  Keeping it in the family, Bill's sister and brother-in-law, Hannah and Norman Caulfield also ran the shop for a brief period during the late 1970s before being joined by Les Richardson in 1981 who previously worked in the business as a schoolboy and had strong ties with the Hartley family.
Les went on to become the sole proprietor of Hartley's Ice Cream along with his son Mark, until his retirement in 2003. Today, the business is run by Mark and his wife Shirley, who have stuck to the same traditional principles and recipes that has made Hartley's Ice Cream a firm favourite for more than 80 years.
Churning over 50 flavours of ice cream, including banoffee, maple and pecan, New York lemon cheesecake and coffee and walnut, each batch of ice cream takes around six hours.Mark added: "Our most popular flavours are honeycomb crunch, mint choc chip, and salted caramel with caramel fudge ripple. The one thing that we have kept is the traditional side of things.
"The product is very similar to what is was in the older days, and people come from far and wide and make the effort to come for an ice cream, which we are very grateful for. We might be a little bit more expensive than others, but we produce a good quality product and that's what we're proud of."
Catering to all tastes as well as dietary requirements, Hartley's also has a range of diabetic ice cream available, Mark and Shirley believe that no one should miss out on their quality assortment of flavours.And, although the company is best known for its wide selection of traditional ice creams, Hartley's also offers a range of sorbets including lemon, mango and orange. Habitual ice cream lovers won't be disappointed if you fancy going for a change, and chocolate addicts are spoiled for choice with a whole case full of different combinations of chocolate ice creams including white chocolate buttons and nearly bounty.
Mark added: "I'm not getting any younger, but I do have a son and daughter who both work for me.
There's ups and downs working for you, its hard work, I work seven days a week, so hopefully there will be another family interest."
This local family business is synonymous with west Cumbria and beyond and sticking to traditional recipes as well as using local ingredients is what makes Hartley's Ice Cream so irresistible – it wouldn't be a typical Lake District summer's day without a double scoop of Hartley's Ice Cream.
Share It: