A Room With A View 
If you're looking to utilise your outdoor space, while improving your indoor living, a garden room offers a sanctuary no shed can provide. 
Offering the luxury of leisure or work space just steps from your back door, they may not be a necessarily new concept, but in recent years the number of people looking to invest in a garden room is on the up. This could be down to an increasing number of people working from home, and needing office space, or it could be that people are finally catching on to the possibilities they can provide.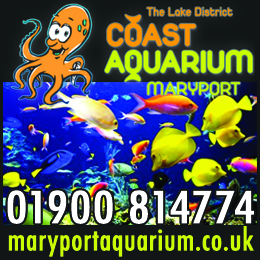 The term garden room might bring to mind images of glorified sheds – too cold in winter, too hot in summer and damp and drafty all year round –  but we're talking about fully insulated rooms, made from strength graded structural timbers with a range of finishes such as slate roof and oak flooring. All electrical, plumbing and lighting facilities can be installed, just as they would be for an extension on your home, however this option is often considerably cheaper. 
Carlisle based construction company, Croft View Construction have built bespoke garden rooms for a number of happy customers, not least Johnette and Relph Irving from Cockermouth, who were looking for a little extra space for when the family came home to visit. 
Johnette explained: "It came about that we needed extra space where we could escape occasionally when the kids were back. That was the plan, but we had no idea how much a garden room could be a thing of beauty. 
"It has transformed our house, it's a prayer room, a hideaway, a place to admire the wonderful garden away from the world… it's like a home away from home." 
From just a picture Johnette had, the Croft View Construction team worked with the couple to design and build their bespoke room. Relph said: "As a garden room it's just amazing, but we owe a lot to what they suggested in terms of materials and design ideas." 
Despite some initial doubts, the quality of the work far exceeded their expectations, Relph explained: "One of the things about having any kind of development is there's always a bit of anxiety about work quality, so we feel very fortunate that we found Croft View Construction. 
"We never had one moment of anxiety and in fact the things that they adjusted, suggested, and fitted were way beyond anything we could of expected. They were a delight to work with." 
Although planning permission is sometimes required depending on the size, Garden Rooms are usually around 30 per cent cheaper than a regular building extension, while still boasting all the same potential. 
Each one is made to order, so can be tailored to meet your every need. Whether that be a home office, a hairdressing salon, a studio, extra accommodation or just a little place for some much needed peace and quiet.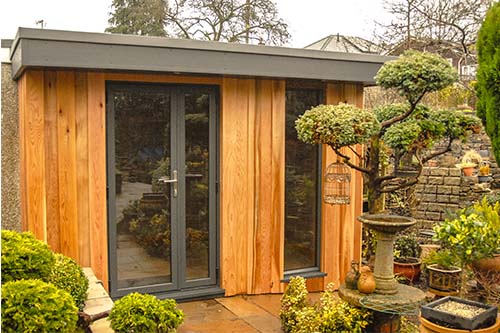 Relph and Johnette are certainly looking forward to making the most out of theirs this summer, he added: "It's an unbelievable result for us and has completely improved that part of our garden. It's the best thing we ever did." 
For more information contact Croft View Construction on 01228 511100 or visit http://www.croftviewconstruction.com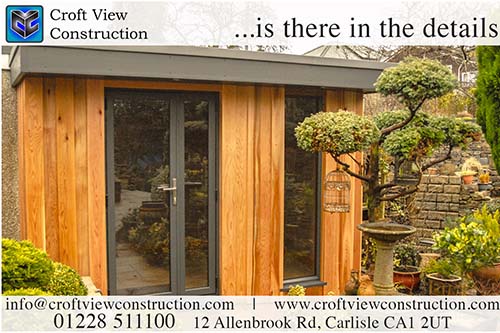 Share It: