St John's Keswick Remembers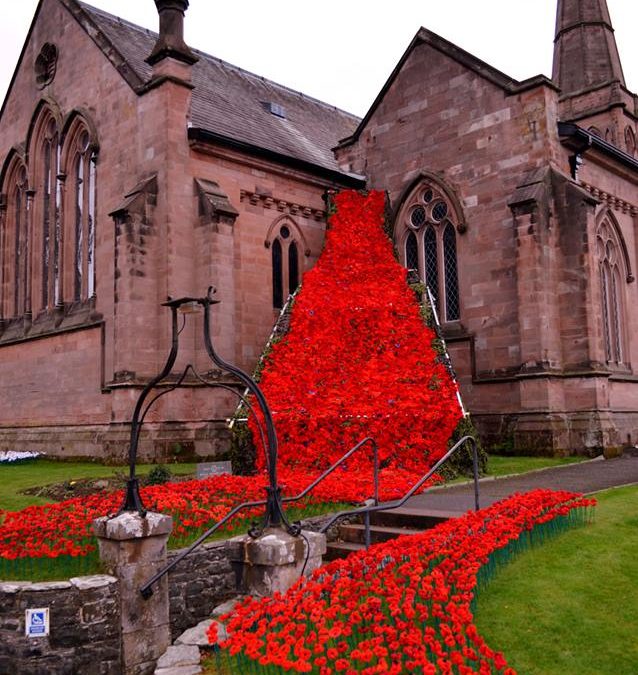 Keswick's close-knit community comes together to create a spectacular Poppy Cascade…
It has been an incredibly exciting end to a long project. Thanks to the hard work and support of Rob Nelson and the team at Keswick Scaffolding the cascade of poppies at St John's Church has now been erected. Turn from Southey Street into Church Street; or go past the comer with St John Street and you are met by a striking blood-red cascade.
The reds of different hues representing the soldiers killed in the First World War, from many different nations, and of many nationalities and faiths. Scattered over the red are some purple poppies to remember the animals used as beasts of burden by both sides. There is also a white peace garden to remember the role that Quakers and other pacifists played, particularly as stretcher bearers and medics.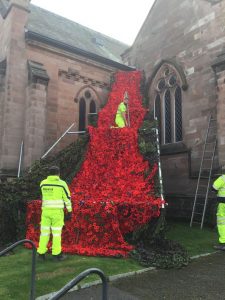 What started out as a small church project over 9 months ago has somehow grown into a huge Cumbria wide event.  It has been a real community project that has caught the imagination of lots of people in our town and beyond – visitors have knitted, relatives as far away as Canada, USA, Ireland and around the UK have knitted; people in Keswick have knitted or crocheted thousands. Even the vicar, Revd Charles Hope tried his hand at knitting – it may have turned into a 'genetic mutation' but it was still a recognisable poppy!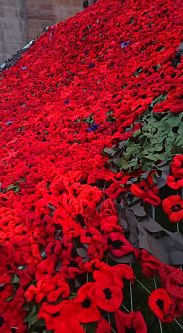 The tying on has seen many people from our town popping into church for a an hour or two and others coming in for two or three afternoons a week to tie and stitch the poppies firmly onto the camouflage net which was supplied by 102 Bn REME, whose Padre is Revd Charles Hope. Help also came from St Herbert's School pupils, the Explorer Scouts, members of all the churches in Keswick and other people who just came in and saw that a job needed to be done and got on with it.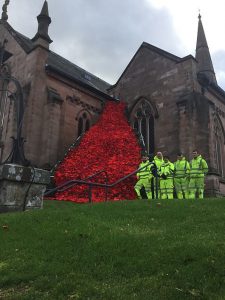 Revd Charles Hope, the vicar of Keswick St John, says 'this has truly been a community effort and the result is a fitting way to remember the sacrifice of so many not only in the First World War but in other conflicts. Some of the knitters spoke to me of family members who were killed and whose memory was evoked by the simple act of knitting and tying. The cascade looks like a river of blood, but it flows from a church building that speaks of hope and life even in the face of death and destruction. I must say a huge thank you to everyone who has made this possible.'
The cascade of poppies will be dedicated on Friday 26th October at 11 am which will also see the launch of the Cumbria Royal British Legion Poppy Appeal. All are welcome to attend. Refreshments will be available from 10.30am
Photo Credits Leonards Field House & St John's ,Keswick
Words by St John's, Keswick
Share It: