Light up the Fells – Lakeland Festival of Light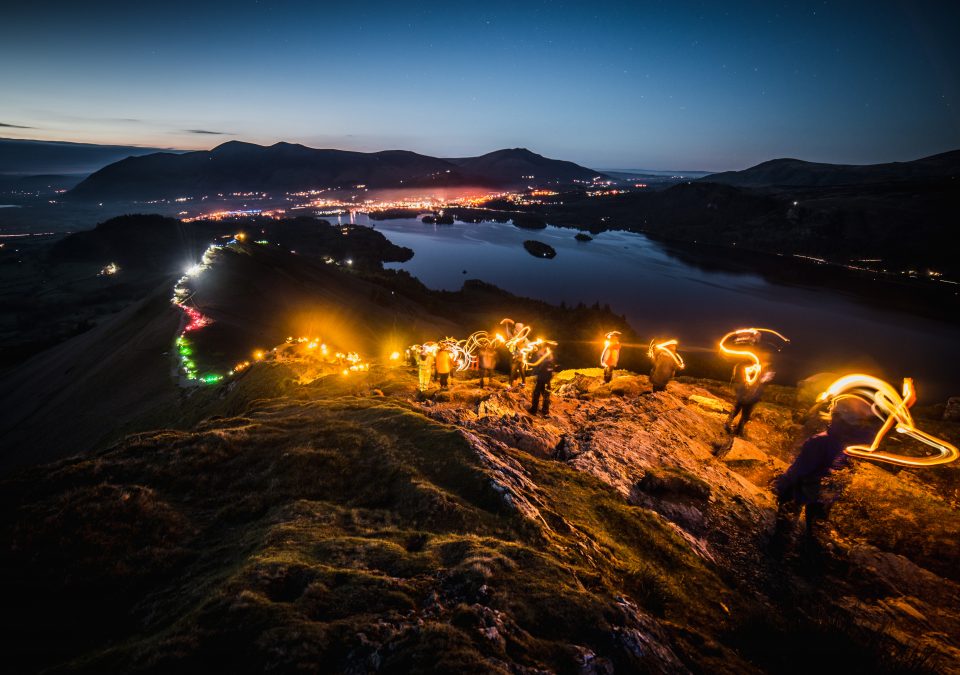 The Lakeland Festival of Light returns for its fifth year on the 4th of May.  
   The charity event is organised by Lakeland Mountain Guides and was originally planned to raise money for victims of the earthquake in Nepal back in 2015. 150 people climbed Blencathra that night and raised over £5000.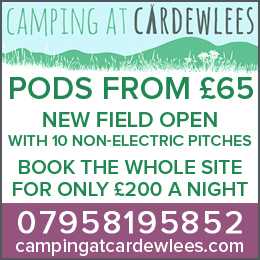 The festival has grown each year and with 100 percent of the profits going straight to their chosen charity, the spectacle has raised over £40,000 for three different organisations.  This year the team are raising money for a charity close to their hearts – The Lake District Search and Mountain Rescue Dogs. 
 Last year somewhere between 500 and 700 participants climbed Catbells with their head torches and Director of Lakeland Mountain Guides, Matt La Voi hopes for another good turnout:  
"This event has had an amazing increase of interest in the past few years, so how many we have on the night is anyone's guess.  It's not a ticketed event so anyone is welcome but we ask that everyone who participates makes a donation that that will go towards our chosen charity." 
If interest on social media is anything to go by nearly 3,000 people are planning to attend the event and 80,000 have expressed interest.  Last year the team raised over £13,000 pounds for their chosen charity and this year they would love to top that. 
 "The great thing about the festival is it can be enjoyed by people who want to come and join us on Catbells," explains Matt.  "But there are increasing numbers of people who are happy to come along and watch the mountain light up, whether that's from the lakeshore, from surrounding hills or from Keswick itself, everyone can get involved."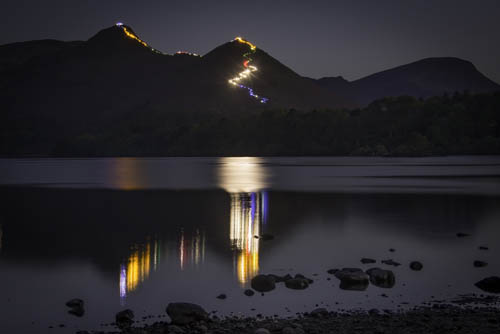 It's a truly inclusive event, all ages are more than welcome to participate.  From children right through to the older generation, the beauty is that climbers only need go a far as they feel they can.  Of course, there will be people who are determined to hit the summit but it's just as important to have people at the bottom too.  The third light up is just as important as those at the top, so if you're not a confident climber there's a place on the mountain for you.   
 There are a few things to bear in mind cautions Matt: "We need everyone going up the mountain to bring their own head torch and please be equipped for a chilly night.  We'll be up there for some time, so standing there in shorts and a t-shirt is not advisable.  We'll meet at the Rawnsley Centre in Keswick at 6pm before setting of for Catbells."  
Remember the Lakeland Festival of Lights is not a ticketed event and is open to everyone, even if fell walking is not your thing it's worth getting through to Keswick to watch the spectacle from town or the lakeside.  Why not make a night of it, because this really is a rare chance to catch one of our favourite fells dramatically light up in a way you've never seen it before.    
 For more information on the Lakeland Festival of Light find them on Facebook or visit www.lakelandmountainguides.co.uk/the-lakeland-festival-of-light   
Share It: