Jill Glencross – Offering the Extra Special Touches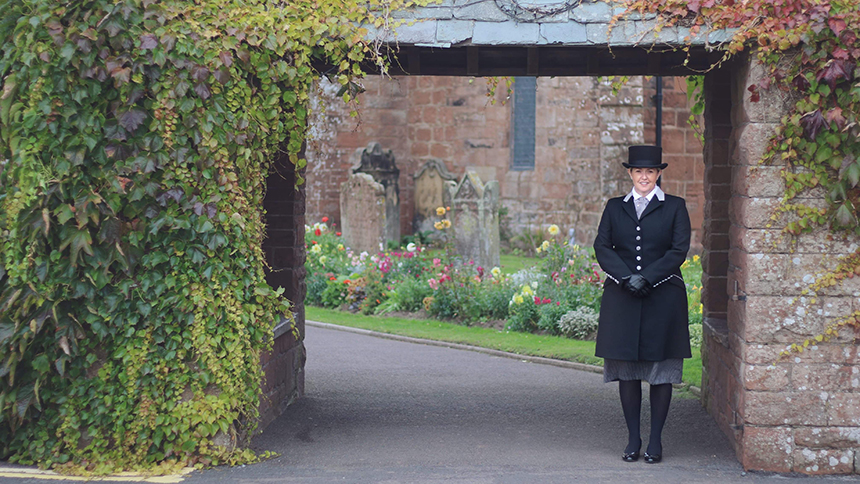 Jill Glencross – Offering the Extra Special Touches
As an Independent Funeral Director, Jill Glencross would say she has 72 families.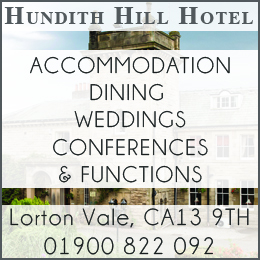 There's her partner Russell, children Abbie and Matthew as well as their rescue cat Lenny. And then there are the 71 souls she has cared for since she set up her own business last October in Dalston.
She refers to all those people and their loved ones as "our families".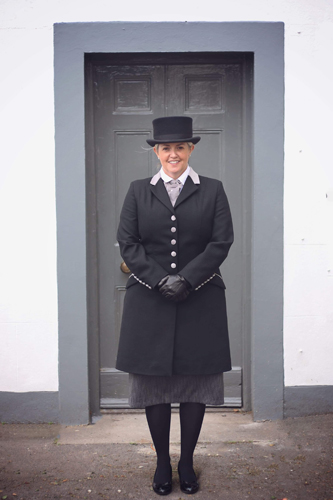 Jill started working in the pathology department at the Cumberland Infirmary in 1994 when she was 18 and during her 24 years she started hands-on in the histology/cytology laboratory and then to become a medical secretary but her role was unlike any other.
She worked closely with the mortuary, Coroner, GP's, bereavement services and local funeral directors.  Jill went on to take another role as a health care assistant which required a great deal of compassion, patience and care. She also volunteered at Eden Valley Hospice.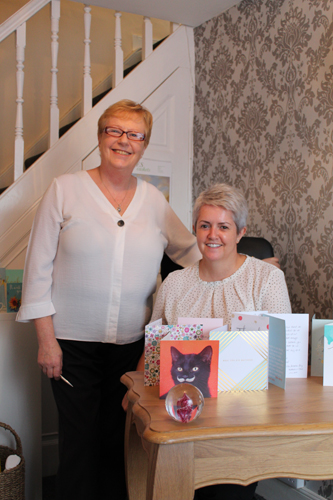 Jill said: "I never thought I would leave the NHS but when my grandmother passed away I approached the funeral director who was caring for her and asked to prepare my grandmother for her funeral. It was very rewarding and the last thing I could do for her."
In October 2017 she was lucky enough to secure a Trainee Funeral Director position with Walkers of Carlisle (part of the Dignity Chain) and when an unexpected opportunity presented itself for her to take on the perfect property and start her own business, she took the very scary leap.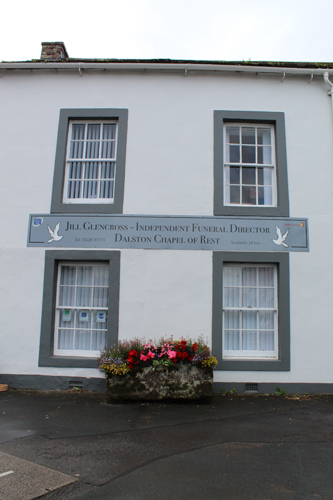 "I knew in my heart it was the right thing to do, I'm not a risk-taker but I thought if I don't do it now I never will. My family has lived in the village of Dalston for several years, I'm part of this community and I felt that working for myself I could give back so much to the people of Cumbria".
She knew the location in The Square could be made perfect and with a lot of hard work, she and Russell made her dream a reality. Jill's vast experience was invaluable in the design of the premises. Amazingly the funeral business is (as yet) unregulated and while many funeral directors do not have any refrigeration, this was a must for Jill.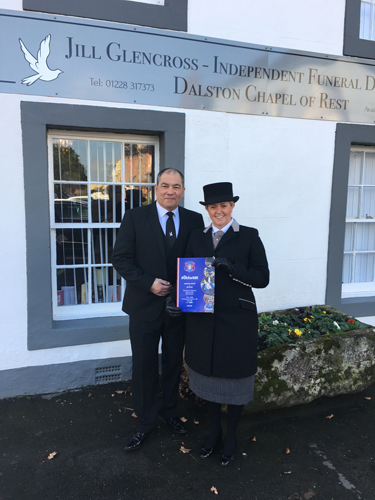 The layout was carefully planned as she knew exactly what equipment was needed to care for her families solely on her premises. Jill was the first Funeral Director in Carlisle to become an accredited member of SAIF (the Society of Allied Independent Funeral Directors). It was a massive achievement for her and has seen other Independent Funeral Directors apply for this accreditation since.
The premises are homely and welcoming. They have two Chapels of Rest, the Eden and the Caldew, which are tastefully decorated and very calm where families can say their goodbyes', taking as long as they need.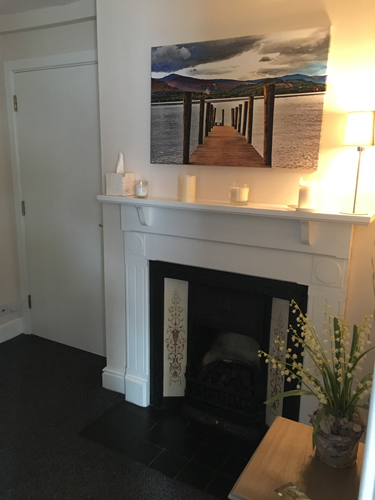 "We go above and beyond and are like no other funeral directors. I think this shows with the reviews people have left for us on yell.com, Facebook and from the many cards and thanks we receive. We have also recently been shortlisted for an award for the 'Best Professional Services Team'.
I'm comforted to know that people were pleased with our service but the most important thing is we provide families and loved ones with a genuine, dignified, caring and faultless service. This is not a job but my true vocation in life, it's a difficult time for people and I love what I do".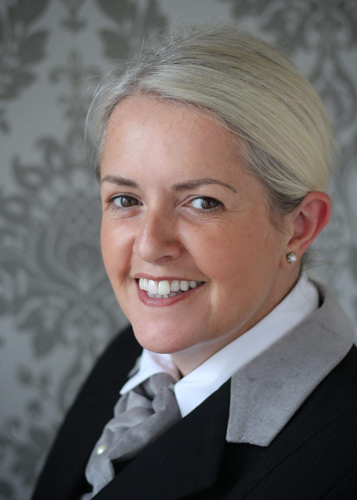 Jill may be based in Dalston but has cared for families across the region including Appleby and Keswick. Her friendly, personal and professional service is available 24 hours a day, when you need her the most.
Jill believes that being one of the only Independent Female Funeral Directors gives her something others can't offer: "I think it's extremely important because my hands aren't tied, and I can offer unique and personal touches others can't."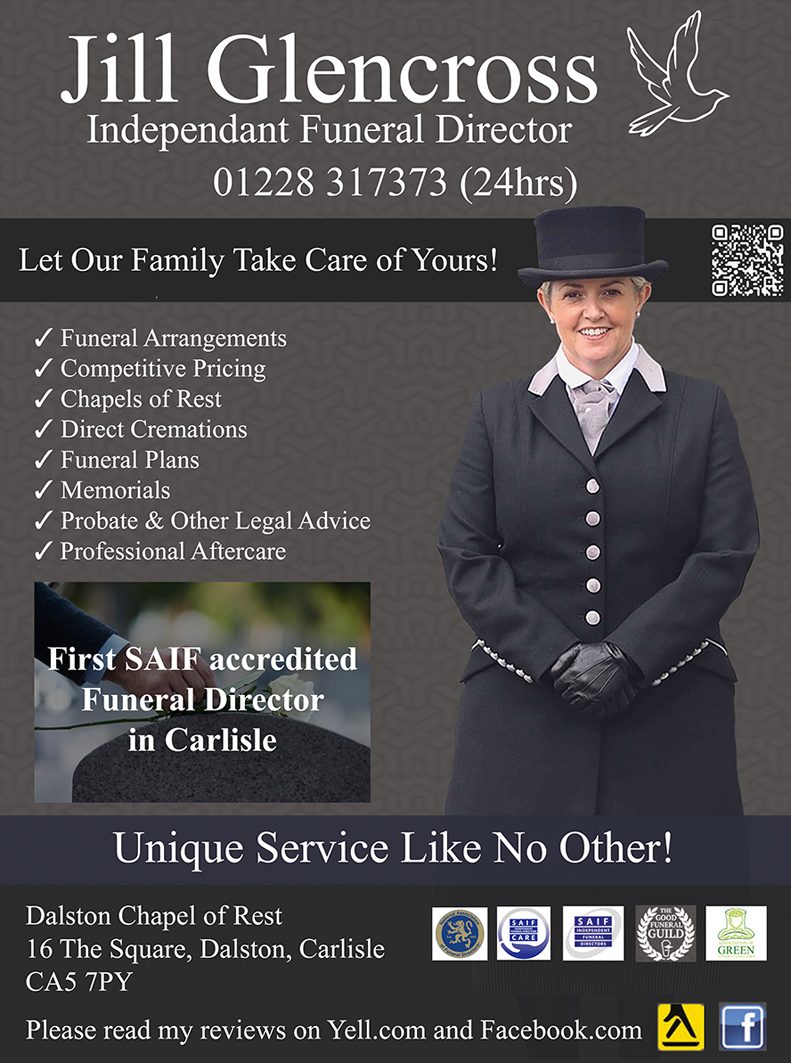 She also runs a Support Group on the first Tuesday of every month at The Gatehouse Café in Carlisle from 7 – 9pm.
Jill is available 24hrs a day, 7 days a week on 01228 317373. Find them on Facebook @dalstonchapelofrest or visit www.jillglencrossfuneraldirector.co.uk
Jill Glencross Jill Glencross Jill Glencross
Share It: