Freedom Wizard: The Charity Making The Fells Accessible To All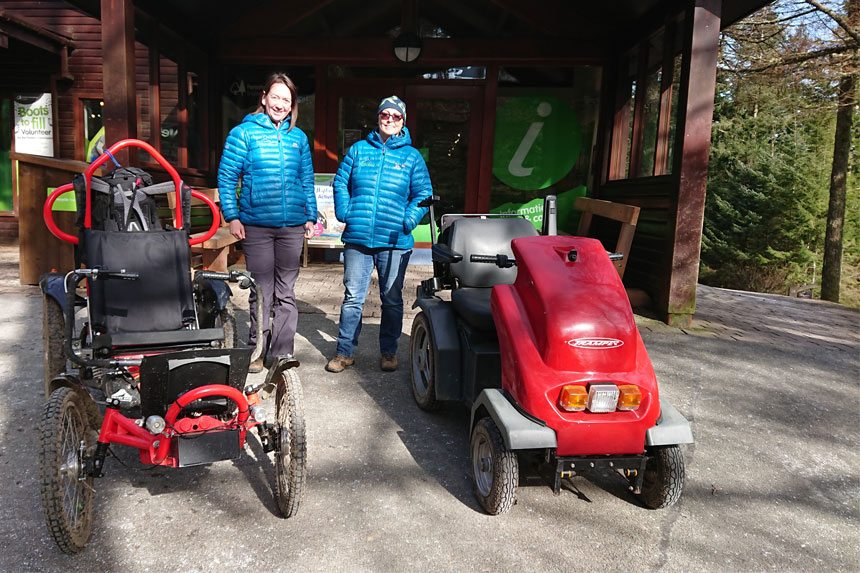 A Lake District charity is making sure the freedom of the fells is accessible to everyone with their fleet of all terrain wheelchairs.
As the UNESCO plaque was unveiled in Keswick, marking the Lake District's official World Heritage Status, just a few miles north, in Bassenthwaite the team at Freedom Wizard were getting ready for another one of their own adventures.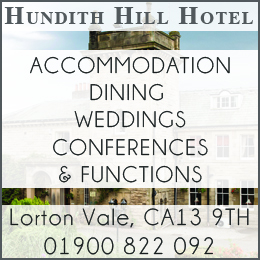 For the past 18 months the charity have been providing people of all abilities with an opportunity to enjoy the newly-recognised World Heritage Site on our doorstep, with all terrain wheelchairs that offer unrestricted access to the rugged Lakeland countryside.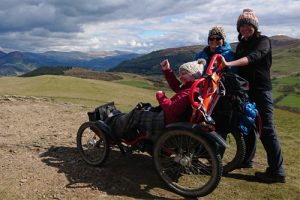 "We are the only people in the country that are doing it in the way that we do," explained founder Allie Pennington. "We're mobile based and we cover the whole of the National Park, so if someone's got a particular fell which they want ascend, we'll do our best to achieve that for them, that's where we are different.
"We do push the chairs – and ourselves – to the limit, but obviously we do it in a safe way."
Freedom Wizard have so far helped 125 people (and counting) to reach Lake District summits, from Latrigg, Binsey and Sale Fell, to bigger challenges such as Skiddaw, Blencathra and Helvellyn.
Allie, who runs the charity with Jeanette Moore and John Hutchinson said: "It's a massive learning curve, we're ticking off the Wainwright's and have done 17 so far. We have all walked the Wainwright's so we've got a lot of experience, but doing them in a wheelchair has really opened our eyes."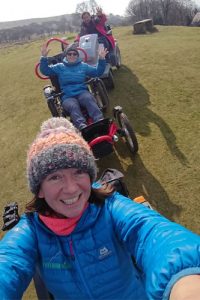 For a charity centred around the needs of others, it's surprising to learn that Freedom Wizard was actually born out of what Allie describes as "selfish intent". The charity's first chair – the Boma 7 – was actually built for Allie herself, when an operation on her leg, to treat Ehlers-Danlos syndromes (EDS), left her with a severed nerve. In a wheelchair and unable to walk, Allie could no longer access the mountains she loved so much.
"I saw what it was like not being able to get up there, you don't know what you're missing until you're missing it," she said. "There's nobody who is taking people up fells and if you thrive on getting to a summit or seeing those far-reaching views you are going to struggle."
Allie spent five weeks in hospital researching and realised something was missing; there was nothing for adults with limited mobility to keep going back to. She would later learn to walk again and now only occasionally needs to use the chair, but the idea for Freedom Wizard was already flourishing.
It's purpose was to bring all of the information together, (they offer visitors advice on accessible accommodation and days out in the area) and to remove any obstacle stopping people from reaching the tops. One of such barriers being finance, Freedom Wizard only ask for a minimum donation of £50 for an experience and £20 for a single trip, to cover basic costs.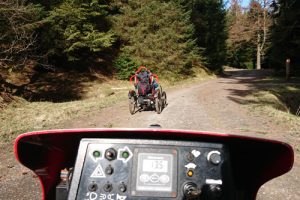 Allie explained: "Unfortunately a lot of people who are wheelchair bound are limited in what they can earn. We hope that people would give a little bit more and in most cases they do but sometimes they just can't."
The charity helps both locals and visitors to enjoy the fells, as well as welcoming people with their own all terrain wheelchairs to join them for group rambles. Although they currently have three chairs, they are all controlled by a twist grip, meaning users need some degree of control over their hands. The team are now fundraising for a new chair which would enable them to take out people without upper arm dexterity and allow even more people to experience the full potential of the Lake District World Heritage Site.
"As we're getting busier we're seeing more and more people that we're having to turn down," said Allie. "This extra chair which will enable more people to go out, but it's not just about increasing the number of people. It will extend our reach and offer a wider range of people access to the Lake District, whatever their ability."
For more information visit freedomwizard.co.uk or find @freedomwizarduk on Facebook.
Share It: