Fajitas With Salsa & Homemade Wraps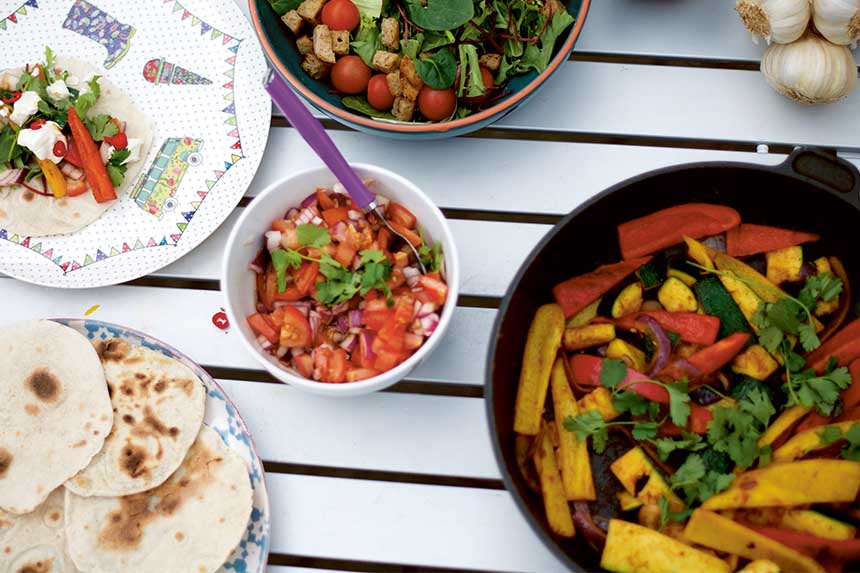 This is a great dish when you're starving and need food on the table quickly. Here we've gone for a traditional filling, but you can add whatever you like to your wraps and use up leftovers. Try frying some chorizo for a bit of extra spice or throw in a few cherry tomatoes for some sweetness.
Ingredients for fajitas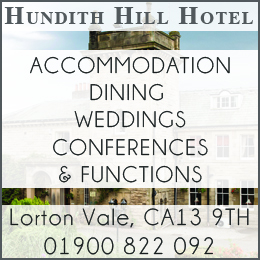 Olive oil
2 chicken breasts (optional), cut into thin strips
1 onion, cut into strips
1 clove of garlic, crushed
1 bell pepper, cut into strips
½ zucchini (courgette), cut into strips
1–2 tablespoons fajita spice mix
½  x 14-oz (400-g) can of mixed beans, drained (optional)
Crème fraîche (or sour cream), grated cheese (optional), and scallions (spring onions), to serve
Cilantro (coriander) and fresh red chili, to garnish (optional)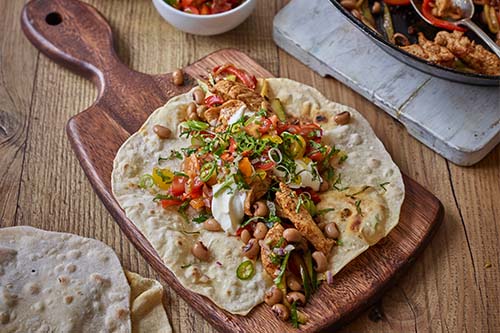 Method for the fajitas
Heat a splash of oil in a non-stick skillet (frying pan) over a medium-high heat. Add the chicken, if using, to the pan. Stir regularly so the meat doesn't catch and cook until sealed.
Once the chicken is sealed, add the onion and the garlic and fry for 5 minutes to soften. Once soft, add the pepper and zucchini (courgette).
Cook for another 5 minutes and then add the fajita spice mix to the pan. Stir so it coats all the chicken and veg. If you're going veggie, you could add half a can of mixed beans at this point to bulk up the dish.
Cook for a few more minutes until the chicken is definitely cooked through and the spices have turned sticky and delicious.
Serve on wraps (see below) with a good helping of your homemade salsa (see below), a dollop of crème fraîche, a sprinkle of sliced scallions (spring onions), sliced chilis, and a few cilantro (coriander) leaves. Finish with a grating of cheese if you're feeling extra hungry.
Ingredients for the wraps
1 scant cup (110g) all-purpose (plain) flour
Pinch of salt
4 ½ tablespoons (65ml) water
Method for the Wraps
It's super easy to make your own tortilla wraps and you won't have any leftover, but you can always buy a pack of ready-made wraps and use any leftovers with our Mexican breakfast recipe.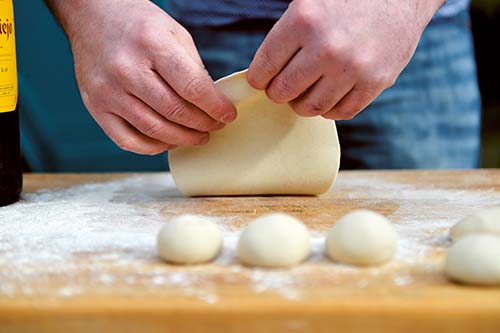 In a bowl, mix the flour with a pinch of salt and the water. Knead for a few minutes until it forms a dough.
Divide the dough into four equal balls, then roll them out on a floury surface until they are nice and thin.
Cook them one by one in a dry non-stick pan for 1 minute on each side, or until you see bubbles starting to form.
Fill them and eat them straight away so they stay nice and soft.
Handy hint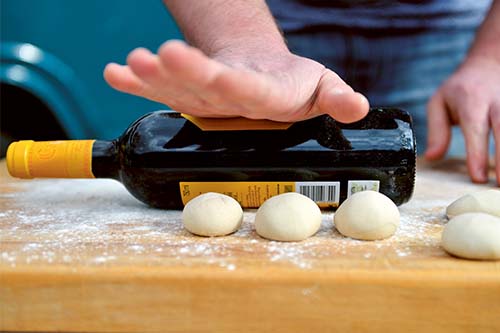 There's no need to take up valuable storage space with a rolling pin. Just dust a wine or beer bottle
(or any round bottle) with some flour and start rolling—it works just as well!
For the salsa
5 tomatoes (or 25 cherry ones)
½ red onion
1 tablespoon olive oil
2 tablespoons balsamic vinegar
Salt and freshly ground black pepper
Cilantro (coriander) and fresh chilis, chopped (optional)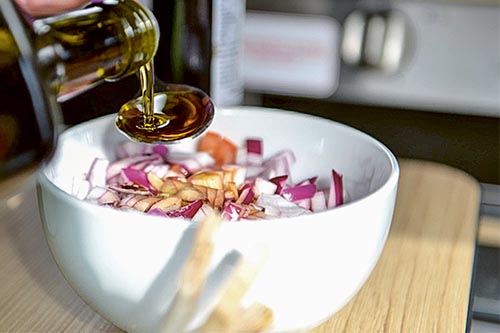 Method for the salsa
To make a beautiful, fresh, tangy salsa to go with your wraps, finely chop some tomatoes (cherry tomatoes will taste just as good as large ones) and the onion (a red onion if you have it, but a white one will do too).
Put into a small bowl with the olive oil and balsamic vinegar. Season well with salt and pepper and mix together.
Keep tasting and adding more oil/ balsamic/salt and pepper until you're happy with the taste.
To liven it up, you could add fresh cilantro (coriander) or even some fresh, finely chopped chilis.
Recipes extracted from The Clever Camper Cookbook by Megan Winter-Barker and Simon Fielding. Published by Dog 'n' Bone Books on the 13th March and available from all good book retailers.
Share It: