Egremont Farmer's Market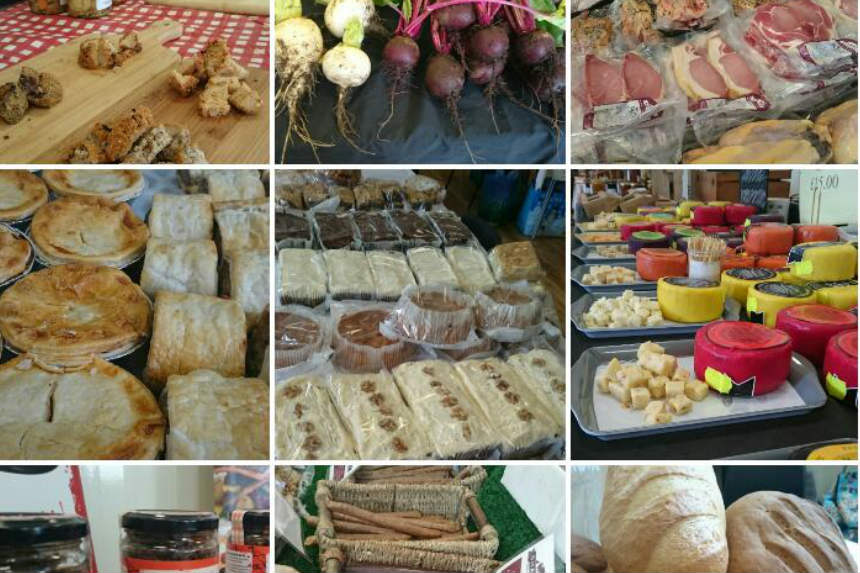 It's the third Friday of the month and Egremont Market Hall is bustling with life. The cheerful jamming of Cockermouth Ukeles accompanies shoppers as they browse all the local fare; from Jennifer's scotch eggs and Kick Ass Cumbrian cheese to handmade cards and quirky crafts.
In a time saturated by supermarket's BOGOF offers and discounted brands, traditional markets are increasingly being traded in for the convenience of the national retailers. But despite an overall decline in farmers markets, one local venture is thriving.
It could be because Egremont Farmers, Craft and Fairtrade Market incorporates so much. The array of local produce on offer and the live music, to the Fairtrade coffee and homemade cake provided by a different local community group each week – who raise an average of £200 each time for their cause. It could also be down to the fact that it is run solely by a committee of volunteers who care passionately about local produce and really want it to work.
Egremont Farmers, Craft and Fairtrade Market is managed by the Egremont Fairtrade Town Campaign Group, which promotes links between farmers abroad and small local producers. The group has representation from local businesses, charities and the Women's Institute.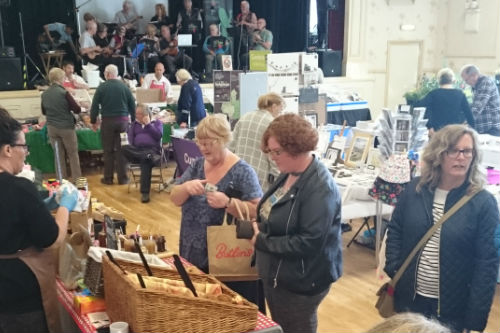 Carole Woodman, from the Fairtrade Campaign Group, was one of the founding members of the market, which was started as part of the Made in Cumbria initiative. When Made in Cumbria pulled out, Carole took over the running of it, she said: "I think it's very important in a local community like this, which doesn't have a lot of money, to be able to provide fresh produce.
"Fairtrade is giving a fair price to farmers overseas, but it also links in with small producers here. That's really the idea of this, to give small producers a platform to start and see how their products go.
She added: "It's making us think about where our food comes from. Farming has to be sustainable, we have to be more aware of where things come from."
Since Helen Shipton-Smith, aka Helen's Herbs, joined the committee the market has been gradually gathering momentum. Helen's business grew itself out of Egremont Farmers Market. From what started as a few small plants, Helen now travels all over Cumbria giving cooking demonstrations, workshops and spreading word of the market.
The monthly event now welcomes shoppers from across the county, with the committee even subsidising a Muncaster Microbus from Bootle, to pick people up who otherwise, wouldn't have any any way of getting there. They are also happy to arrange transport from other areas if necessary.
Helen said: "People are isolated, we tend to bring in a lot of older people who perhaps don't have cars and some of them are disabled. It's providing a wonderful community event for them."
Barbara Newton, the Microbus coordinator and a regular at the market, added: "It's a nice day out. It's good for people to have the bus ride and to be able to meet their friends. There's anything you want here really, plus good refreshments and plenty of toilet accommodation, it's perfect."
Amazingly, Egremont Farmers Market is entirely self-funded. Egremont Town Council have given a small donation to help with the transport costs, but otherwise any money they receive from the stallholders goes towards rent and advertising. One of the committee members sells bread and pies at the market to help raise funds, but even out of that a donation is made to support the Cumbrian Fairtrade Foundation.
Helen said: "Egremont Farmers Market is a lovely community event that welcomes people in and is about supporting local producers, because eating locally is key for the economy."
She added: "There isn't anybody official on the committee. It's a group of volunteers who care and are passionate about local food and produce, that's what is making it work now."
Egremont Farmers, Crafts and Fairtrade Market is held on the third Friday of every month and the first and third Friday in November and December, from 9.30am – 1pm.
For more information contact Helen 07901790734
A special one-off market will be held on Saturday 7 October, from 10am – 2pm, to support Calderwood House.
Upcoming Dates:
20 October
3 & 17 November
1 & 15 December