The Local Creative Turning Pampered Pets into Works of Art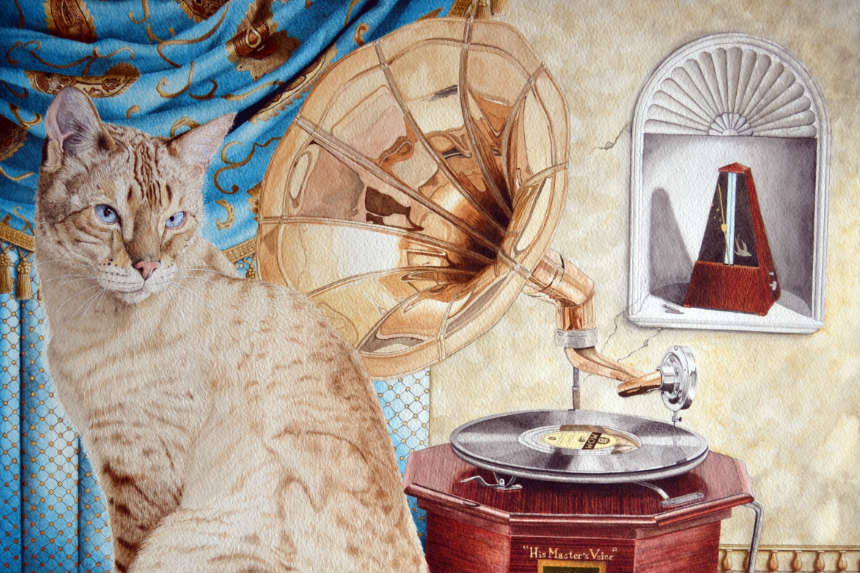 It takes incredible talent and an unconditional love to create paintings as unique as the pets they depict.
Brits and their pets, it's a unique bond and a love quite unlike anything else. Those furry friends are not just loyal companions, they are fully-fledged members of the family. So it was inevitable that the work of one west Cumbrian artist would prove to be a hit.
Kelly Archer, has been drawing animals since she could hold a pencil. From her studio at home in Keekle, near Whitehaven, Kelly transforms photographs of beloved pets into spectacular wildlife and pet portraits. Her unique creations, that combine realism with a touch of fantasy and capture the unique personality of her subjects, have even won her awards. In 2012 the portrait 'Geisha Girl', starring her cat Jemima, won the Rheged Award at the Lakes Artists Society show.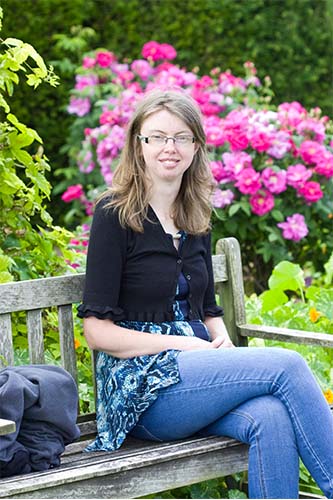 Kelly, entirely self-taught, is a natural. Her inspiration first blossomed from her own pets, of which there have been many, from cats and guinea pigs to wild rats. Her talents don't end there, but it is the animal world that has kept her captivated time and time again.
She explained: "I adore animals, so naturally they were the first things I wanted to paint. Recently I've been drawn more towards painting pets as I feel I can get to know each individual animal. Pets are now treated as family members, so it's gratifying to know that the finished work will be very much appreciated."
Kelly uses watercolours in highly-detailed style, using extremely fine brushes. Her paintings can take up to 150 hours to complete and even the smaller ones involve 40 to 50 hours in the studio.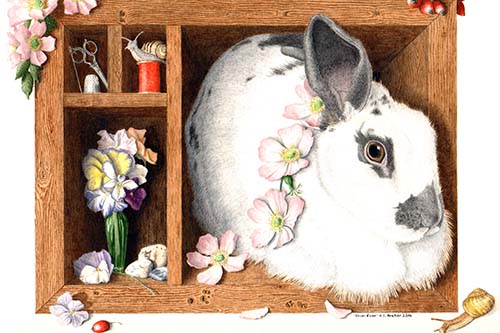 Kelly said: "I could make it easy on myself and use a looser style, but in truth the detail is what makes my paintings unique."
Her paintings are not instantly recognisable as watercolours, in fact they are often mistaken for oil paintings on first glance.
Kelly explained: "It's just layers and layers of watercolour that I build up. With oils I find it harder to get the detail but with watercolour and a tiny brush, I have to put on every little hair on the animal, so I think that's why I like it because I know I can get the detail in them."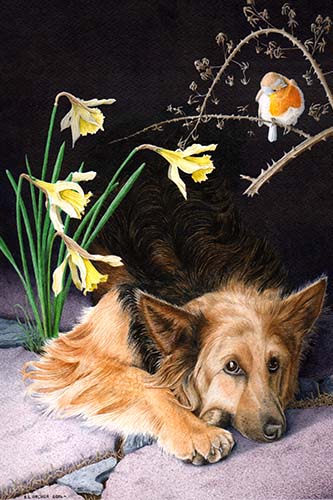 As we speak, Kelly has just made the final brush stroke on 'HMV', the latest painting in her Antique Cats series; the gramophone was inspired by her love of singing. In a couple of weeks time it will be scanned in and uploaded to Etsy, where she hopes cat lovers will leap to buy the prints.
The next one will be a black cat surrounded by a vintage gardening scene, inspired by a feline from Keith Singleton's Garden Centre where she works four days a week. The dream is for the art to be her full time job.
Kelly's husband Steve, who is a full time acoustic guitar maker, is in the process of building them a pair of 'His and Hers' studios in the back garden. Once the studio's finished, Kelly intends to turn her own hobby into a career, selling prints and working on commissions from pet owners who want a unique and timeless memento of their best friend.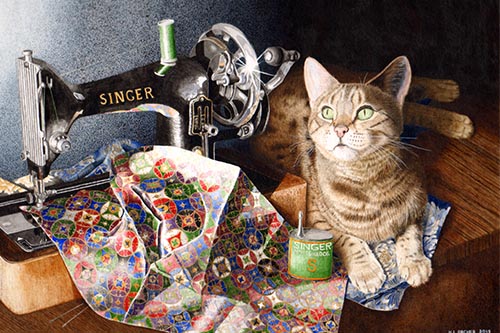 If the paintings don't take off though, there are plenty of other things she could turn her talented hands to. Kelly loves anything, from silver work to sewing and already makes bags and pet beds – of course, to sell online, she said: "Any kind of craft I can get my hands on, I love. It's just curiosity and a love of making things. I find painting very calming, but crafting keeps me interested."
The gifted couple, who have been married for eight years and share a creative flair, have even discussed a collaboration in the future
Kelly said: "The idea of being able to do it together does inspire you to try and make it a success. Using his woodwork and my art skills, we've got all kinds of ideas – that's one thing we're never short of."
No doubt all those ideas are inspired by creatures of the cuddly persuasion.
Kelly laughed: "One thing is for certain, whatever I do it will always involve pets. I just find it really boring if it hasn't got an animal in."
www.kellyarcherpetportraits.com