Colourful Celebration of Pride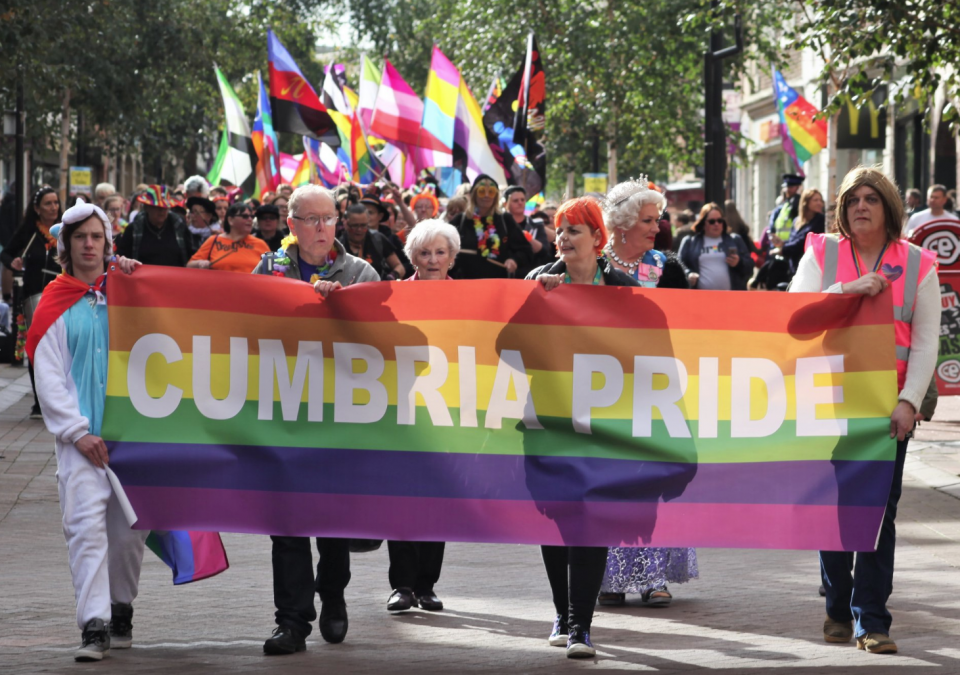 Cumbria Pride is celebrating its tenth anniversary this year and the event holds extra significance as it also marks 50 years since the Stonewall Riots.
 The Stonewall uprising was a series of spontaneous demonstrations by members of the gay (LGBT) community against a police raid that began in the early morning hours of June 28, 1969, at the Stonewall Inn, Greenwich Village.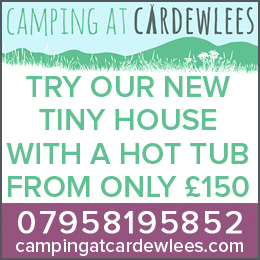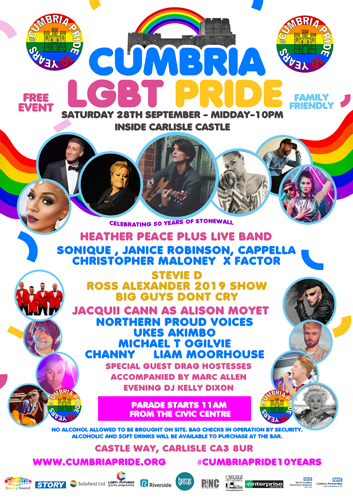 The riots in New York City are considered to constitute the most important event leading to the gay liberation movement and the modern fight for LGBT rights.
Cumbria Pride seeks to build on the legacy left by Stonewall by ensuring that the LGBT community of Cumbria are recognised, celebrated and supported through their annual Pride event on September 28th.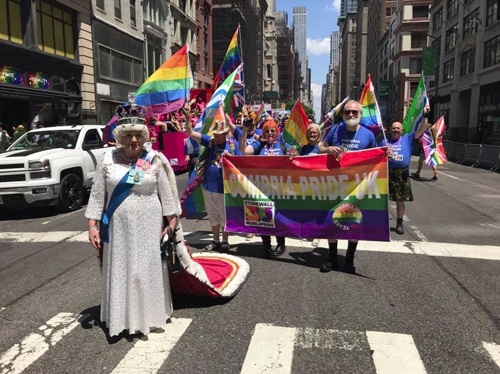 Members of the group recently attended the World Pride event in New York and Chair of  Cumbria Pride, Pam Eland, was thrilled to be part of it:  "The parade was massive, it was just gobsmacking.  The celebration of Stonewall added to its significance and made it a once in a lifetime experience.  Cumbria Pride led the UK contingent of the parade and we had Billie Raymond with us.  Billie has been a drag artist for over 40 years and he was dressed as HRH Queen Elizabeth (Maj), which the crowd really loved."
The LGBT movement has completely transformed since Stonewall and Cumbria Pride has seen some significant changes too.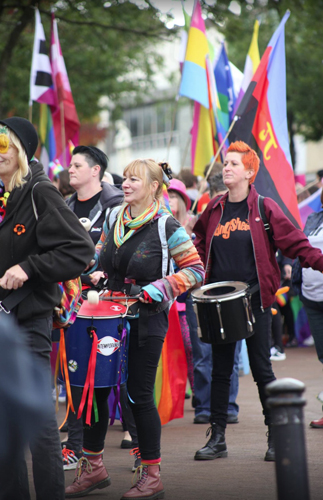 "I originally set Cumbria Pride up because some young people asked if I would help with Pride," explained Pam. "They were actually asking if I would take them down to Manchester Pride, so they were a bit shocked when I put on our own event.
The first event was held at the Fusehill Campus of the University of Cumbria and it was quite low-key because a lot of people said it would never work in Carlisle or Cumbria.  Between 30 or 40 people attended and it was a great starting point.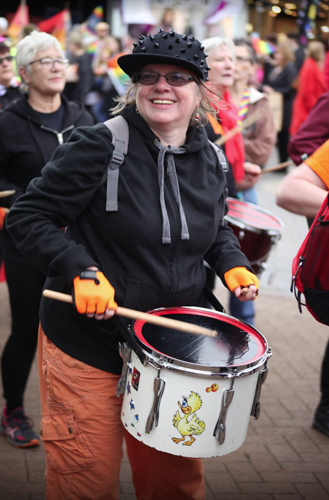 The city has really embraced Cumbria Pride and this year the rainbow fire engine will feature as will the rainbow ambulance.  Last year was the first march and there were 300 people involved and I'm hoping the numbers will double this year."
This year's Pride event is held Carlisle Castle and headlining is musician, actress and LGBT rights activist, Heather Peace, along with her band.  She is best known for her roles in Waterloo Road, London's Burning, The Chase, Lip Service and has become a popular LGBT artist.  Other performers include Sonique, Janice Robinson, Cappella and Christopher Maloney from X-Factor.  Ever popular local artists, Stevie D, Liam Moorhouse and Big Boys Don't Cry will also take to the stage.  Marc Allan will host and resident DJ Kelly Dixon will be on hand when needed.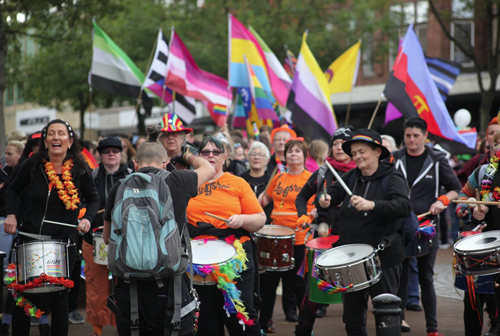 Cumbria Pride aims to be a strong voice for Cumbria's LGBT community and the volunteer-led organisation's positive stance against discrimination promotes cohesion, celebrates sexual orientation and gender identity in a safe environment.
We have come a long way," said Pam.  "As well as the main stage there will be over 30 organisations coming along to promote what they do, we'll have people performing aerial acrobatics, circus skills and food stalls.  We also need to let people know there will be bag checks and alcohol is not permitted to be brought in but the Rolling Pub Co will have a fully stocked bar.  Cumbria Pride may have started as a small, low-key event but it's turned into an inclusive celebration that's one of Carlisle's main free community events.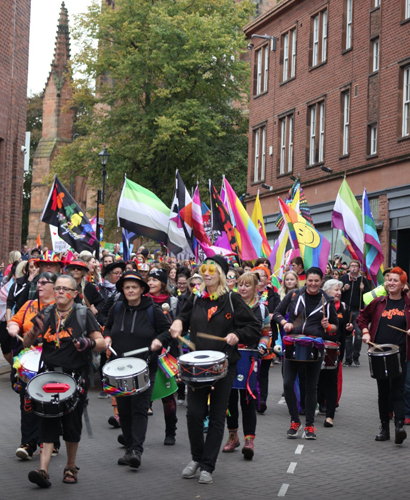 All they ask in return is for donations on the day.
Participants will gather from 10.30am in front of the Civic Centre before the parade sets off through Carlisle at 11am. The lively affair will feature a female drumming band, samba band and plenty of colour.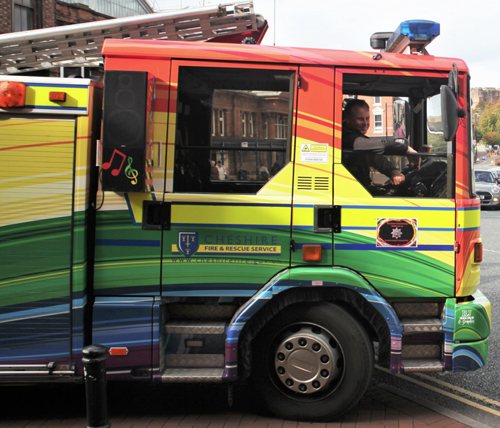 Cumbria Pride may have started as a small, low-key event but it's turned into an inclusive celebration that's set to take over Carlisle.
 Visit www.cumbriapride.org for more information or keep up to date with their Facebook page @CumbriaPride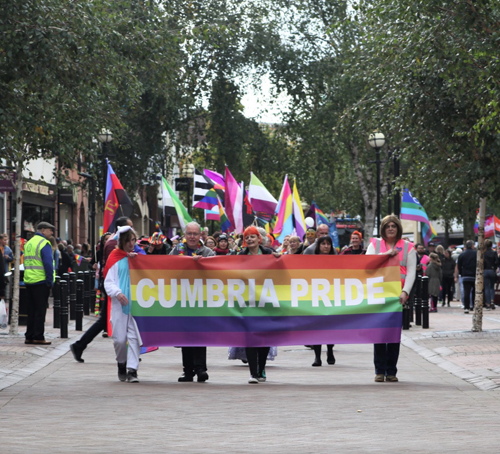 Share It: