The Drovers Rest, Monkhill has a reputation for good food and great ales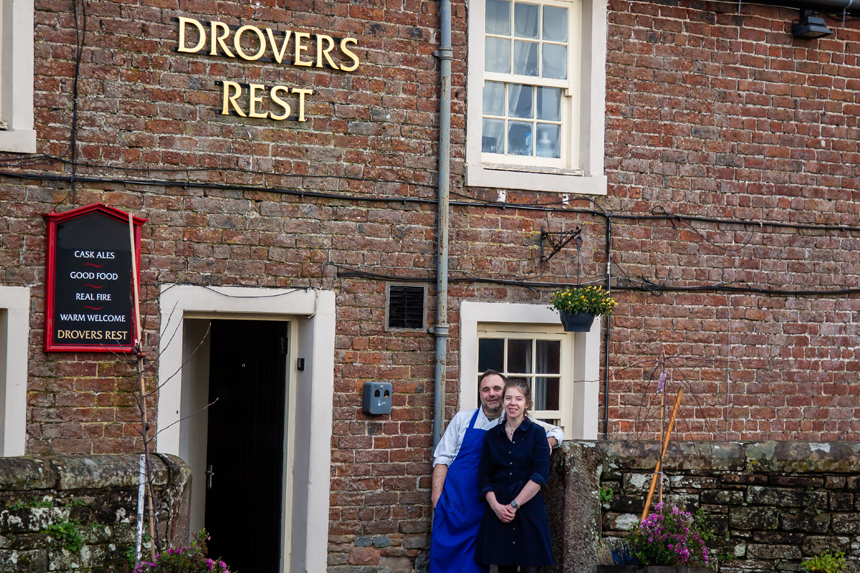 The Drovers Rest in the village of Monkhill has always maintained a reputation for good food and great ales.
New owners, Tom McMaster and Beki Bowles took over the traditional pub, a few miles west of Carlisle, in early September after ten years at the helm of Middle Ruddings pub in Braithwaite, which is near Keswick.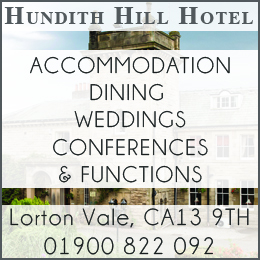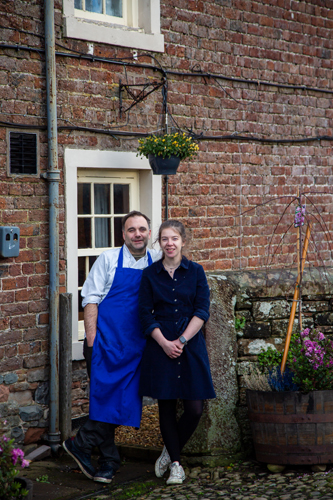 "Unfortunately, our lease ran out but we love Cumbria and wanted to stay in the area," said Beki.  "We knew Sandy, Sarah, Bill and Linda, who were the former landlords of the Drovers Rest and they asked if we would consider taking over their pub, which was a real honour.  They felt we were the only people that could take over because we would continue the tradition of good beer while lifting the food to another level.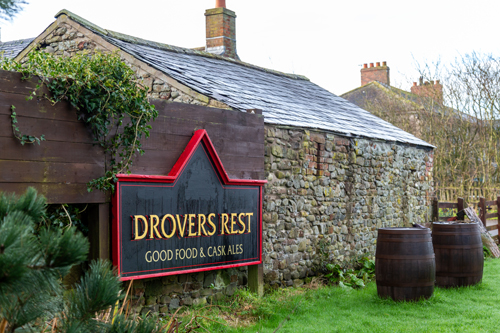 We want to draw on all our experience, but we also want to bring something special too.  All our food is made from scratch, that's the mayonnaise and the chips right through to the sausages, which are hot-smoked in our own smoker.  Tom was originally a butcher and champion sausage maker and we serve his creations like Beef and Smoked Oyster, Pork and Cheddar, Indonesian Curry and traditional Cumberland.
They're great on their own but were created with the intention to pair with the delicious beers – or ciders – we serve on the bar.  Customers can enjoy them three ways depending on how hungry they're feeling.  You can have a snack of a 1/4 sausage which is glazed and sliced with homemade dips. There's a 1/2 sausage in a bun with relish, pickles and sauces, or the 'big dog' which is a whole sausage served with slaw and chips.
Come in and enjoy a tasting beer flight of three drinks accompanied by three paired sausages.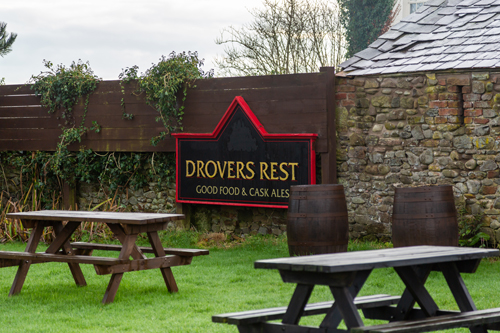 Since COVID restrictions were introduced, we've added loaded fries to our dog house menu.  Our popular triple-cooked chips are topped with delicious extras to ensure there's something 'substantial' for you to enjoy.
It's our nod to continental beer-drinking.  Tom and I were engaged in Brugge where the bars have snacks and we wanted to bring that to Cumbria.  We have four real ales on tap, two lagers, a couple of ciders and our plan is to have a sausage to pair with whatever drink you have, whatever time of day you come in."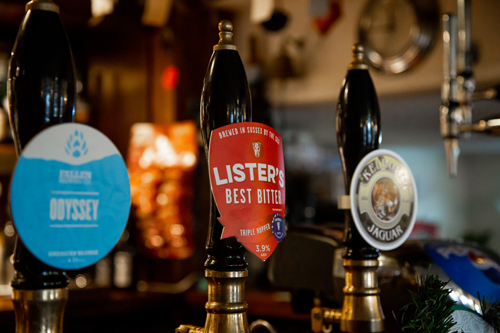 Tom and Beki are passionate about food and use the finest produce from trusted local suppliers to create restaurant-quality, hearty pub grub.  The Drovers Rest cater to any dietary need, their classic country menu offers a few modern twists and changes with the seasons to utilise the freshest produce.
The winter menu includes starters from a cured Partridge breast, with poached pears, sprout bubble and squeak and a bacon caramel to Monkfish medallions with a lemon balm pesto and a crispy pea croquette. While the mains include local goat curry, with rice, peas and a Caribbean dumpling to Venison Haunch with a chocolate and ginger sauce, celeriac puree and celeriac and carrot 'bone marrow'.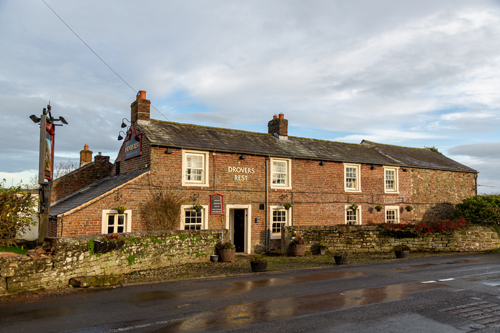 Delicious vegan dishes are available and a roast is served all day on Sunday.
Sit back and relax in the dog-friendly bar with a roaring fire or the big beer garden in the summer months.  Restrictions might not allow it at the moment but as soon as it's safe, Tom and Beki plan to hold beer and sausage tasting nights, local music evenings and a summer beer festival.
Whether you want a tasty snack or a hearty meal washed down with a couple of quality ales, sit back and relax at the Drovers Rest.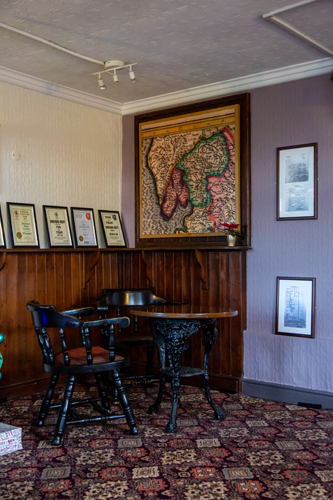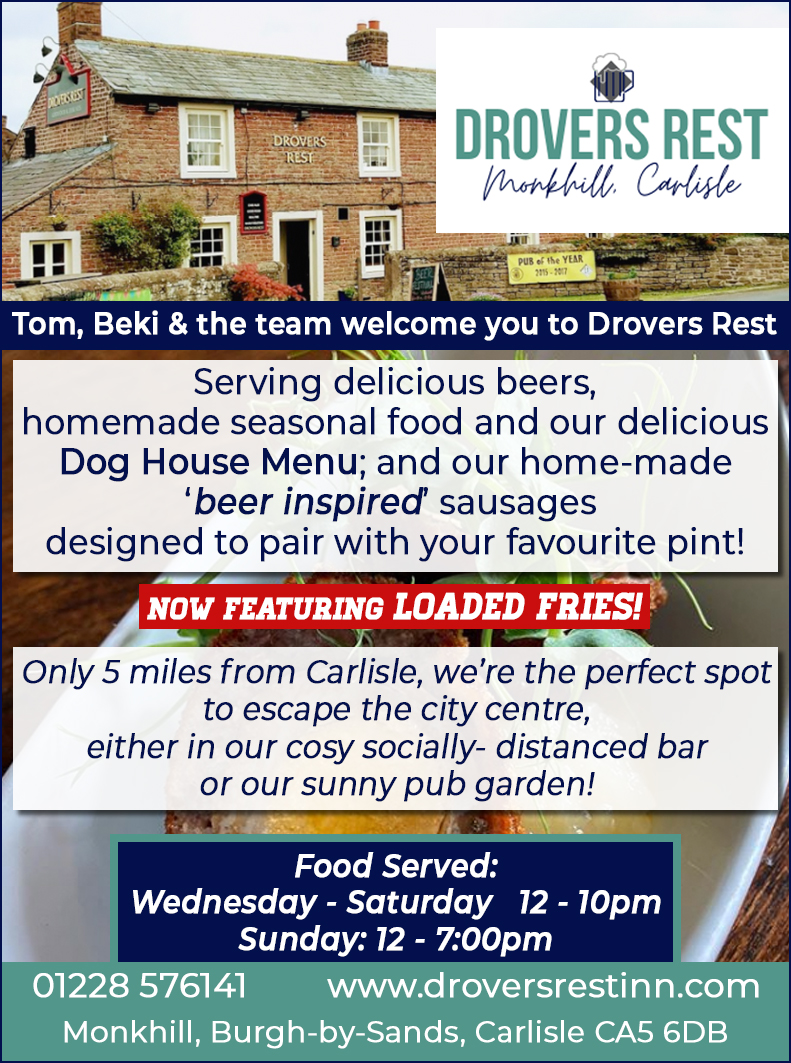 ---
WE HOPE YOU HAVE ENJOYED THIS EASY TO ACCESS & FREE ARTICLE – BUT WE COULD REALLY DO WITH A LITTLE SUPPORT
Why not become a Fan – Supporter and Member by Taking up our Limited Offer – Every edition of The Cumbria Guide delivered to your home, alongside our Exclusive 'Cumbria Guide Loyalty Card' – All of the above and also including other special offers from less than £2 per month.
Spend More – Save More and Help Support our Local Businesses around Cumbria ….
Click here Today and start saving
---
As featured in…
Share It: