Tara's Seasonal Delights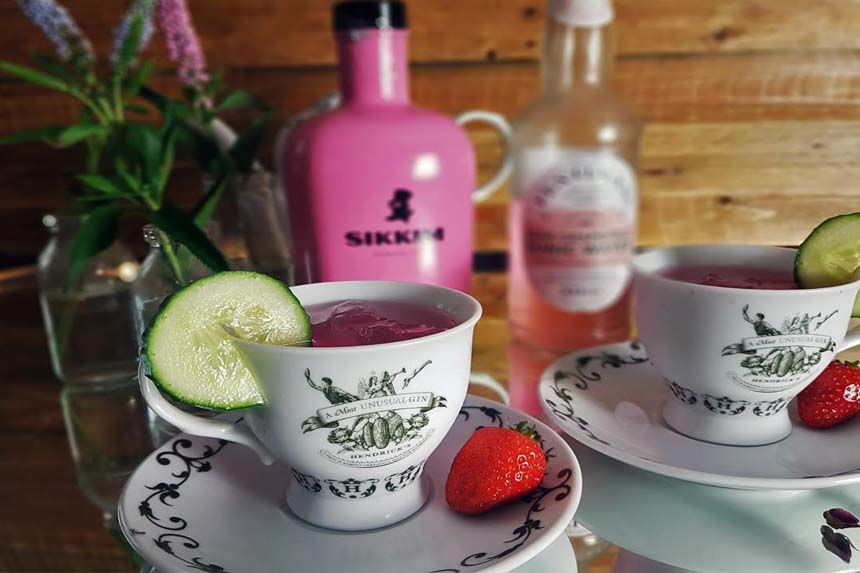 The welcoming change of the Season brings new and fresh ingredients to the table and more importantly, allows you to get resourceful with what Mother nature is offering up.
Ginny's storm in a teacup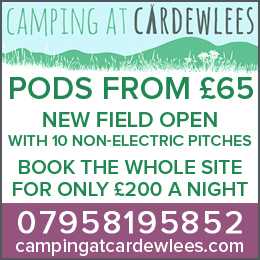 It would be fair to say that gin is having a bit of a moment right now. Although Mothers ruin has been present in the UK since the 17th Century, (and I've been a diehard fan for longer than I'd care to remember!) it is only now that we are experiencing a true Gin Renaissance.
The emergence of new-style gins, premium mixers and experimental garnishes has ensured it is now not just as simple as a "G&T".
Case in point: Sikkim fraiche. This gin is combining red tea, Dutch juniper and wild strawberries – a total winning combination and something a little different from your typical London dry. And would you just look at that PINK bottle, what a dream!
You will need:
Your favourite gin
Fentimans Grapefruit Tonic
Strawberries and cucumber to garnish
To serve:
Simply pour a measure of gin and mix with your favourite tonic. I've opted for Fentimans Grapefruit tonic, but there are so many options available! Tea cups option, but highly recommended for that optimum British Summertime feel.
Absolutely Fabulous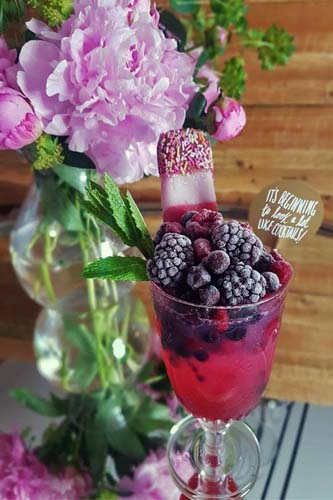 If a Fab ice lolly in a cocktail is wrong, then I don't wanna be right. Hello you beautiful thing!
The tipple that just keeps on giving-  vodka based with floral undertones, loaded frozen berries and of course, topped off with a mini ice lolly. Perhaps it's a little on the OTT, but if you can't be a little extravagant with your home mixology then when can you?
You will need:
20 ml Vodka
10ml Crème de cassis
10ml Vermouth
10ml Violet liqueur
Juice of half a lemon
Topped with soda
To garnish: Frozen berries, sprig of fresh mint and mini Ab Fab.
To serve:
Combine all ingredients (minus the soda) and shake.. Pour into a tall glass over ice, top with soda and fill with frozen berries and mint. Top with mini ice lolly and enjoy!
Classic Pimms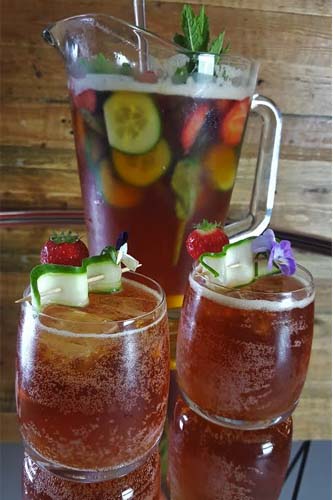 Perhaps a pitcher of Pimms wouldn't win any awards for originality, but it really is ideal on a sunny day in the garden with your best pals.
I opted for traditional Pimms and lemonade, but the recipe ideas are endless. I t can be teamed with dry cider, champagne or ginger beer for an updated twist… but why mess with classic?
You will need:
Pimms
Lemonade
Fruit to garnish- the more the better: Strawberries, lemons, limes, orange, cucumber (you get the gist)
To serve:
Pour about 1/3 of pimms into a jug and top with lemonade. Combine with ice and fruit, stir and serve! Garnish glasses with cucumber ribbons and edible flowers for the prettiest Summer time drink.
Share It: