Pumpkin Cake and Coconut Sorbet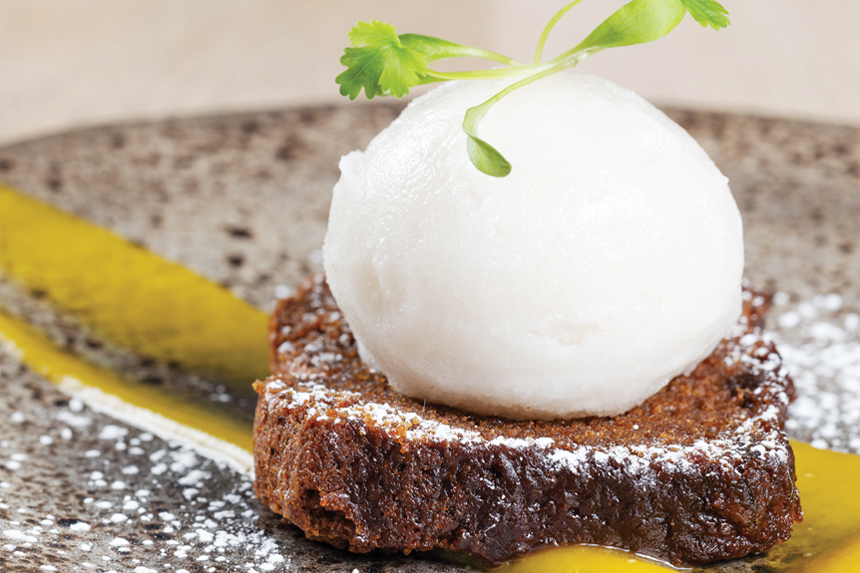 Pumpkin Cake and Coconut Sorbet
A sweet, sticky, warmly spiced cake with a satisfyingly spongey texture. This delightful recipe is vegan friendly and makes the perfect treat after the excess of the festive season.  You will need an ice cream machine to make the sorbet, and a stick blender or food processor for the cake.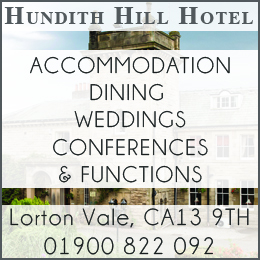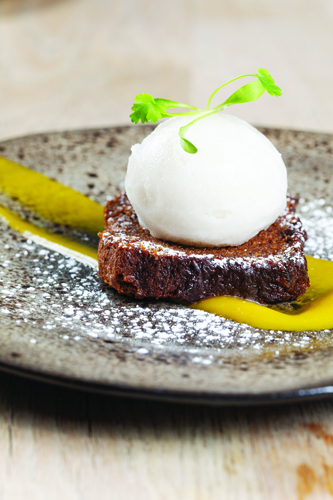 Ingredients
For the pumpkin purée:
500g cubed pumpkin or squash
150g sugar
For the pumpkin cake:
225g plain flour
225g dark muscovado sugar
50g caster sugar
3 tsp cinnamon
3 tsp ground ginger
1 tsp bicarbonate of soda
Pinch of salt
250g pumpkin purée
125ml sunflower oil
1 tsp vanilla essence
75g coconut milk
75g dried apricot, chopped
For the coconut sorbet:
250g sugar
200ml water
400g coconut milk
25ml white rum
Method
For the pumpkin purée
Cook the pumpkin in simmering water until soft, then strain. Blend the cooked pumpkin or squash with the sugar to form a purée and set aside.
For the pumpkin cake
Preheat the oven to 160°c. Mix the flour, sugars, spices, bicarbonate of soda and salt together in a large bowl. Gradually add the pumpkin purée (leaving two tablespoons for garnish when serving) to the dry ingredients along with the sunflower oil, vanilla essence and coconut milk and then stir in the chopped apricot. Spoon the mixture into a loaf tin lined with greaseproof paper. Bake in the preheated oven for 50 minutes to 1 hour. Check that a knife comes out clean before removing from the oven. The cake should cool completely before being removed from the tin.
For the coconut sorbet
Heat the sugar and water to a simmer while whisking, then remove from the heat. Once off the heat, mix in the coconut milk and rum. Cool and then freeze in an ice cream machine.
This recipe is courtesy of the Vegan North Cookbook which is available to buy in all good bookshops or online at www.mezepublishing.co.uk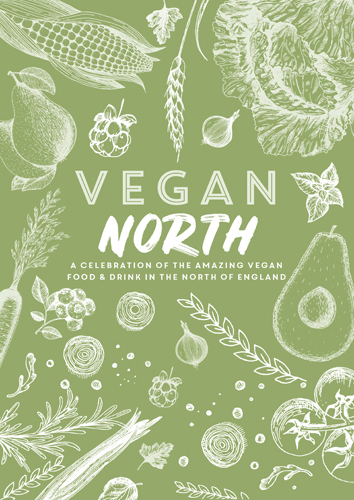 ---
WE HOPE YOU HAVE ENJOYED THIS EASY TO ACCESS & FREE ARTICLE – BUT WE COULD REALLY DO WITH A LITTLE SUPPORT
Why not become a Fan – Supporter and Member by Taking up our Limited Offer – Every edition of The Cumbria Guide delivered to your home, alongside our Exclusive 'Cumbria Guide Loyalty Card' – All of the above and also including other special offers from less than £2 per month.
Spend More – Save More and Help Support our Local Businesses around Cumbria ….
Click here Today and start saving
---
As featured in…
Pumpkin Cake and Coconut Sorbet
Pumpkin Cake and Coconut Sorbet
Share It: