Fish Night At The Clubhouse Is On Par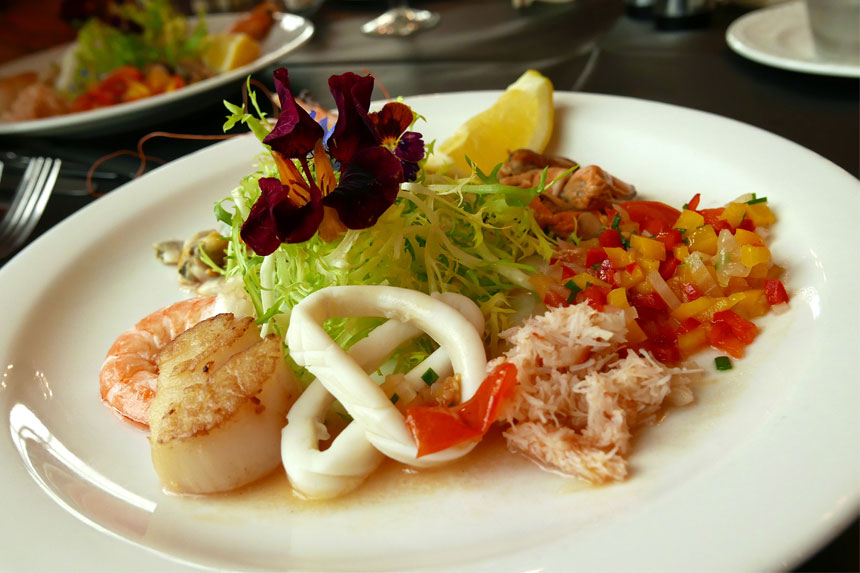 Cumbrian foodie Alan Spedding gives Seascale Golf Club's first 'Fish Night' under new chef Craig Niven a perfect score.
When I was invited over to Seascale Golf Club to experience a seven course 'Fish Night', I have to admit that it sounded like a bit of a strange location for such an event. However, as soon as I found out who was going to be doing the cooking, everything just fell into place.
Craig Niven is the newly appointed chef at the Golf Club, so I knew straight away that Craig and fish are a match made in heaven. Formerly Craig was the brains behind the amazing fish menus at The Inn at Ravenglass, which had such a good name for itself diners were known to travel from Manchester just to eat lunch there. When Craig left, so did the customers and Cumbria's only fish restaurant was left as a happy memory.
Seascale Golf Club has only recently seen new management taking over the day to day running of the business. Craig, being a golfing fanatic went straight in for the role of Head Chef, knowing full well there was the potential get straight out on the award winning course in between lunch and dinner service. Word soon hit the West Cumbrian streets that Chef had been appointed and within no time at all, the waters were being tested and a fish night launched as a regular, seven course seafood extravaganza.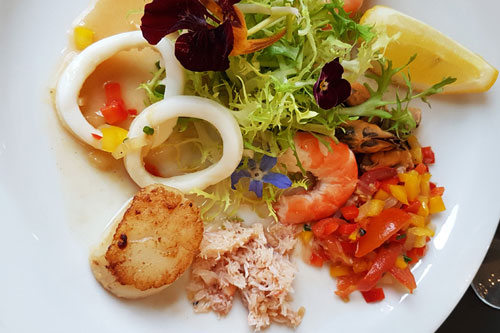 The evening was a total sell out right from the start and at £40 for seven courses, no wonder the event is so popular. Our meal consisted of five fish dishes, a sorbet and a dessert. The service 'tee-d' off with a first course mixed seafood salad, which happened to be both of our favourite courses of the night. Sometimes the simplest things are the most memorable and a lovely selection of fresh prawns, scallops, squid, cockles, mussels and white crab meat sat alongside a sweet and sour salsa, which balanced the starter up perfectly. Top marks.
Lobster, crab and king prawn tortellini was swiftly delivered as a hot second course, accompanied by one of my personal favourites, truffle oil. The delicate earthy scent of the very expensive truffles perfumed the air, filling the room with the wonderful aroma. Suddenly everyone became very quiet, a good sign that this course was a winner. Nice one Chef.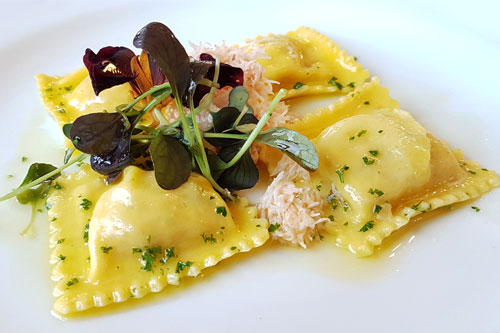 Another favourite of the evening was a rather fun and innovative 'Scampi Fries` course. Bags full of the favourite pub snack had been blitzed to a coarse crumb in a food processor. These scampi fry crumbs had then been used to coat plump fresh langoustine tails which were then deep fried to golden brown and placed back inside the plastic bag. Served up with a sharp homemade tartar sauce, this was an amusing dish which had everyone smiling.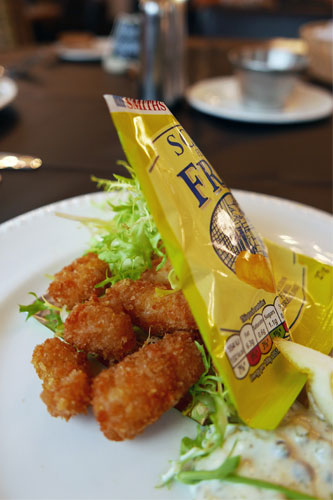 Main course was the classic 'fish in the paper bag', however Chef had elevated the dish to a more luxurious height using a beautiful fillet of fresh halibut as the main attraction. The paper bag was cut open at the table to release a perfumed aroma and a prime piece of freshly baked quality seafood, which captivated the diners with plenty of "Oohs" and "Aahs". I gathered from the sound effects that everyone was enjoying this one.
By now, time had passed and with six courses served to the diners I noted that the wines had taken quite an effect. Golfing stories of years gone by and a few heated sporting technical discussions were now taking place. A quick Lemon Syllabub and it was time for me (being the non-drinking designated driver) to quietly slip away.
I can only see the event getting busier and once Chef Niven finds his feet, establishes quality suppliers and brings back a few favourite courses from his time cooking at Ravenglass, it'll definitely be a case of "book early to avoid disappointment". The main question after such a meal is always "Would you return for more?" Well, you can bet your life I will.
For more information about Seascale Golf Club and its menu, visit www.seascalegolfclub.co.uk.
Words and photography by Alan Spedding