Discover whats on in Cumbria
Cumbria Traders Market – Whitehaven -
August 26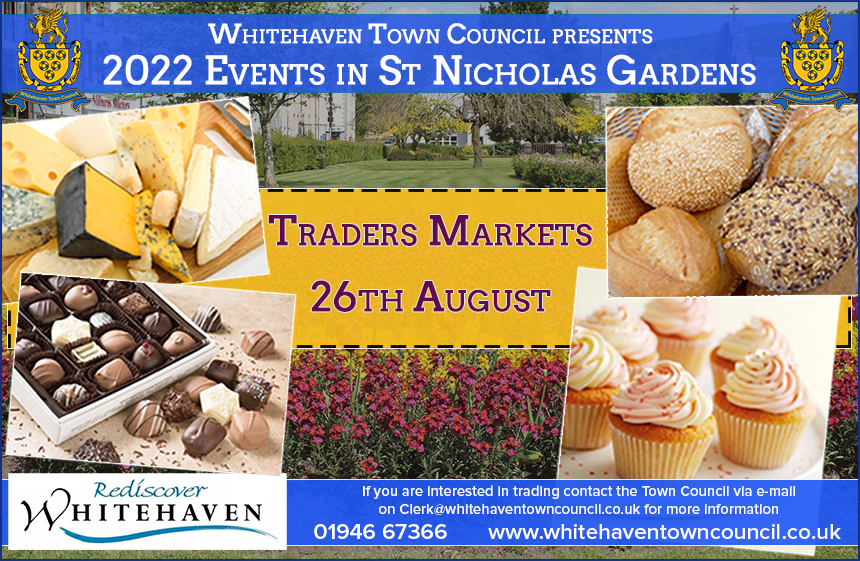 Whitehaven Town Council are delighted to be bringing the Cumbria Traders Markets back into St Nicholas on August 26th.
The Cumbria Traders markets have proven to be a real hit with shoppers and traders alike.
There seems to be something for everyone and it is pretty awesome to see local crafters, grafters, bakers & makers have the opportunity to sell their wares without any pitch fees whatsoever.
Whether you are looking for delicious local homemade food, crafts, children's clothes or handmade Cumbrian Chocolate, then there is something to tempt us all.
If you have yet to visit The Cumbria Traders Market, well get these dates in your diary and don't forget to bring a big bag when you come along.
Town Council Mayor, Charly Maudling said "These are brilliant for the town, they bring a lot of footfall into Whitehaven which is always a great thing. We welcome every event in Whitehaven with open arms. It is great to see local crafters have the opportunity to sell their wares and grow their business. If there are any budding Traders out there who would like to host a stall at one of our Cumbria Traders Markets, at no cost, then do contact Whitehaven Town Council for information."
The next event is the Christmas Market in St Nicholas Gardens on Friday 2nd December.
Want to share an event with us? Submit event