Catching Up With The Lucid Dream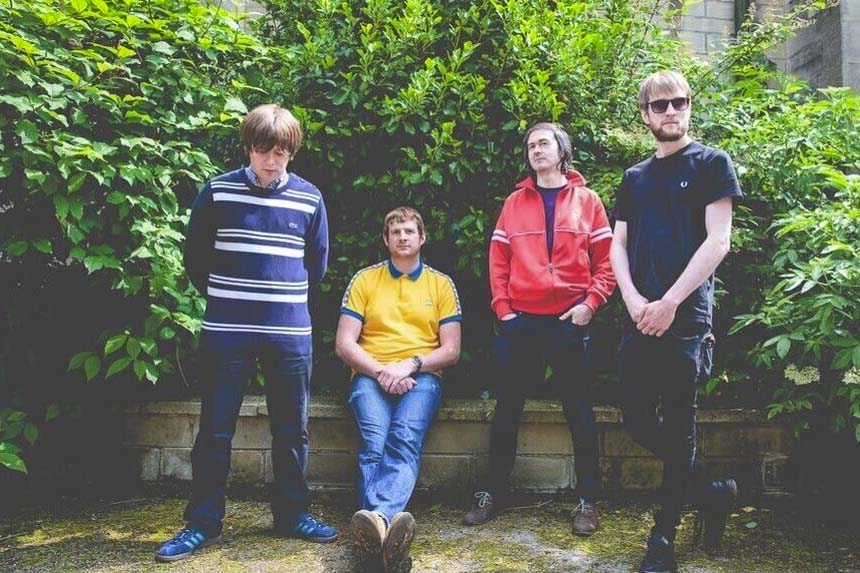 Interview by Paul Shepherd
The Cumbrian four piece have come a long way since their debut gig in Carlisle in 2008. But like their music, the journey has not been without the unexpected.
Last year, following a gig in Paris, the band was devastated by the theft of all of their equipment, much of which was irreplaceable. Frontman and guitarist, Mark Emmerson, tells Paul Shepherd how it is thanks to the fans that they are still going and are better than ever.
For those who haven't heard your music before, how would you describe your sound?
Psychedelic, garage rock, punk, reggae; uncategorizable is what we usually say.
What inspires your music?
In the early days it was Spacemen 3, Spiritualized, The Verve, The Jesus and Mary Chain. But these days it's a lot of Jamaican music from the '70s and acid house, we like to experiment.
How and when did the group start out – what's the story and how would you describe the journey to get to where you are now?
We started in 2008, three of us have been in bands together since 1998, so it was kind of a progression and this is the one that worked out. We've been together for nine years and we've come from playing a house gig in Carlisle to paying Europe. We've done all we set out to do.
Sadly, following a gig in Paris, all your gear was stolen, what does it mean that your fans came out in force to help you crowd fund to raise the cash to ensure you were able to carry on doing what you do?
We're speechless, really. We lost everything and the response from the fans is the reason we're still going. When something like that happens, it makes you realise how much you mean to people and how you can't throw the towel in. We've ended up being able to replace everything and we never thought that would be possible when we first found out we'd been robbed. It's probably the best thing that's happened to the band in the end.
In the past you've toured all over the UK and Europe, how does playing locally differ for you, to playing such huge venues all over the country?
Well, we've only played Carlisle once in two and a half years but the last gig we played sold out in 24 hours, it was amazing to come back here. The response and passion locally in the past few years has been massive. The good thing about playing here is that we have people traveling from all over Britain to come and see us. It's nice that all those faces that you've seen these past few years – and your family and friends – are all in the same room together. The last gig we played in Carlisle was absolutely superb. We probably could have played it a couple of times over but it was nice to have it as a one off occasion.
You have upcoming gigs in Liverpool, Manchester and the Netherlands – what can people expect from a Lucid Dreams gig?
Loud. Anyone who's seen us can tell you it's a full throttle experience; it's loud, it's intense, we don't take our foot off the gas. If anything, people realise how much they mean to us when we're onstage because we're not bothered about looking cool, we don't hold back when we're onstage. Half the time we don't know what we're doing to be honest, but I think that's a good thing, because our gigs are always another level in terms of the atmosphere and the feeling you get from playing live. We're well known for our live sets.
You released your first EP in 2010 – what's been the biggest change during that time?
Our profile has increased a lot since then, it's been a gradual thing but remarkable to see. Musically, we probably wore our influences on our sleeves a bit too much, whereas now we're widely acknowledged as being diverse. It takes a while to find your feet as a band, so that's what we were doing with our first EP and album. I will say, the first album was pretty hard to get done; the second and third album couldn't have been any easier, we got them done in a matter of weeks and it'll be the same with our fourth album as well. We've released three albums, one EP and various singles.
What about the future, any exciting plans?
We're in the process of organising a free entry show for all of those who donated to the crowd fund, so we're looking forward to that. You need to do something to give back, so we're going to do two free shows, in Carlisle and Manchester in August. Then we're going to shoot off to make the fourth album in the Autumn/Winter. It won't appear publicly as if we're doing much, but we'll be making a new record which will come out next year and then we'll be back playing gigs. The priority is the new album.
Lucid Dream
Lucid Dream
Lucid Dream
Lucid Dream