Catching Up With COLT 45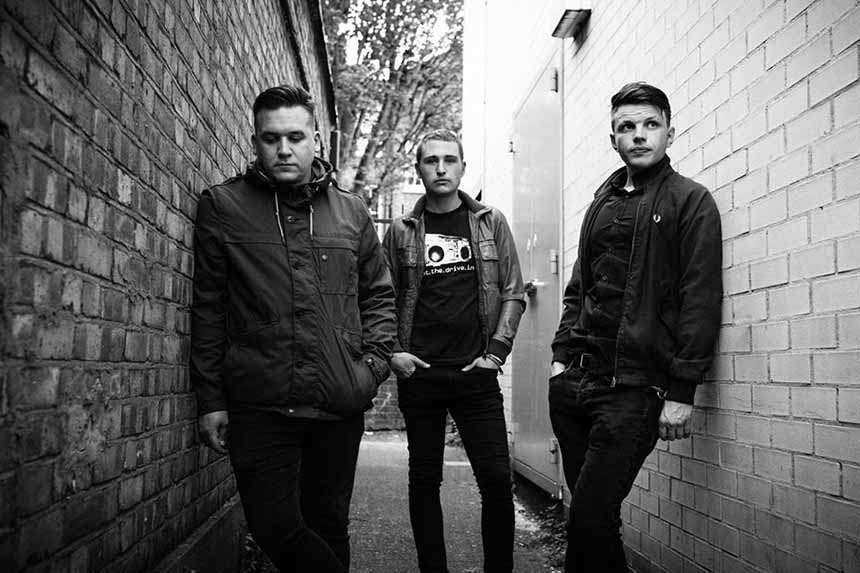 The last seven years have been pretty full on for the Cumbrian three piece, from touring across Europe to releasing a charity single for the Cumbrian Flood Appeal at the beginning of 2016. After a brief but well-deserved break the boys are back with some new material, that reflects their growth as a band, but still with plenty of that punk rock aggression that their fans love them for.
Sarah Sinclair caught up with drummer, Adam Lewis, to discuss progression, influences and what they've got lined up for 2017.
What have you been up to over the last year?
We released 'Snakes & Ladders' – our third EP and played at a lot of festivals all over the country, including our first slot at Rebellion Festival, which was a great platform for us to reach a lot of new fans. We took a break towards the end of the year but started writing again just after Christmas, we soon started to get excited about recording new music and getting stuck into some touring again.
Have you got any local gigs coming up?
Confirmed local gigs so far include headlining the Station House Easter Weekend in Annan, Moonfest in Kendal in May, and Touch Down Festival in Workington in July.
Will we see any new releases this year?
You can expect a new single in April with a video. We'll be following that with a series of further single releases which will form the basis of a new album in about a year from now.
What can we expect from your new music?
Long time fans will not be disappointed, there's still plenty of punk rock and aggression in there, but balanced with the fact that we are all getting a bit older and are now into our eighth year of working together as a trio, so we know each other's strengths and how to play to them.
For me, the song writing this time around is a lot stronger, simply because we've had several years of writing together to build on. The new songs are easily the strongest we have ever done in my opinion; I can't wait for people to hear them.
Where did the inspiration for your new music come from?
As always, love, life, loss, the frustrating juggling act that is trying to balance all of your competing priorities and our experience of having spent so much time together on the road. It all makes for a passionate and energetic set of tunes that are as honest and raw as they come.
So you are still writing about things that have affected you personally?
I think that's the only thing you can write truthfully about. I've never been able to write about things I can't relate to or imaginary things. I think the type of music we play and the music that has influenced us lends itself well to introspection – learning from your mistakes, analysing decisions and memories and presenting them in a different way that might change how you feel about them.
Would you say your music changed and developed much since the earlier days?
There has been a natural development in our song writing, with more influences being thrown into the pot as we get older. We're all big music fans and we're always discovering new music, whether it's new in the sense of modern or just older stuff we hadn't heard before. There's never been a conscious effort to change our sound, nor do we don't want to, we just write what comes out and it sounds like the three of us playing together in a room always has.
What other musicians are you inspired by at the moment?
We all really like the new album from The Menzingers – 'After The Party.' We've been fans of the band for years and it's great to hear them back at their best, and to see loads of other people getting into them as well. We all love Alkaline Trio, Gaslight Anthem, Brand New, Manic Street Preachers, Bruce Springsteen, Richard Hawley and loads more so there's plenty of different stuff influencing our sounds.
Where do you see yourselves taking the band in the future?
We are all getting on a bit now, and are comfortable with the fact that this is never going to be a full time job for us, despite how hard we've worked and the effort that has gone into touring, writing and recording. We just want to keep writing and performing the music we love, so as long as we have the platform to do that and fans who still want to see and hear us, that's enough for us.
When can we next see you live?
Our first show since September will be headlining the Annan Station House Easter Weekend on Friday 14th April.

Colt 45
Colt 45
Colt 45