Catching Up With The The Black Guards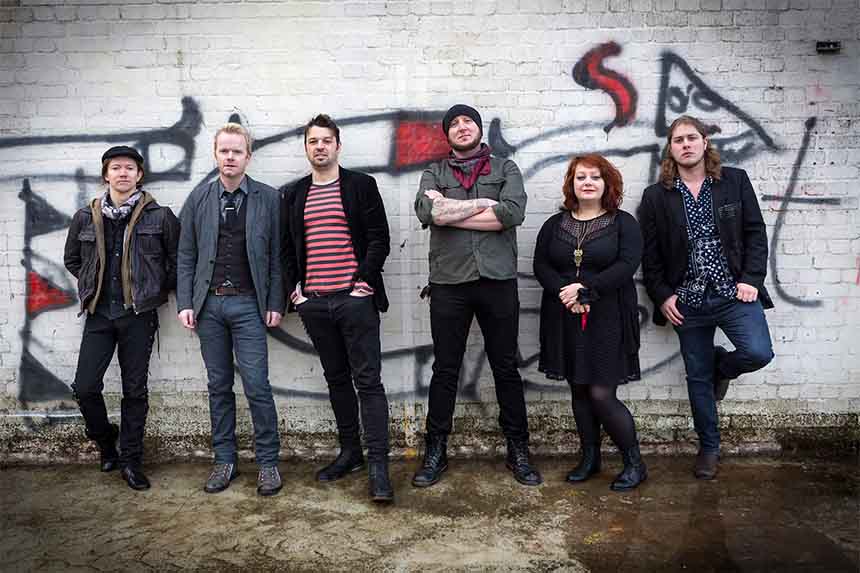 Image taken by Jan Fialkowski
After recently changing their name from the Bleedin Blaggards to The Black Guards, Paul Shepherd sat down one sixth of the band, lead vocalist, songwriter and guitarist Paul O'Halloran to find out what's in store for the group in 2017.
So, you're familiar faces with a different name. What's the story behind the name change?
 It was something we discussed about a year ago once we started incorporating more of our own material into the band. It didn't really sit well, the name, 'D'Bleedin Blaggards' with what we were doing – our original stuff was a little bit more serious. So we started thinking a little bit more about the songs, which was kind of the main idea. When the band was talking with the publisher and the label, we decided to drop the "D" from the name, as it was causing some conflict with people. I just put it to the band 'let's just call ourselves 'The Black Guards', and luckily everyone agreed. It's been great, it's been a really good thing, and we've got a lot more original material coming through now as well.
For those who don't know much about the band, what's the best way to describe your style and sound?
As we're going through a transition period at the minute I think the best way to describe our style is definitely alternative folk, with a kind of roots style going on.  We're moving in the direction where we're doing a lot more of our own material, and we've got a few gigs lined up this year where we've mixed it up.
A lot of the songs are quite contrasting to the different genres we do. You can be listening to one song and thing it's quite an Americana country song, and then you'll hear another and think it's an indie folk song. So we've got all sorts in there, ballads, folk songs, rock songs.
You recently stuck a record deal with Folkstock records. How did that come about?
 After hearing a couple of the songs, the label really liked what they heard so we just had a conversation about what both parties were interested in doing, so that was great, then the same thing happened with Wipeout Music [Publishing]. I think it was down to the hard work, and a bit of good luck.
What does the future have in store for you guys?
 The plan is to get the single out, to get the EP out and then get the album recorded. We just want to do as much as we can, and get more songs written. Last year in Cumbria we did around 60 gigs, so we're hoping to do that again make, new connections and get as far in the field as we can. We just want to keep moving forward, but having fun at the same time, because if you can't do that, you're in trouble.
https://www.facebook.com/blackguardsmusic/