Meet the Ultimate MARRA-thon Man
On Father's Day last year, Gary McKee decided that to mark his late Dad's 80th birthday, by running 100 marathons in 100 days.
The 'Marathon Man' ran 27.1 miles in around the three and a half hour mark every day, from 14 January up until 23 April. He finished his challenge on a high by completing the London Marathon. The next day he appeared on national television and it seemed that the whole country was celebrating his success. But although the running was finished, the challenge was far from over for Gary.
A few weeks later, as the Just Giving page continued to rise, Gary received a call from Copeland Mayor, Mike Starkie; he was to be awarded the Freedom of Copeland. The prestigious award is the highest that can be bestowed in the borough and Mike believes Gary could be the first person ever to receive it.
Gary said: "I have just tried to help people, local people who have been affected by cancer, so to receive an award of such magnitude, it's quite overwhelming. When you think of some of the great people who live in our borough, it's an absolutely enormous thing to receive."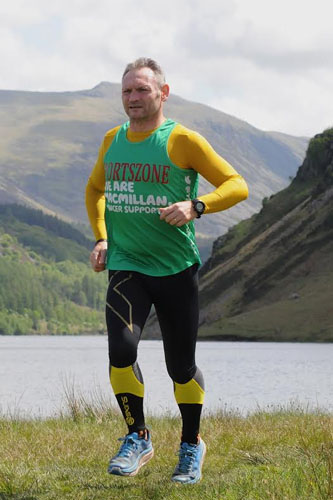 He added: "Receiving the award is certainly a highlight, but equally important is the end product and that is the money we have raised. It's the money that actually helps people with cancer, it isn't me running, it's the donations on the back of it."
Donations have come in from all over the world. Gary had 15,000 followers on the fitness tracking app Strava, with people donating from as far as America, Australia, New Zealand and Hong Kong. It is the support of those closer to home though, that has kept him going. Local people took it upon themselves to hold fundraising events, from cake sales to bucket collections and of course, were consistently by his side, cheering him on.
Gary said: "The support I received was phenomenal.
"The highlight was Easter sunday when I came out the house and there was over a hundred people outside, all with Macmillan tops on, of all ages and abilities. People running, walking, cycling, children in pushchairs. It just shows the support that I was receiving and how the community all pulled together and how it has affected everybody."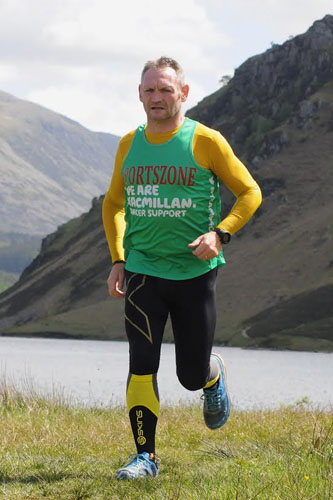 Gary's life changed when his dad was diagnosed with cancer in 1997, he fought it and survived but the experience has stayed with Gary. After his dad's death, of an unrelated illness, in 2003, Gary began fundraising for Macmillan in his memory. As part of his journey, he has climbed mountains, jumped out of aeroplanes and walked over fire, raising thousands of pounds for the charity in the process.
Speaking at Gary's send-off event at Cleator Moor Civic Hall, back in April, Sue McDonald, the Fundraising Manager for Macmillan in Cumbria said: "The amount of money he has raised to be used in this local area, I wouldn't like to guess how many people that will have helped. It will more than likely be used to give grants to people who are in financial difficulty as a result of their cancer."
Even at his lowest points, a close friend passed away during the challenge, Gary got his head down and carried on; going on to run the London Marathon in his friend's memory. Nothing short of an inspiration, Gary has done more for others than most of us will do in a lifetime, but he's not finished yet.
Gary said: "I will be doing another challenge next year. It doesn't really matter what I do, the end product is always the same, it's to raise money for Macmillan to help people who've been affected by cancer. It doesn't matter if it's 100 marathons in 100 days or a cake sale; it's all about raising funds for people less fortunate than ourselves and that's something that we can all do."
He added: "It's the end of the chapter, it's certainly not the end of the book. I will continue to do what I'm doing for Macmillan for as long as I can."
At the time of going to print, the Just Giving total was over £87,000 and counting.
To donate visit www.justgiving.com/fundraising/Gary-McKee100