Carlisle Lake District Airport Unveils Airline Partner
Travellers can look forward to flights connecting Carlisle and the Lake District with the South East of England, Northern Ireland and the Republic of Ireland from June 4, with Carlisle Lake District Airport (CLDA) unveiling Loganair, Scotland's Airline, as its airline partner today.
Loganair will operate eight flights per-day across the working week and a total of 12 at weekends, connecting Cumbria and the Lake District, which receives 45 million visitors per year, to London Southend Airport, Belfast City Airport and Dublin Airport.
The routes will go on sale from Monday 12 March, with all services commencing on 4 June when CLDA plans to launch commercial and business passenger flights for the first time since 1993. Tickets are available via www.loganair.co.uk<http://www.loganair.co.uk>.
Kate Willard, head of corporate projects at Stobart Group, said: "Stobart Group is committed to delivering a brilliant air travel experience across the UK and Ireland. We are therefore delighted to be announcing flights with Loganair connecting London, Belfast and Dublin with Carlisle and the Lake District.
"There is huge demand from London, Northern Ireland and the Republic of Ireland to visit Carlisle, which is home to major businesses and serves as a gateway to the Lake District, two UNSCO World Heritage Sites and South Scotland."
The route to Dublin also offers additional connectivity ease to travellers as they will be able to clear US immigration checks in the comfort of Dublin Airport at Terminal 2 – meaning they will land State side as a hassle free domestic passenger.
Jonathan Hinkles, managing director of Loganair, said: "We're delighted to become the first operator at the new Carlisle Lake District Airport, and will be opening up Loganair's services to a whole new range of customers.  With frequent services on each of the three routes, we have every confidence that these new flights will transform access to and from the Lake District for many thousands of customers each year."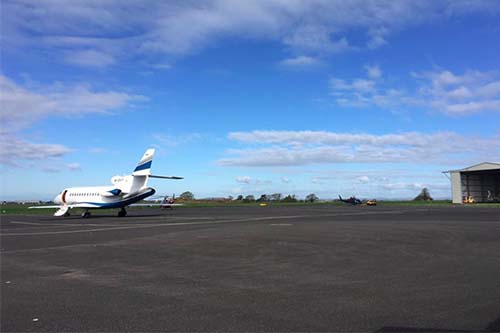 Gill Haigh, managing director of Cumbria Tourism, said: "The new flights from Carlisle Lake District Airport will be a major boost for Cumbria's connectivity and our £2.72billion tourism industry.
"We welcomed 45 million visitors to the county last year, but a large proportion were day trippers to the Lakes. Our marketing strategy has a key focus on encouraging visitors to stay in the county as a whole.
"New flights though Carlisle will create alternative travel options and Cumbria Tourism is working in partnership with the Airport to encourage new and existing visitors to enjoy more of our iconic landscapes and world-class experiences."
Nigel Wilkinson, board member of the Cumbria Local Enterprise Partnership, said: "The opening up of new air routes into Cumbria, providing more direct access to attractions and the county's newest UNESCO World Heritage site, is a boost for the visitor economy here.  Cumbria LEP is contributing £4.95m to help the airport improve its runway and terminal, an important investment which will enable flights to and from Carlisle and provide wider global access via international hubs."
John Stevenson, MP for Carlisle, said:
"I am excited by the new flights to and from Carlisle Lake District Airport and what they will mean for Carlisle and the surrounding area.
"It is vital that we have the infrastructure to support taking our local economy to the next level. The development of Carlisle Lake District Airport will have a huge impact on our ability to grow economically. Many local businesses will be able to expand as a result of these new flights and it will also encourage other businesses to choose Cumbria as a viable location.
"Not only will businesses benefit from an increased level of connectivity in and out of Cumbria, but it will also encourage holiday makers to choose Cumbria, the Borders and the Lake District as an attractive destination as journey times will be reduced by the introduction of commercial flights."
James Duddridge, MP for Rochford and Southend East, said: "I am delighted that Carlisle Lake District Airport plans to launch commercial and business flights on 4 June. The routes mean that the South East and London will be much better connected to Cumbria and the Lake District, which will be boost the economies of both regions and drive tourism, John Stevenson MP and myself hope to lead business delegations from both areas to increase links between them over the next few years.
"I look forward, in particular, to seeing the Rochford and the Southend business community benefiting from this new and exciting connection to the North of England."
https://carlisleairport.us16.list-manage.com/subscribe?u=d1bea6d9326fdde37501b090c&id=8c73aa5dbf
Share It: