Age UK West Cumbria's New Project Will See Communities Joining Forces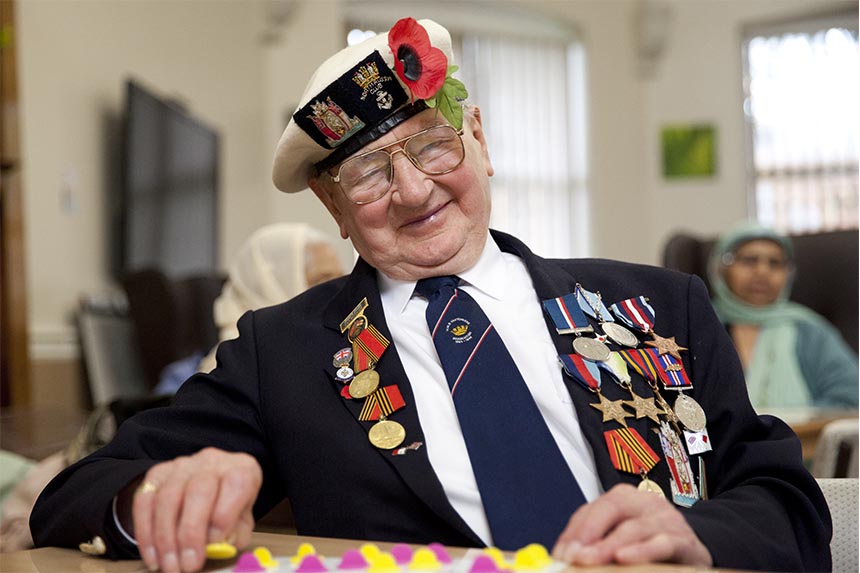 Age UK West Cumbria introduce their new Joining Forces project.  
For anyone aged 65 or over, who has served in the British Armed Forces (including Foreign and Commonwealth and National Service), the Age UK West Cumbria Joining Forces project could provide just right the help for them and their families.  
SSAFA are the official partners of Age UK and the project team work closely with Royal British Legion, Help for Heroes and other organisations supporting ex-service personnel and their families. 
Since the project began in June 2017, the t project staff have already provided a wide range of support to older veterans and their families across Allerdale and Copeland.   
Martin Adair, Team Leader, said: "Through working with colleagues in Age UK West Cumbria and in partnership with other organisations we can help veterans to obtain all the benefits and pensions they are entitled to and have also obtained grants for aids and adaptations such as stair lifts and motorised scooters to help veterans and their family members to stay independent".   
He added: "A lot of older veterans lose touch with former comrades and feel isolated.  We can match them up with volunteer befrienders and have organised trips out to the Museum of Military life in Carlisle and the Docks Museum in Barrow.  We have further trips planned to see the exhibition of poppies at Carlisle Castle and will also be celebrating 100 years of the RAF with a visit to Solway Aviation Museum." 
Brunch or breakfast clubs for veterans, operating in Millom, Whitehaven, Workington, Maryport and Wigton are proving very popular and there are also plans for a 'NAAFI Café' in the de Lucy Centre in Egremont. 
Ray Bamford, a volunteer who was in the Royal Engineers, said: "I have really enjoyed the trips and met some lovely and interesting veterans.  I'm looking forward to the next trip to the Solway Aviation Museum".   Ray was helped by project staff to obtain his Veteran's badge and also to apply for the Defence Discount card.  He added: "We've managed to save quite a bit of money using the Defence Discount Card. Something we would never have known about if it was not for the Joining Forces Project". 
One veteran said of the help he has been given that "It has been life changing" and he is "starting to enjoy life again". 
Volunteers are needed to help older veterans in a variety of ways and volunteering opportunities include: 
Befriending, visiting or phoning for a chat

 

Supporting someone to join in social activities

 

Helping with social groups or the brunch clubs

 
Helping someone to attend a commemorative event or reunion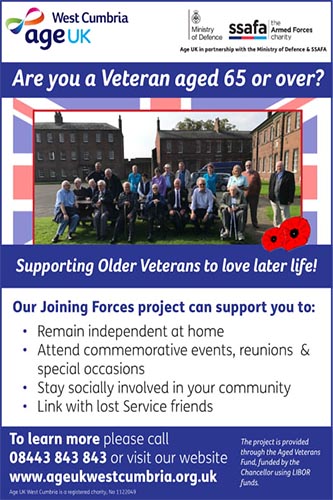 Share It: