Bee Event Creates A Buzz Around Egremont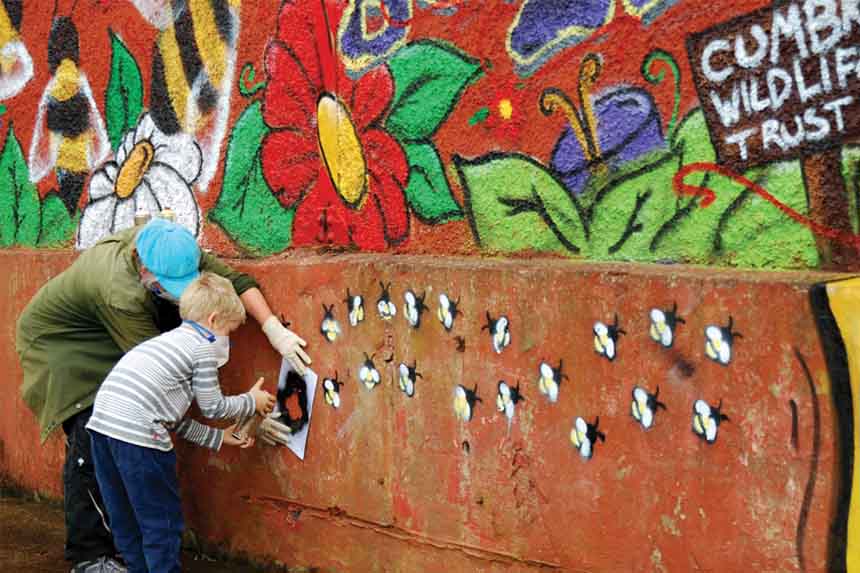 Cumbria Wildlife Trust's first 'Get Cumbria Buzzing' event in West Cumbria is a great success.
 Over 200 people created a real buzz at the Florence Arts Centre in Egremont recently, at an event which celebrated bees and also helped to preserve an important piece of the town's industrial heritage.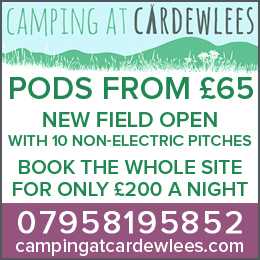 People of all ages were drawn to 'Get Cumbria Buzzing', a fun-filled event run by Cumbria Wildlife Trust designed to get people excited about pollinating insects, especially bees, and show how important they are to all our lives. They enjoyed a wide range of bee-related arts and crafts activities, including making willow pollinators and bee masks, painting glass pollinators, going on bug hunts, face painting and stone painting.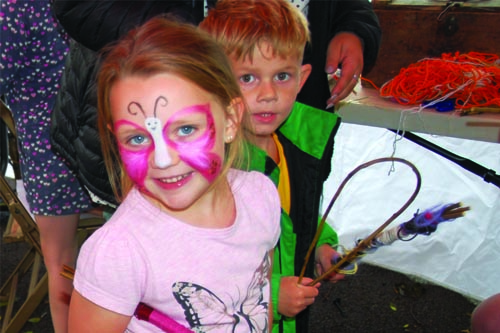 As well as hosting the event, the Florence Arts Centre raised valuable funds on the day for the Florence Mine. Closed in 2007, it was the last deep working iron ore mine in Europe and played an important role in West Cumbria's industrial history. Young Cumbria, a community group based in Workington, got youngsters involved in transforming one of the walls of the mine with artistic graffiti about the pollinator project, brightening it up with colourful pictures of bees and plants.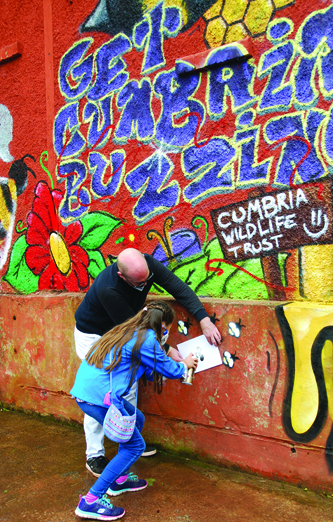 Lucy Graham, Coastlines Development Officer at Cumbria Wildlife Trust said: "It was wonderful to welcome so many people from Egremont and further afield at our celebration of pollinators! It shows how fascinated people are by bees and other pollinating creatures. From birds and bats to bees, butterflies and beetles – they may be small but they're hugely important and are a vital part of our ecosystem. We're thrilled that our first Get Cumbria Buzzing event turned out to be such a success and are really looking forward to welcoming another big crowd at our next event in Workington. We're very grateful to Highways England, National Lottery Players and the Heritage Lottery Fund – their help means that these events can be open to everyone and free of charge."
Cumbria Wildlife Trust is running a Bee-Friendly Gardening Fun Day on Saturday 29 September from 11.00am to 4.00pm at Vulcan Park, Workington, in conjunction with Workington Town Council. You can find out how to attract bees to your garden, window box or yard. Free activities will include planting wildflowers and bee-crafts, the Trust will be giving out free Cumbrian wildflower seeds and Workington in Bloom will be at the event. The fun day is open to all and free of charge, no pre-booking required.
www.cumbriawildlifetrust.org.uk
Share It: