Beautiful Brampton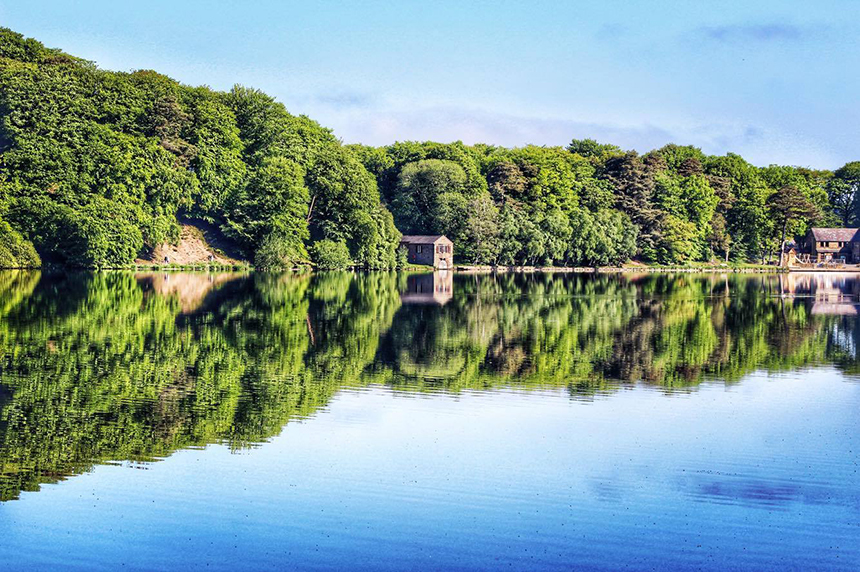 Welcome To Our Beautiful Brampton.  One of the most striking things about Cumbria is the individuality of each of its many towns. So many, yet all so different and unique and Brampton certainly is unique. Well worth  visiting and perfect for staying over and discovering everything the area has to offer.
A beautiful market-town where a string of awesome independents line the streets creating a real community vibe, all offering something completely different certainly helps make Brampton what it is. It really is so refreshing to see a high-street packed with independents, all thriving and bucking the trend. They said the high-street is dying, not here in Brampton that's for sure.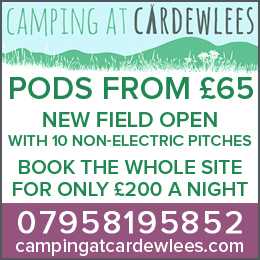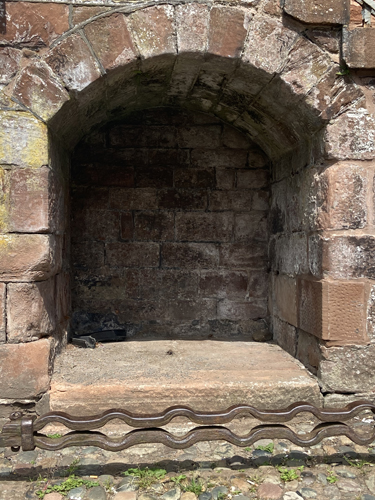 Cafes, pubs, shops including vintage and antiques, butchers, grocers, framing gallery, launderette and lots of lovely wee gift shops makes it a fantastic destination to shop and browse the day away.
Front Street which is ironically not on the front, is the beating heart of the town, on one end is St Martins Church, famous for its stained-glass windows which were designed by Sir Edward Burne-Jones and manufactured by William Morris, this is the only church designed by Pre-Raphaelite architect Philip Webb and is really worth visiting to appreciate the sheer craftsmanship that exudes from each window.
Almost centrally on Front Street stands The Howard Arms, it looks absolutely amazing and is beautifully decorated inside and out and is still renowned for its amazing hospitality and awesome Sunday Lunch. This historic building played host to Charles Dickens who stayed overnight and outside you will find a plaque commemorating his stay here.
On the opposite end of Front Street, standing proud and erect almost as a guardian to the town, you will find the Moot Hall. The original building was used in 1648 to house 60 starving prisoners following the Battle of Preston, whilst their captor – Oliver Cromwell – dined comfortably at Naworth Castle. Today's Moot Hall was built in 1817 it originally stood on piers with space underneath for market-stalls until its enclosure in 1896.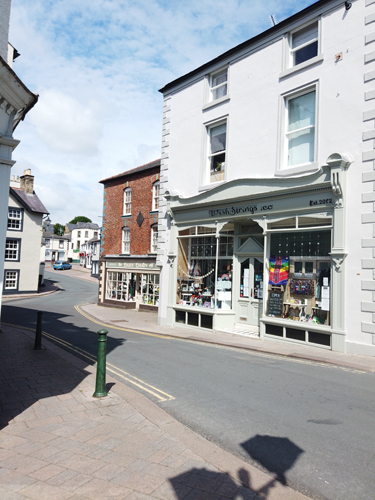 Today the Moot Hall is home to the Visitor Centre and to this day weekly markets are still held every Wednesday creating a fantastic, busy atmosphere taking you back to days of old.
Here you will have the opportunity to browse and buy from stall-holders all offering either handmade crafted goods and our favourite, food. You will find amongst others, cheesemongers, bakers, fruit & veg, cconfectioners and more, if cakes, pies, sweets and non-edible flowers are your thing, come along one Wednesday. There is also the monthly Farmers Market, held on the last Saturday of each month.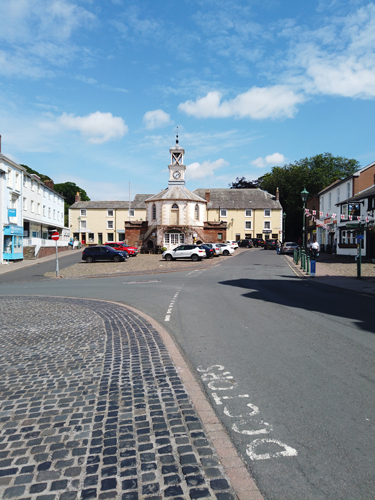 History is all around you here in Brampton
History is all around you here in Brampton, you just have to look and discover. One such example is the iron-stocks sited to the right of the front door of the Moot Hall. These are the real-deal and were used as punishment for many a local delinquent, the last time was in 1836 when a man was punished for 'drunkenness and profane language'.
Just around the corner from the Moot Hall is High Cross Street and one of the oldest houses in the town is at number 22, Prince Charlie's House, so called because Bonnie Prince Charlie stayed here in 1745 whilst his army caused mayhem and chaos as they laid siege to Carlisle, until Carlisle's Mayor finally surrendered the keys to the city outside this very building. Today you will find the new eco-store Ria-Plenish.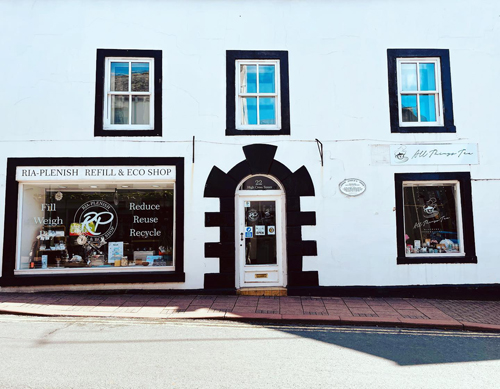 Brampton Motte
To get a real unique, stunning view of Brampton, you must visit the Motte.
Head east out of town and park near the Sands, there you will find a lovely meandering path through woodland, ascending to the very top where you will be greeted by a fine looking gent waiting to welcome one and all to join him as he surveys the town and beyond.
The gent in question is the 7th Earl of Carlisle, George William Frederick Howard, the statue was erected by the people of Cumberland.
The Motte, or locally known as The Moat, dates back to the 12th century and was part of a motte and bailey castle.
Here you can sit and watch from on high as the town goes about its business and take in spectacular views which reach out across the Pennines and the Solway Firth. A fantastic
vantage point, so much so in the 15th century it was perfect site for a signalling beacon for when those pesky Scottish raiders came-a-calling.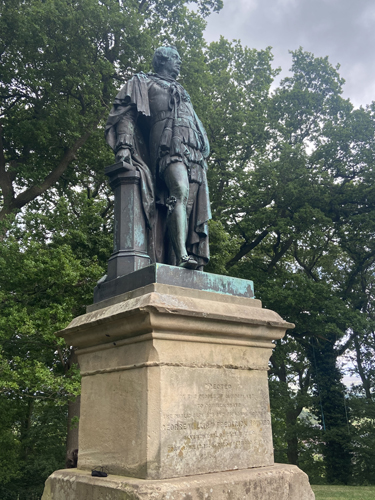 Brampton but not as we know it:
Who knew this Brampton isn't the original Brampton?
I didn't, the original settlement was sited a mile to the north-west of todays town.
The whole village was forced to pack up and move on due the local lord wanting a Deer Park and a better view.
Nice guy!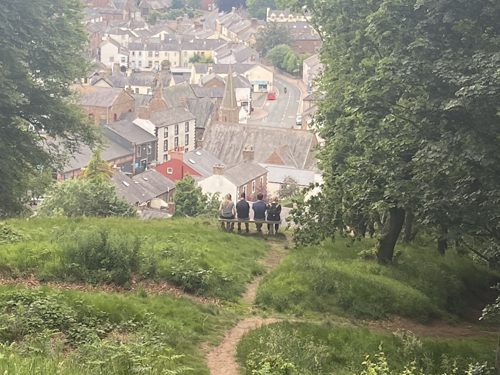 The only remnants of the original settlement is Brampton Old Church which is sited on what was a Stanegate Roman Fort. These forts where built in the 1st Century and were a pre-cursor to Hadrian's Wall, these were decommissioned once Hadrian's Wall was erected and no longer of use.
Brampton Old Church is thought to date back to the fourth century and was built by St Ninian and dedicated to St Martin of Tours. Roll on eight hundred years and a new stone church was erected on the site. With Hadrian's Wall being so close it was the perfect quarry and quite simply its stones were robbed for the construction of the new church.
The folk who resettled in today's Brampton did not build a church initially, instead for six hundred years they walked a mile up the road to worship in the Old Church.
You can still visit Brampton Old Church, head towards the Longtown Rd and take the lane next to William Howard School and head down Old Church Lane. Although the Church will be locked, you can knock on the farmhouse next door for the keys to gain access and buy some eggs while you are there.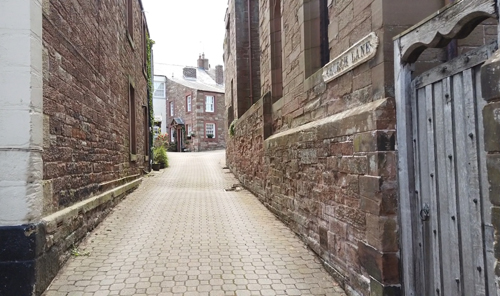 Cobbles to Countryside
Brampton is an excellent location for those who enjoy walking. In July 2011, Brampton was the 66th town to gain Walkers are Welcome status. Towns and villages recognized by Walkers are Welcome have something special to offer walkers.
The parish council along with the local walkers are welcome group reproduced a new walks book titled Cobbles to Countryside which contains 8 walks which all start and end at the Moot Hall but take in some of the beautiful countryside and interesting history that Brampton has to offer including Gelt Woods, The Ridge, Talkin Tarn, Vallum, Roman Wall, The Dandy Line (both Robert Stephenson and his son George were involved in designing the local railway and the famous "Rocket" locomotive ended its days here) and the Capon Tree Memorial (placed in memory of six men who were executed on the site in 1746 as punishment for their allegiance to Bonnie Prince Charlie).
Cobbles to Countryside is available for purchase in the Visitor Centre.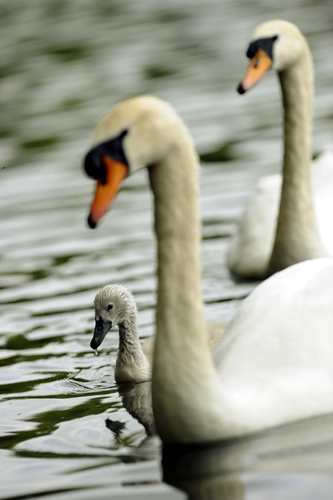 Out and About
The beauty of Brampton aside from its natural charm and warmth is without doubt its location and the many different amazing nearby places to explore and discover, making Brampton the perfect base for your mini-staycation.
A short drive will take you to Birdoswald Roman Fort, it is seen as a great starting point for many who intend to travel from West to East and is sited on the longest continuous stretch of Hadrian's Wall that remains intact up to date.
It is recognised as one of the best preserved forts along the Wall and in 2005 it was discovered that this is the only site along the Wall whereby local inhabitants continued to occupy the site after the Roman period came to an end. We could talk about the Romans all day long, but we'll come back to this at a later date. Needless to say, this is one of those destinations that you must visit.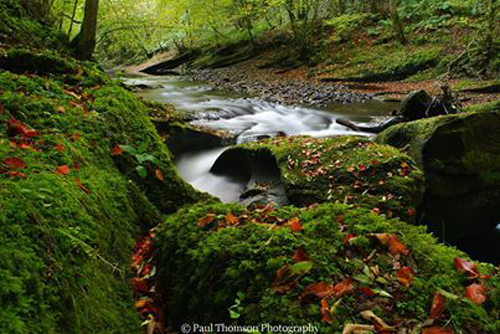 Not too far from Birdoswald Roman Fort and heading back towards Brampton, you will find Lanercost village which is also home to Lanercost Priory.
Lanercost Priory was founded between 1165 and 1174 by Robert de Vaux to house Augustinian canons. An obvious and easy target for Scottish raiders, it was frequently attacked and once by Robert Bruce in person.
The ailing King Edward 1 (Longshanks) recuperated here for over five months and nearly bankrupted the Priory, until finally agreeing to pay his way. Lanercost is seen as one of the best preserved monasteries in Cumbria.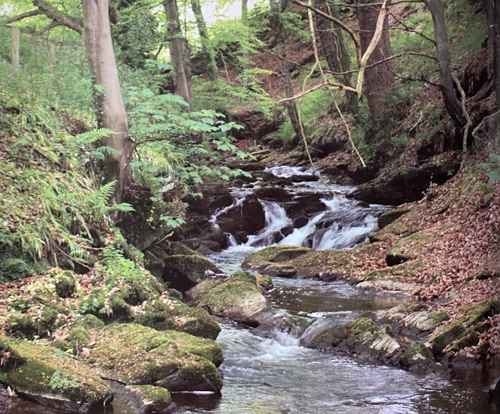 Talkin Tarn Eighteen Thousand Years in the making…
Talkin Tarn is a short five minute drive from Brampton and is a popular hot-spot with families and locals alike.
The Tarn was formed 18,000 years ago by glaciers and is what is known as a kettle hole lake.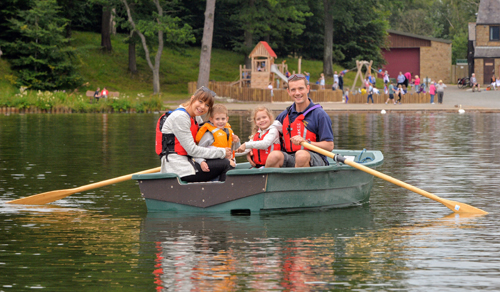 Stunning views, great walks, it is also home to the Boat House Tea Rooms, Brampton Sailing Club and Talkin Tarn Amateur Rowing Club. There has been a rowing club here for 160 years and is the oldest in the North of England.
There's a lot more than meets the eye here at Talkin Tarn, as well as the above the Alex Boat House is used as a venue for local artists. Here they can create, paint, carve, photograph and exhibit their work to the many visitors to Talkin Tarn.
Also Talkin Tarn is the perfect backdrop for Outdoor Theatre Shows which are held throughout the year and have proven to be very, very popular with lots of sold out shows.
Upcoming shows include July 21st Pride and Prejudice and also on August 12th sees the upcoming production of The Wind in the Willows, another outdoor theatre performance by The Pantaloons, tickets available from https://thepantaloons.co.uk/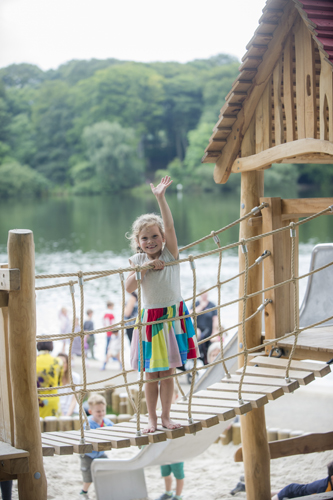 The name Talkin Tarn is derived from the Celtic 'Talcan' meaning brow of a hill or 'white brow' whereas 'Tarn' is derived from Old Norse 'tjǫrn' or Middle English 'terne' meaning 'small mountain pool' or 'small lake.
Talkin Tarn has always been a crowd puller, it seem it's drawn people to the area for millennia. Stone axes dating from the Neolithic era were found nearby testifying to the popularity, it must have been the sheer beauty as I don't think the Tea Rooms were open back then.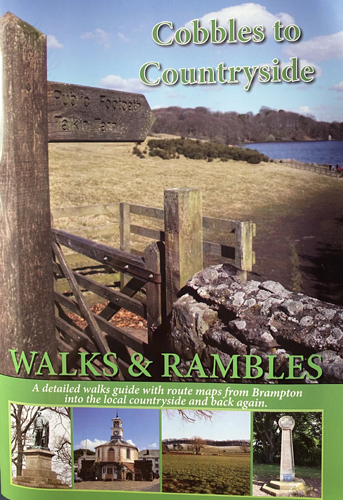 Carlisle..
As I mentioned earlier, Brampton is the perfect base to stay and use as a springboard to discover this beautiful part of the world and enjoy the many great places and attractions nearby.
As Carlisle is only 9 miles from Brampton, you can be guaranteed to enjoy a jam-packed day taking in the Great Border City and discover this 2000 year old City.
Whether it's Tullie House Museum, Carlisle Cathedral, Carlisle Castle, Cumbria's Museum of Military Life or Solway Aviation Museum which is in between Carlisle and Brampton, there is so much to see, do and enjoy.
After a day of discovery, making your way back to Brampton to enjoy one the many places to stay overnight then eat, relax and unwind just makes perfect sense.
You can then get ready to start all over again and create more awesome memories making Brampton your perfect destination to visit, stay and enjoy this year…
Share It: