A Whole Lorca Love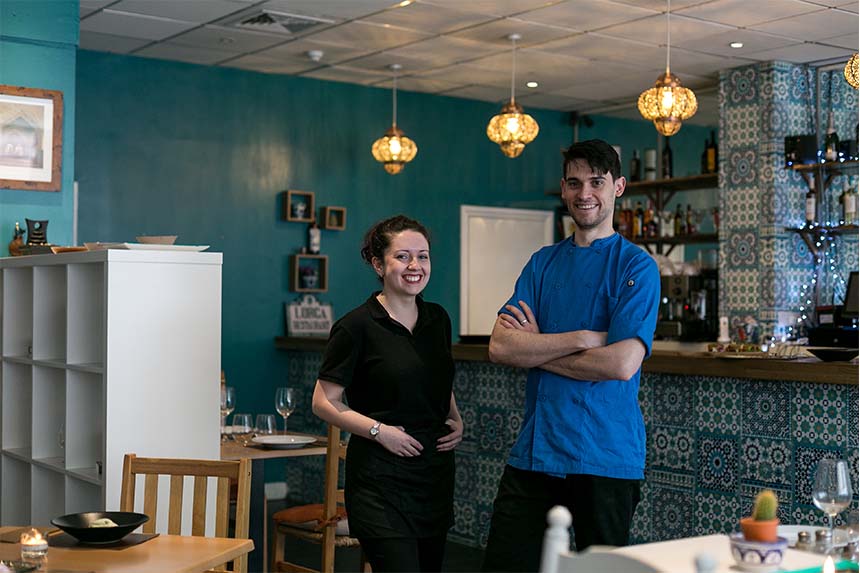 May marks 18 months since Francisco Aparicio Hernandez brought a taste of the Granada cuisine to Carlisle, when he opened a Spanish restaurant in the city.  
In the unsuspecting setting of Botchergate, there's a feast for the eyes and a treat for the tastebuds. Not only do the authentic dishes served at Lorca taste divine, but they look incredible too. From the colours of the freshly prepared ingredients, arranged delicately on the plate, to the traditional tiling of the restaurant decor, it's enough to transport diners instantly to a balmy, summer evening in southern Spain.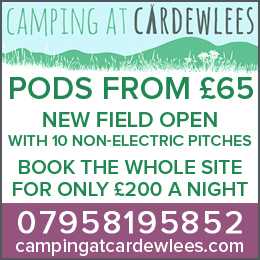 Whether enjoying a quick catch up over tapas, or savouring the tender texture of five-hour stewed oxtail, Lorca has become a regular haunt for locals who want an authentic experience, right down to the friendly, familiarity that comes with Spanish service. Originally from Granada in Spain and with almost two decades of catering experience under his belt, Francisco opened Lorca in 2016. His close friends and his now wife, have been there since day one and customers have gotten to know and love them as much as they do the food.  
"It's a learning curve and it takes time to build up regular customers but those who come on a weekly or monthly basis are not just customers anymore, they are friends," said Francisco, who is also Head Chef at the restaurant. "When you're in the kitchen and the manager comes in to tell you that someone loves the food or that they want to meet the chef, I always come down and have a chat with them. Those details really make your day."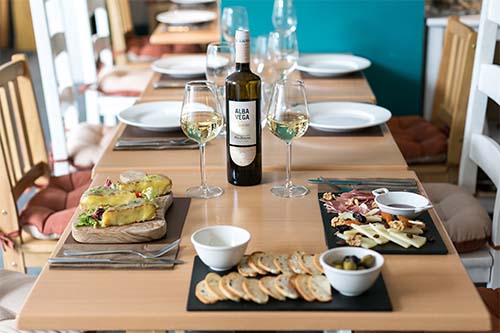 He added: "It's all about the experience for the customer. I think we've found that balance where the food is at a high level and the customer service is up there as well."  
With a new menu recently introduced, dynamic dishes such as grilled lamb chops with apple puree and – the current favourite – cod fish covered with roasted almond and carrot and potato cream, are on offer alongside old favourites and the ever-popular tapas menu. What is also in abundance, is their willingness to accommodate customers' requirements. With over 90 percent of the menu gluten free they will gladly adapt other dishes, where they can, to suit everyone. 
Francisco explained: "It's simple things that really make the difference. We've catered for a lot of dairy-free and vegan groups and we always like to go that extra mile, creating menus and changing dishes depending on what people want. We're very flexible in that sense."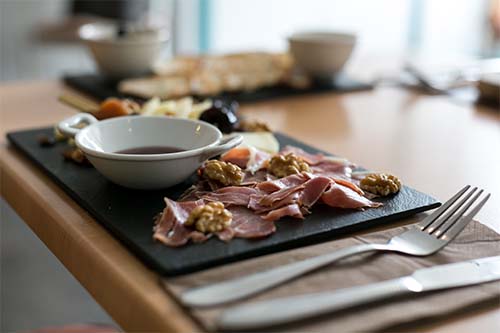 They are also going an extra mile to keep things green, having moved to Vegware's biodegradable drinking straws and asked their suppliers not to deliver in plastic packaging. To offset their carbon footprint, the business has even signed up to a tree planting scheme, where one is planted for every customer through the door each month. (If that's not an incentive to pay them a visit, I don't know what is.) Francisco said: "I think we are the generation where there's going to be a turning point, if we don't do something it's going to be too late, maybe not for us but for the next generation."  
The past year and a half may have been a learning curve for Francisco and his team, but as Carlisle's only authentic Spanish restaurant, Lorca has firmly established a place for itself on the city's foodie map. 
Francisco added. "All of our latest reviews and comments are very good – always five stars – which is great because that means that people are really appreciating and noticing the work that we are putting in."  
For more information and to book a table contact 01228 401063 or visit @lorcarestaurantcarlisle on Facebook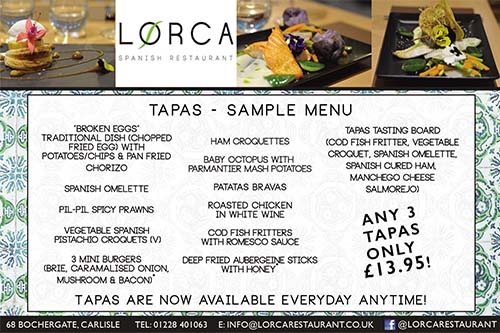 Share It: