66. The Tadpole Shrimp. Wildlife of the Solway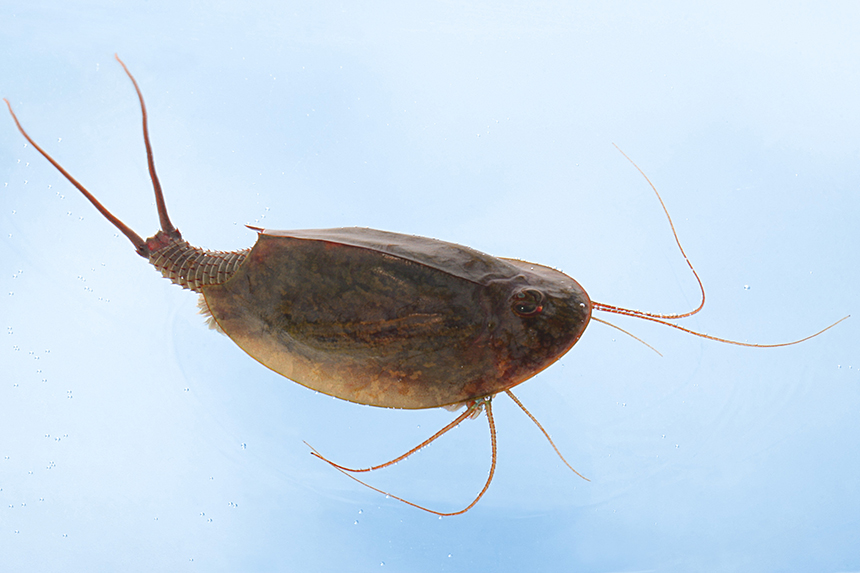 66. The Tadpole Shrimp. Wildlife of the Solway
Wildlife of The Solway Firth Number 66. The Tadpole Shrimp (Triops Cancriformis) by Mark Vollers
On the Scottish side of the Solway Firth at Caerlaverock in remote brackish estuarine pools lives one of the oldest living species on earth, little changed for more than 200 million years.
By contrast humans as the species recognised today have only been around for only a few hundred thousand years!  Tadpole Shrimps are an extremely rare and endangered species in the UK with only one other population found in a single New Forest pool.
They have what you might call a prehistoric look, an armoured shell not unlike that of a fossil Trilobite up to 11 cm long with legs protruding from the underside and a short tail.  When they swim about their legs can be seen to be covered with feather like paddles and these  double up as primitive gills they can use to breathe with.
Their life cycle is fairly brief, they grow and are mature within a few weeks. In order to achieve this they feed voraciously on plant matter, small invertebrates and sediment equivalent to 40% of their bodyweight every day.
The eggs they produce can go into a state called 'diapause' or arrested development if the pools dry out, and these cysts can then survive for decades until conditions are right for hatching. This adaptation is certainly one reason they have been able to persist over times when most other species have become extinct.

---
---
WE HOPE YOU HAVE ENJOYED THIS EASY TO ACCESS & FREE ARTICLE – BUT WE COULD REALLY DO WITH A LITTLE SUPPORT
Why not become a Fan – Supporter and Member by Taking up our Limited Offer – Every edition of The Cumbria Guide delivered to your home, alongside our Exclusive 'Cumbria Guide Loyalty Card' –
Spend More – Save More and Help Support our Local Businesses around Cumbria ….
Click here Today and start saving
Share It: