Young people give their views on GDF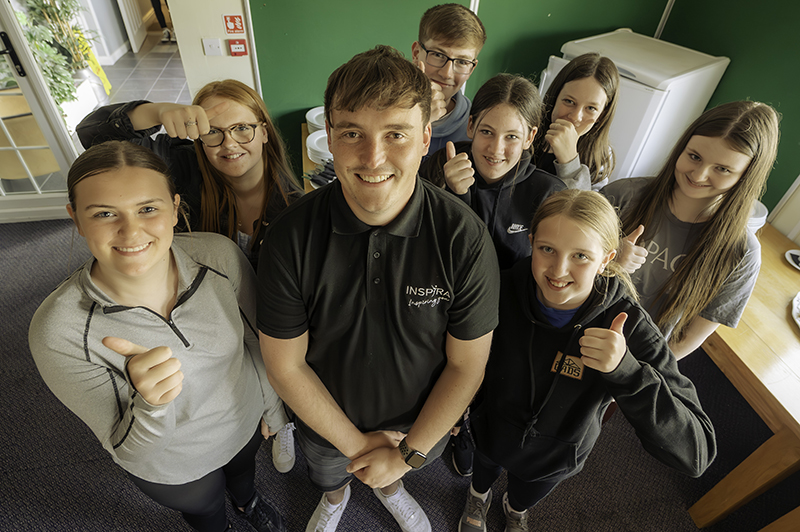 Young people give their views on GDF
A FREE bus service, cinema, food outlets, sports teams and sheltered youth area are just some of the ideas young people said were important to them as part of the Geological Disposal Facility (GDF) process.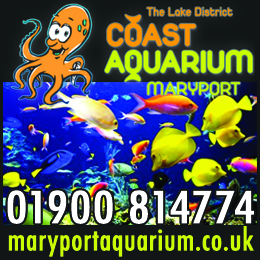 A group of 25, aged 12-16, have been giving their views around what a GDF could mean for the Mid Copeland area.
A GDF is an underground facility designed to safely and securely dispose of higher activity radioactive waste. 
The young people attend local youth and community project Shackles Off and have been working with careers guidance provider Inspira and Mid Copeland GDF Community Partnership.
The 10-week programme involved learning about GDF, giving views and providing insight into how to engage with young people. It included team games, lesson plans, discussing opportunities and concerns – before presenting to the Community Partnership, Nuclear Waste Services and some family members. 
Andrew Monaghan, of Inspira, said: "Young people want to engage on their terms and it's about finding new ways to do that, for example through online platforms. They have been very interested in GDF and the benefits and they have also raised some concerns and questions. They want to be part of the discussion."
At a special event to mark the end of the programme, Brooke, Neave, Elsa and Lucy presented on behalf of the whole group.
Lucy, from Gosforth, said: "Having a facility here would increase local jobs, provide better transport links and it would lead to more investment in the local community which could lead to better shops and leisure facilities."

Brooke, from Seascale, said: "Being underground means the facility will protect humans and the atmosphere. A lot of work needs to be done first to check the geology of our area is suitable."
They also discussed potential implications of hosting a GDF.
Elsa, from Seascale, said: "We live in a beautiful area, and we are worried that anything built on the land might spoil the views and if a new facility is built here, there will be an increase in traffic in the local area."
She also said a GDF could mean an increase in new homes built and this could lead to a rise in house prices, leaving locals struggling to buy properties.
On engaging with young people they suggested using social media platforms. Neave, from Seascale, said: "You could create videos and ask young people to help create them. You could also design a game that represents the GDF process and make this an app that you could download on your phone and promote in schools and youth groups."
Views were given on how they would like to see Community Investment Funding spent.
Elsa said: "We would like to see a free bus service to Whitehaven or the Lakes so young people can get more access to shops, cinemas and food outlets."

Neave added: "We could provide sheltered areas for youths in parks and the beach front so we have somewhere to go when it's wet. We'd also like more leisure facilities such as a cinema or trampoline park as well as creating new sports teams and clubs."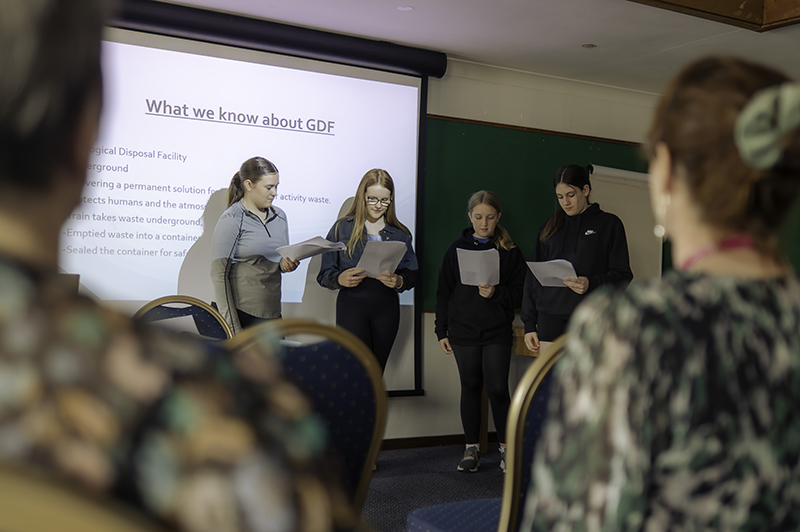 The group, which also included Charlie, Tanzin, Erin and Jess, each received a certificate from the Mid Copeland GDF Community Partnership.
David Moore, a member of the Community Partnership and current interim local authority lead, thanked the group and said: "I'm blown away by the amount of knowledge and information you've picked up.
"Your generation will live with this if it goes ahead here. It's so important that we get your views and keep you engaged, I think we have got something really special here that we can build on for the future."
Mandy Taylor, executive officer of Shackles Off, explained it was set up in 2008 by a group of volunteers and has grown to work with a total of 550 young people across Seascale and Millom areas – almost 300 of those in Mid Copeland. Joanne Pears is manager and there are seven other staff offering informal education, fun activities and one to one work.
Mandy says the vision for Shackles Off includes having a purpose-built youth and community centre, for which they now have planning permission, next to the Windscale Club.
The Mid Copeland GDF Search Area covers the electoral ward of Gosforth which includes Seascale, Gosforth, Beckermet, Calderbridge, Haile, Thornhill, Nethertown and Braystones. The Lake District National Park is excluded from consideration.
Deep geology beyond the coast is being considered for siting the underground elements of a GDF in Mid Copeland. This means a surface facility on, or near, the coast would provide access to a disposal area deep in rock beyond the coast.
The GDF programme requires both a suitable site and a willing community and is still in the early stages. A decision to develop a GDF could not be taken until the community in the electoral wards directly affected has had a say and taken a Test of Public Support.
---
To learn more about what's happening follow Cumbria Guide on our social media
---
Share It: