Industry Leaders Declare Copeland Open For Business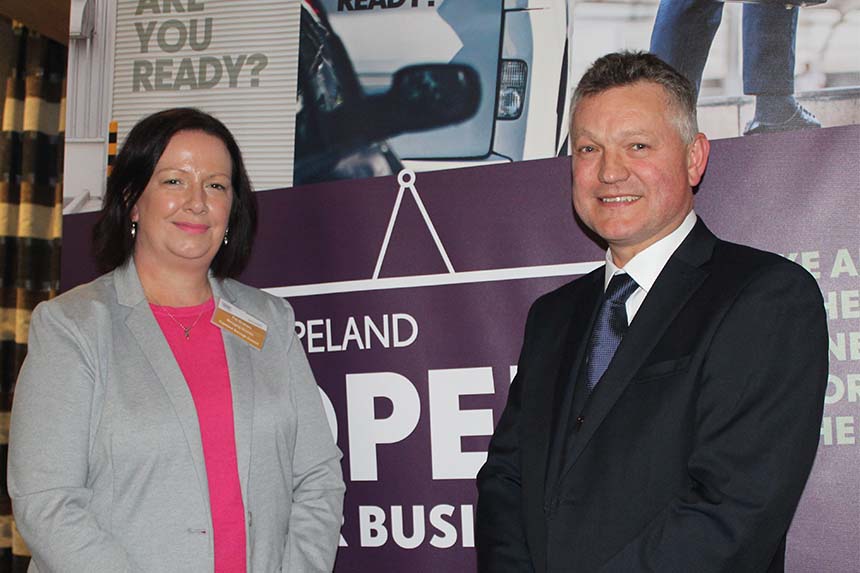 Industry leaders from a wide range of sectors came together on Thursday (April 19) to declare Copeland Open for Business.
Figureheads from the nuclear, health, tourism, and mining industries gathered together alongside government representatives at Mike Starkie, Copeland Mayor's second Open for Business Conference, to discuss the borough's bright future.
The invitation only event seen 300 delegates gather to hear guest speakers including Richard Harrington MP, Energy Minister, Lord Matthew Taylor, Housing Specialist and Trudy Harrison, MP.
Presentations were also given by representatives from some of Copelands leading organisations such as; Jamie Reed – Sellafield Ltd, Tom Samson – NuGeneration Ltd, Mark Kirkbride – West Cumbria Mining, Professor Cathy Jackson – UCLan and Pat Graham – Copeland Borough Council.
Mike Starkie, Mayor of Copeland, said: "To attract people of that calibre into one room to discuss working together and the future opportunities for the borough was no mean feat.
"We were absolutely overwhelmed by the success of the day and the feedback we have since received from those who attended.
"Sincere gratitude goes to all those who brought the event together and made it such a phenomenal success. It confirmed that Copeland is indeed open for business and there are many organisations working towards making it a better place to live, work and visit."
Graham Bell, Director, North of England Civic Trust, said: "I can't think of any other Local Authority Chief Exec who would have injected their presentation with as much personality as Pat did. I won't forget the commitment Copland has shown to the welfare of its staff. It has also gone on to be so pro-active with business innovation – how many other authorities over recent years can say that? The overwhelming sense was not just of 'can do', but of a council that 'can do with you'."
Sophie Benn, Supply Chain Support, Morgan Sindall, said: "We really enjoyed the day and it was exciting to hear about all the progress that has been and will continue to be made in Copeland."
Keith Ashcroft, Area Director, Environment Agency, said: "What a tremendous, inspiring and uplifting event it was!"
Paul Graham, Cumbria Business Consultancy, said: "Great event and excellent opportunity to meet existing and new contacts. I found your enthusiasm to make Copeland a better place to live and work inspirational."
Grant Gilmour, Copeland resident, said: "It is a long time since I have felt so optimistic about our area's future and a belief that it will happen. Just wish I was a bit younger to get more involved. Keep the faith, well done and thank you."
Sarah Purdham, Managing Director, Prima Uno Limited, said: "I thought the conference was wonderful.  So positive and full of lots of diverse companies."
Rachel Ritson, Managing Director, Grisdales, said: "A fantastic event and one that fills me with optimism that under your leadership the area will prosper and succeed."
Peter Shannon, Associate Director, WYG, said: "It was an excellent event, well planned and facilitated with interesting and high calibre speakers. It was good to be around so many positive and enthusiastic people."
Gary McKee, Freeman of the Borough, said: "There was a lot of positive talk in the room and the future genuinely looks good. Another thing that is very evident is your own belief and commitment to the cause. I'll be quite honest and say I don't know anybody who works as hard as you do Mike. You're an absolute credit to our community"
Richard Sidi, Chief Executive Land and Lakes Ltd, said: "I would like to commend you and your team for an excellent conference which was most uplifting. I know we understand that this is likely to be quite a unique time in the history of West Cumbria, but it was very well conveyed to the wider audience."
Dan Rhodes, Recruitment Consultant, Westlakes Recruit, said: "It was a fantastic event and great to see so many positive steps being taken to develop the borough further. We look forward to playing an active part in future developments!"
Keith Pearson, Director, Adamedia Ltd, said: "Brilliant, inspiring day yesterday, great inputs and a lot of confidence in the road ahead, well done!"
Ashley Dobbs, Founder, Green Cities Foundation (Millom Harmony Project), said: "My God what a superbly run conference and success last Thursday was! I trust you are bathing in glory for the success of the event and all the incredible things happening in Copeland as a result of your professionalism, dynamism and commitment. When I came to Copeland last year to look at the site the first time I had absolutely no idea that the council and its leader would simply be the best I could ever hope for to make a very exciting project happen. Thank you and congratulations again."
Share It: