Tutehill K9 Hydrotherapy
Tutehill K9 Hydrotherapy
Sharon Rogers had wanted to set up a hydrotherapy clinic ever since her German Shepherd, Elsa, broke her leg in a horrific accident many years ago.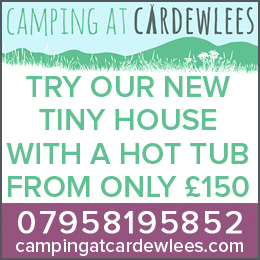 "She recovered and had a very good life," said Sharon, who Owns Tutehill Kennels & Cattery near Pica. "But Elsa had to have her leg strapped in front of her chest for a long time before she was able to exercise. There wasn't much we could do for her but hydrotherapy would have aided her recovery and meant less reliance on pain medication later in life. When she died in 2004 I vowed to provide the service to help other dogs."
Memorial for Elsa
Sharon fulfilled that promise in January this year with her new Hydrotherapy pool which works alongside traditional treatments for chronic conditions, pre and post-operative conditioning, obesity and general fitness.
The non-weight bearing exercise can speed your pet's recovery after surgery or slow the progression of degenerative conditions. Obese dogs can lose weight without putting a strain on their joints or maintain condition before surgery if they cannot exercise normally.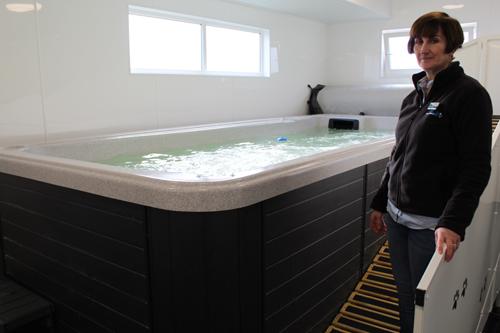 Sharon beside the new pool
"I was determined to do the highest quality training available" explained Sharon. It involved practical sessions in Suffolk and Hinkley with K9HS as well as studying most evenings beyond midnight. I qualified for my SEG Awards ABC Level 3 Certificate in Canine Hydrotherapy in just over six months, it's a 2-year course but my sheer drive and determination pushed me to finish it sooner.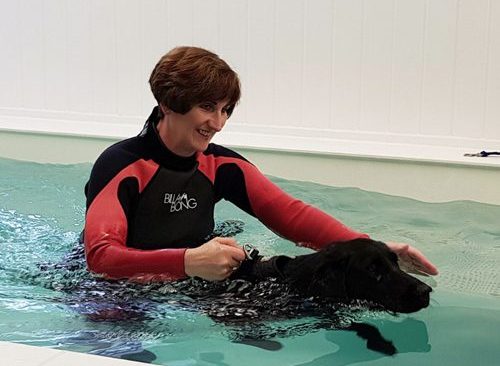 Sharon at work
The course involved Anatomy and Physiology, which I had no previous background in but a qualified Hydrotherapist is only a part of a multidisciplinary team that includes Clients, Veterinary Surgeons, Nurses and Physiotherapists. Everyone supports the needs of each dog to improve the quality of life and hopefully reduce the reliance on medication."
Hydrotherapy can also help increase the range of joint motion, increase muscle strength and reduce pain and inflammation.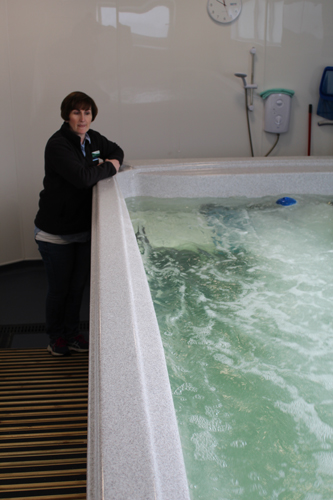 "I love being a Hydrotherapist and have wanted to do this for such a long time," said Sharon. "If this had been available for my Elsa she would have had a far better quality of life and I would encourage anyone to try it with their dog to see if there are any signs of improvement in their health. I have had lots of positive feedback from clients, even after just one session and my goal is to help as many dogs as possible."
Canine Hydrotherapy is administered using evidence-based practices in a warm, safe, sanitized environment using clinical enrichment and therapeutic handling techniques. Sharon's purpose-built pool is heated to 32 degrees which helps loosen joints, gets the synovial fluid pumping and increases the range in motion.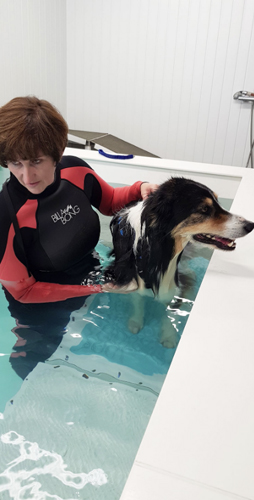 "I'm in the pool with each dog the whole time," explained Sharon. "I use a harness, not a flotation jacket and dogs that don't like swimming can do proprioceptive work on a platform which is beneficial and will help to build trust. Each session is for 45 minutes however if your dog needs a bit of extra time we can use the full hour and I like owners to be fully involved in the session.
 Hydrotherapy helps:
Pain, Obesity and weight loss, Osteoarthritis, Luxating Patella, Pre-post operative conditioning, Elbow and Hip Dysplasia, Muscle strains and ruptures, Spinal disc injuries, Age-related degeneration (DM), Increases muscle strength, Reduces swelling and inflammation, Improves cardiovascular fitness and quality of life.
 For enquiries, email info@tutehillk9hydrotherapy.co.uk or call 01946 833502. Clients will need a signed referral form from their vet, which can be downloaded from www.tutehillk9hydrotherapy.co.uk
Share It: