Tara's Christmas Cocktail Tipples
'Tis the season to be merry. Say cheers to the holiday season with these creative cocktails, perfect if you're looking for something a little more adventurous than your average glass of sherry.
I guarantee these Christmassy cocktails will provide some festive cheer and much welcomed liquid merriment to your household.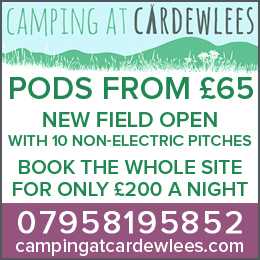 Partridge in a Pear Tree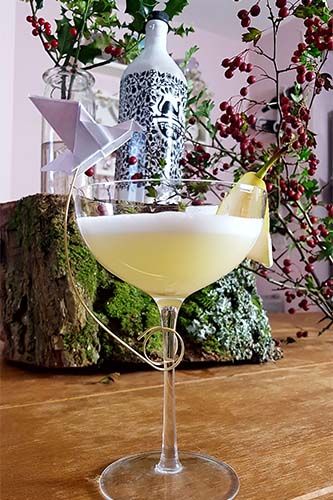 On the first day of Christmas my true love sent to me… the jazziest looking drink I ever did see. This cocktail combines sweet seasonal pear and sharp lemon notes, with a generous double measure of my favourite "Forest" gin. This gin is handcrafted and produced using foraged forest botanicals from Macclesfield. Think wild bilberries, gorse flowers, local moss and fragrant coriander seeds, making this tipple full of flavour and the perfect festive aperitif.
You will need:
50ml Forest Gin (or whatever your favourite gin may be)
30ml Pear and Vanilla Syrup
25ml Lemon Juice
Pear to garnish
Decorative origami optional
Pear to garnish
To make the syrup:
Poach a pear in 200ml of water; add 200g of caster sugar, half a vanilla pod and simmer. Allow to infuse for 15 minute, before sieving into a bottle and keeping in the fridge for up to two weeks.
Method:
Combine the gin, pear syrup and lemon juice in a cocktail shaker with ice and shake vigorously for one minute. Strain into a chilled coupe and decorate with a curved bamboo stick, fruit and origami partridge for a truly festive garnish!
Mulled Punch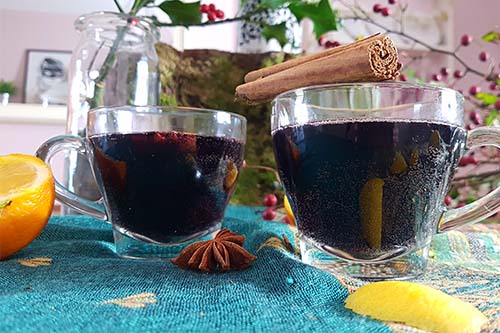 Nothing encompasses Christmas more, than the aroma of mulling fruits and spices from a big pan filling the kitchen. This is the ideal tipple to greet guests with from the cold and radiate that cosy Christmas ambiance. The warming fusion of cinnamon, clementine's and Cointreau is also a nod to the traditionalists, those who appreciate and revel in these staple festive flavours.
You will need:
2 x Clementine's
1 x Lemon
1x Lime
200g Caster sugar
1 x Cinnamon stick
3 x Fresh bay leaves
1 x Whole nutmeg
2 x Red wine (Good quality Italian is best)
Method:
Simmer the peel of the lemons and limes along with the rest of the ingredients in a large pan for 15 minutes, removing the bay leaves and cinnamon stick before serving. Strain and keep warm in a pan and ladle into heat proof glasses as guests arrive.
Share It: