Inspired styles for the Mother of the Bride
mother of the bride
A wedding day isn't just a special occasion for the bride and groom, it's also one of the biggest days in a mother's life.
She has probably been thinking about it since her children were babies and it's important for her to feel special on the big day too.
Finding the right outfit can be as important to a mother as it is for a bride. In a bid to find out the secrets of the perfect wedding outfit we have been speaking to Sue Dowles of Genevieve who specialise in fashions for important events.
Having worked in the bridal industry her entire working life and working specifically in the mother of the bride sector for 12 years, she is a true guru!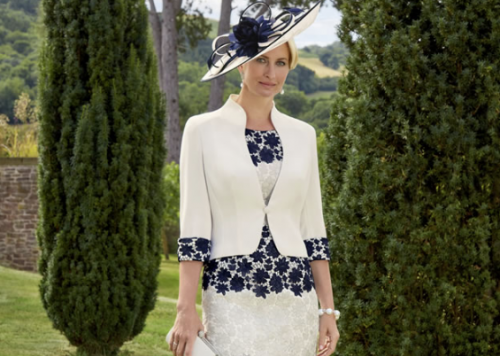 "Last year people were really going for quite neutral colours like silver, however we are now seeing a lot of navy and cream outfits. I think this choice of colours works really well because many grooms are now wearing blue suits instead of black.  It means the mother can stand out from the other guests, whilst also blending in with the bridal party." said Sue.
It isn't just a change in colours we are seeing for the upcoming year either either, mother of the bride fashions are going back to the 50's explains Sue.
"I think mothers are now looking for something a bit different, we have had a lot of requests for fuller skirts with a Bardot top. The 50's style is really classy and elegant."
Sue is keen for her customers to realise they don't need to be worried when choosing their outfit.  All they need is an open mind and a little bit of faith.
"We get people coming in panicking and looking at the outfits and saying 'oh no that won't suit me' but if they just tried something a little different and stepped out of their comfort zones they might surprise themselves!"
The labels that Genevieve stock are not available online so if you want a personalised service, local knowledge and smiling faces then look no further than your local high street.
Drop in to the store on Warwick Road and have a browse or visit www.genevieves.co.uk