Cumbria Guide 10 July / August 2022
What a year so far!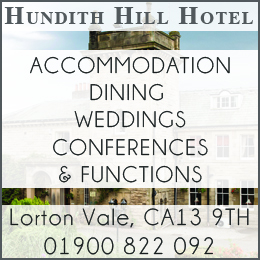 The last few months have been amazing and it was a pure delight to take in so many Jubilee events across the county.
It was just so nice to see so many families enjoying everything on offer. Hats off to all involved in making these events possible, especially all of the volunteers.
So, onwards and upwards into Summer we go.
It looks like things aren't slowing down as there is so much happening across the county.
From festivals – family fun days – agricultural shows to markets and events galore.
We have compiled as much as possible into this edition but do visit our website and socials for more updates across the Summer.
Love music? If the answer is yes, then we had the chance to catch up with a few A-listers such as Paloma Faith ahead of her Bitts Park gig and Simon from Ocean Colour Scene, who visits The Brickyard in a few months.
Our local musos are on point and making waves in their own right. Read about Whitehaven's Bored in My Grandma's House, who's smashing it, and Redfish Blues Band, who talk about their latest release, and man, their new track is a belter.
We take a stroll through Maryport in this edition and discover all that this gem of a town has to offer. Dive in and make a day of it, there is so much to do for all the family, not forgetting the upcoming Taste of The Sea Festival in August.
From Tom Jones to Teddy Bear picnic's there is something for everyone in this edition!
Oh, and it's our 16th Year of promoting and showcasing our towns, cities, artists and businesses, so, Sweet Sixteen to us eh.
Have fun, stay well and see you in a few months, or follow us on our socials for regular updates
Ste 
Follow us on: insta- facey – tiktok – twitter and youtube
Share It: