Get Your Skates On At Border City Rollers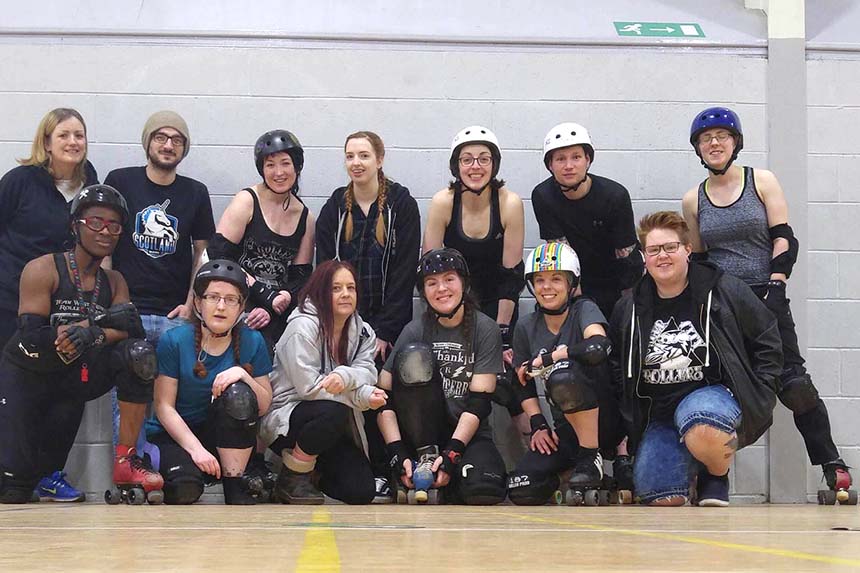 By Paul McGuirk  
It's been regarded as one of the fastest-growing sports in the world in recent years, and now Roller Derby has finally made an impact in Carlisle.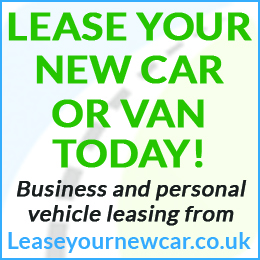 Over the past three years, Border City Rollers – spearheaded by coach, referee and all-round Roller Derby fanatic Garryck Holmes – has gone from strength-to-strength, with its success due in part to the inclusive nature of the team and the sport in general. 
As a contact sport, Roller Derby involves two teams of five members, each of whom skate counter-clockwise around a track. Gameplay involves short match-ups, or "jams", in which each team designates a "jammer" who scores points by lapping opposing team members. Each team can hinder their opposing jammer while assisting their own. It's a multi-faceted game of offence and defence at the same time, played over two periods of 30 minutes each.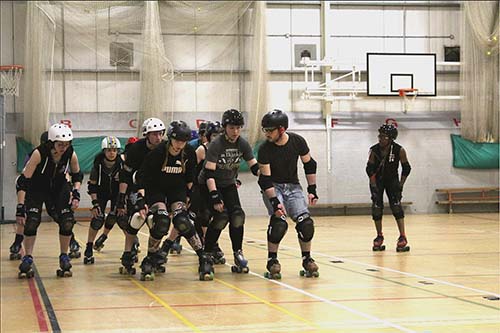 The popularity of the sport has grown over the years, with many pointing to the smash Hollywood blockbuster "Whip It" as their first encounter with Roller Derby. While the movie focuses on an all-female league, many teams such as the Border City Rollers are co-ed, with a focus on inclusivity and having fun. 
"We have grandparents on the team; we have all shapes and sizes; we love everyone." explains Garryck. "Not sporty? We weren't either. Some of us still aren't but that's fine. Don't fit in? There's a place for everyone here." 
From Friday 1 June, a "Fresh Meat" beginners course begins, offering a free initial session, where newcomers to the sport can come and see for themselves what Roller Derby is all about. Many might be pleasantly surprised to learn that a contact sport which at first glance seems aggressive is actually a great way to meet new people, enjoy some exercise and bond over shared experiences.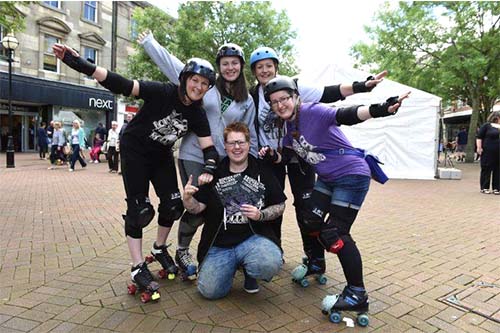 After all, the mission statement of Border City Rollers reads: "To bring together people of all shapes and sizes, and to welcome everyone through our doors with open arms and a slice of cake!"  
But what do the current roster of players think? 
Gina Quinn, alias #666 Nine Impales (did we mention all players get to assign their own squad numbers and cool nicknames?) said: "I have met such an amazing group of friends since joining BCR, gaining more confidence in myself and learning skills I never thought achievable a year ago. Give it a go, you won't regret it." 
BCR Head-honcho Garryck, meanwhile added: "Roller derby is a fantastic sport and so much fun to learn, it's so addictive with incredible family values. The people I've met through Border City Rollers are the embodiment of these values. I've never met a group of more talented, but down to earth individuals. They are all unique and a credit to themselves, and I couldn't be prouder to have them as friends. It's true what they say, Roller Derby is for everyone. Whether you're short, tall, large, small, male, female, LGBT, religious or atheist, sporty or not, there is a place for you in Roller Derby, and definitely a place for you at Border City Rollers." 
In what must be the friendliest and most down-to-earth contact sport ever, it seems the only prerequisite is a willingness to have fun. 
The first session is free, with the training course likely to last between 12-14 weeks depending on how quickly the group progresses. Each week after the initial session costs £5, which helps to fund the club. 
Think you've got what it takes to be a Roller Derby superstar? Contact Border City Rollers at www.bordercityrollers.com or http://facebook.com/bordercityrollers.
Places on the "Fresh Meat" course are limited, and signing-up is advised before 15th May to secure your place on the roster. The course begins on Friday 1 June, with weekly meetings taking place from 8.20pm – 10pm at Harraby Campus Sports, Edgehill Road, Carlisle.
Share It: