Bombay Mix Crusted Chicken from The Old Bank
Bombay Mix Crusted Chicken
The Old Bank in the Centre Of Carlisle and has gained a great reputation for top quality food.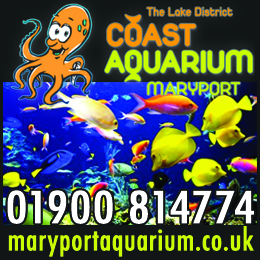 Head Chef Matt Rayson has shared this Bombay mix crusted Chicken Kiev with us.  It's stuffed with Bombay potatoes and served with charred cauliflower, spinach and spring onion salad.
Sounds delicious… make it yourself and find out.  Serves 4.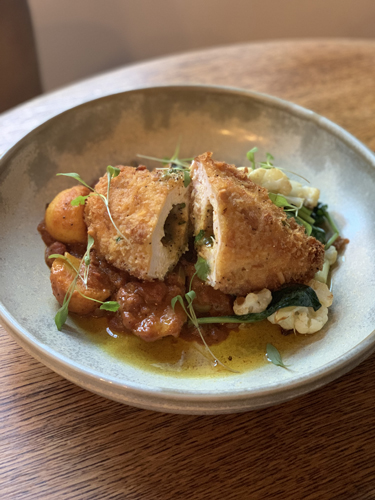 Ingredients for Kiev
4 Medium Chicken Breast
250g Salted Butter
3 Cloves Garlic, minced
2 tbsp Medium Curry Powder
1 tsp Poppy Seeds
Small handful of Coriander
2 Eggs, beaten
250g Plain Flour
150g Bombay Mix, crushed
250g Breadcrumbs (fresh or dried)
200ml Vegetable Oil (for cooking)
100g Butter, Diced (for cooking)
Bombay Potatoes
3 tbsp Vegetable Oil
500g New Potatoes, cooked and quartered
1 Medium Onion, finely diced
3 bulbs Garlic, minced
2 tbsp Medium Curry Powder
1tbsp Ground Cumin
1tbsp Coriander Seeds
150ml Cold Water
2 x 400g Tins Chopped Tomatoes
200g Fresh Spinach
Salad
1 Cauliflower, De Floret and cook for 5 mins in Boiling Water. Charr 500g of baby spinach in a frying pan and dice 1 bunch spring onions.
Method
1. Soften the butter and add Curry Powder, Poppy Seeds, Minced Garlic and Coriander.  Mix until thoroughly combined. Rest in the fridge for 30 mins. Preheat oven to 200 degrees (Gas Mark 6).
2. Lay chicken flat on a chopping board, using a sharp knife make a small pocket in the fatter end by pushing the knife right into the middle of the chicken without piercing a hole.
3. Stuff each breast with a 1/4 of the butter mix.
4. Coat each breast in flour and Bombay mix mixture, then egg and finally crumb until evenly covered. Return to fridge
5. For the potatoes, heat the oil in a large saucepan and add curry powder, cumin and coriander seeds.  Fry for 2 minutes until the spices have turned golden brown. Add the diced onion and continue to cook for a further 5 minutes. Add the chopped potatoes and stir till combined. Add water, chopped tomatoes and turn down to simmer for 10 minutes until the liquid has reduced by half.  Season to taste with salt and pepper, add spinach and mix in.  Leave to one side.
6. Heat the vegetable oil in a large frying pan and place in each chicken breast. Colour on all sides for 2/3 minutes, take out and place onto a baking tray. Top with butter and cover with tin foil. Bake in a hot oven for 30-40 minutes, depending on size.
7. For the Salad combine all ingredients.
8. Pour half the buttery juices from chicken tray into the salad and mix until the spinach leaves start to wilt. Season to taste.
9. Place the Bombay mix in one half of a large bowl with the salad on the other side. Carefully cut the chicken in half and place on top of potatoes and salad. Tip any butter which is left over the top.

Share It: