BBQ Recipes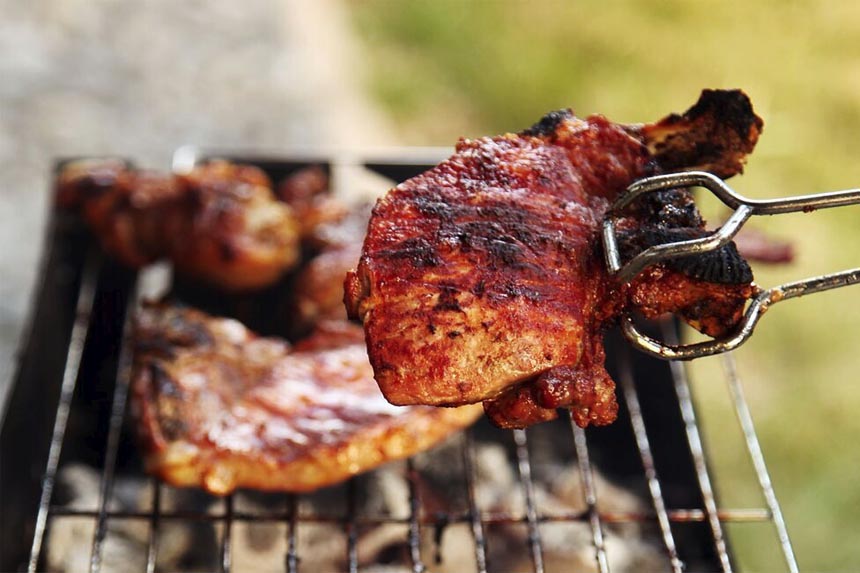 With the weather warmer and the evenings longer, it might finally be acceptable to dine Al Fresco again.
We British love nothing more than getting everyone together, throwing a couple of burgers on the BBQ, and pouring a large glass of Pimms. These mouth-watering recipes taste divine straight off the Barbie, but would be equally as nice cooked on a hot griddle pan, should the weather rain on your parade.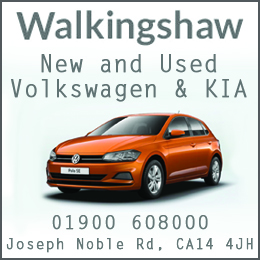 Blue Cheese and Apple Burgers
Take the classic beef burger up a notch, with Jamie Oliver's Blue Cheese and Apple Burger. Bound to impress your guests and get taste buds tingling.
Ingredients
750 g quality minced chuck steak
1 soft round lettuce
1 punnet of cress
2 Braeburn or Cox apples
120 g blue cheese
olive oil
6 burger buns
American mustard
Method
Make the burgers at least an hour before you want to cook them. Divide the mince into 4 portions and work each ball in your hands for a few minutes to melt the fat and mould them into a relatively smooth, round patty. Make them slightly bigger than your bun, as they will shrink when cooked.
Pop them on a tray, cover with clingfilm and chill in the fridge.
When you're ready to cook your burgers, get your toppings ready. Pick off, wash and spin dry the lettuce leaves, cut your cress, slice the apples, crumble the blue cheese into chunks, and leave everything to one side.
Heat the barbecue.
Cook the burgers for around 4 minutes on each side if you like them pink in the middle, or longer if you prefer them fully cooked, seasoning the patties with black pepper as you cook them.
Halve and toast the buns on the barbecue, then line them up on a board ready to go.
When the burgers are cooked, top each with the blue cheese and pop back on the barbecue for a couple of minutes until nice and oozy.
Now build your burgers. First layer the salad leaves and apple onto the buns, followed by a good drizzle of mustard.
Pop the burgers on, and top with the cress (a red onion chutney would be a great optional extra). Squish the bun tops on and serve straight away.
Sticky Chicken Skewers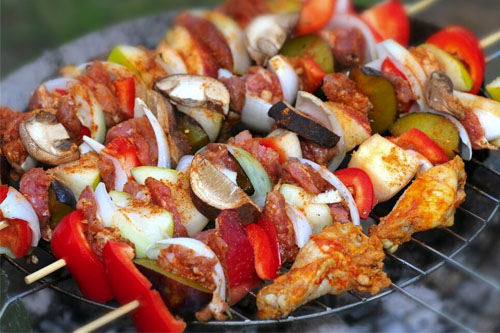 These really simple chicken skewers by James Martin, make a fabulous addition to a BBQ, or any party for that matter. They method is quick and easy, so they are ideal for getting the kids involved.
Ingredients
500g/1lb chicken breast, cut into 2.5cm/1in pieces
1 red pepper, deseeded and cut into chunks
small bunch spring onions
6 shiitake mushrooms, stem removed and halved
small bunch spring onions
3 tbsp mirin
3 tbsp Japanese soy sauce
3 tbsp sake (rice wine)
1 tsp sugar
Method
Thread the chicken pieces onto pre-soaked bamboo skewers, interspersing each piece of chicken with spring onion, pepper and mushroom.
Mix together the mirin, soy, rice wine and sugar and stir until the sugar dissolves.
Pop on the barbecue and brush the chicken with the glaze. Cook, turning every 30 seconds or so, brushing the top each time until the chicken is cooked through and the meat burnished a to mahogany glaze.
Share It: