Allerdale Days in Manchester Promotional Event a Success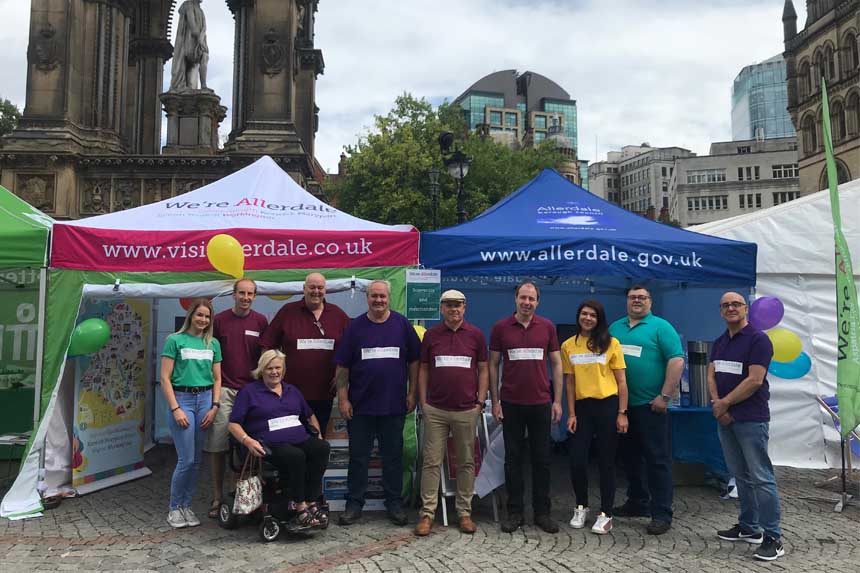 An event aiming to raise the profile of Allerdale in Manchester has been hailed a success.
Allerdale Days in Manchester took place on Friday 10 and Saturday 11 August and was organised by Allerdale Borough Council and CN Events, showcasing local businesses across a range of industries to promote the area and attract tourism and investment.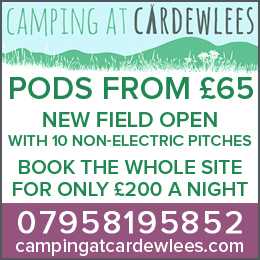 An evaluation carried out by Red Research showed that the event had a positive impact, highlighting that perceptions had been changed for many attendees. Many said they would now like to make a visit to Allerdale, some hadn't realised how close it was, or what the district contains, and many mentioned the passionate people and welcoming atmosphere. Over 90% of people said that the range, presentation and quality of stalls was either 'very good' or 'good', and overall visitor satisfaction was high.
Sponsored by TSP Engineering and BEC the event consisted of a mini Taste Cumbria food festival, a drinks tent run by Jennings and Tractor Shed Brewing, live music and virtual reality experiences. Businesses including M-Sport, GLL, Iggesund, Cumbria Tourism, Lakes College, University of Cumbria and Honister also attended the event at Albert Square to offer information and activities in the corporate area.
In addition, a drinks reception sponsored by Lakes Distillery was held on the Thursday evening to welcome attendees, and included speeches from the sponsors and the Deputy Mayor of Manchester, Beverly Hughes.
Alan Smith, Leader of Allerdale Borough Council, said: "Allerdale Days really made its mark on Manchester over the weekend. We found that a lot of people had heard of the Lake District, but not many had heard of Allerdale, so the event really allowed us to shine a spotlight on our area and show off what we have to offer. I'm so pleased with the response we've had from both the businesses and visitors who attended the event, and I'd like to thank everyone who came along and showed their support."
John Coughlan, Director of TSP Engineering, commented: "TSP Engineering were extremely excited and proud to be associated with the Allerdale Days in Manchester. It shows real foresight and initiative on behalf of Allerdale to sell West Cumbria as a destination for tourism and in particular as a place to move to, work and live the dream. This gave TSP Engineering the opportunity to show the advantages of working and being trained to a high level as a TSP Engineering employee. This was an opportunity to show that people make the place and the business."
Michael Pemberton, Chief Executive of BEC, said: "Allerdale has a lot going for it and one of the best commercial property offerings in the country – with space, variety and a diverse skills base on the doorstep. Every business in the region should snap up opportunities like this to showcase what we can offer and play a part in the area's economic growth; proactively seeking opportunities for their business and others."
Millie Forster, UK Trade Marketing and Events Manager at Lakes Distillery, added: "The Allerdale Days in Manchester event was a great opportunity to promote our local area to Manchester and the visitors to Albert Square over the weekend. The drinks reception was a great opportunity to showcase what we offer and the attendees seemed to enjoy the drinks. We look forward to attending the next event!"
Graeme Mitchell of Tractor Shed Brewing commented: "We had a great time and thoroughly enjoyed introducing the people of Manchester to our Tractor Shed beers and the borough in which we brew and live. I think people were surprised by the fact that we are a small brewer that brews lager and also that there are so many things to do in our area outside of the usual mini break and fell-walking. It was also really nice to see so many 'ex pat' Cumbrians who came to have a crack over a decent pint!"
Sarah Grave, Brand Manager at Jennings, added: "It was great to be part of an event that showcased everything that Allerdale has to offer, and the businesses really came together to show people the best of the area and why they should visit and invest. We really enjoyed meeting the people of Manchester who came along to sample Jennings beers and the live music in the tent gave the whole event a fantastic atmosphere."
Share It: