Underneath the Christmas Lights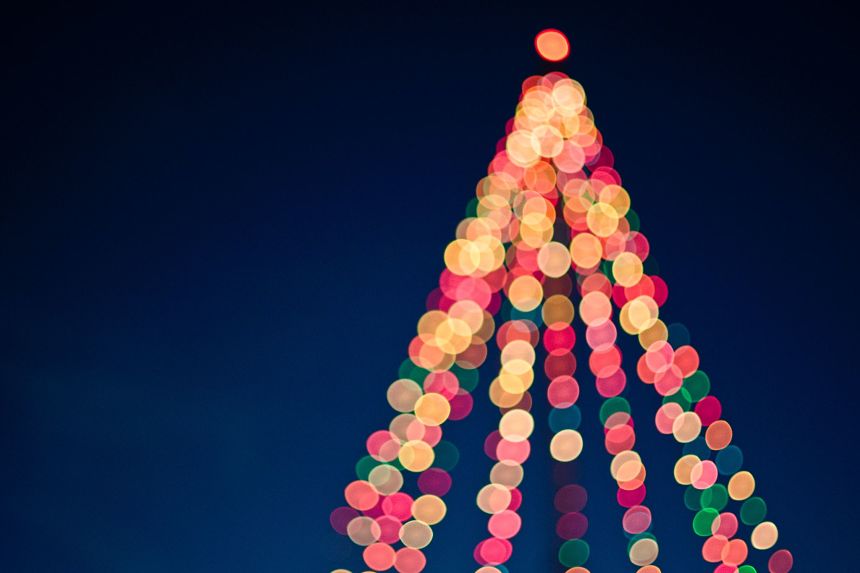 The Christmas Light Switch on brightens up a wintery day and is a wonderful way of bringing a whole lot of colour to town on these dark nights.  We have compiled a complete list of Christmas light events in our area.
17 November
You'll hear 'Stay Another Day' by East 17 a couple of times over the next few weeks but superfans can see the band perform live when the much-loved pop act and boyband favourite Max George headline Carlisle's Christmas Lights Switch-On.
Named after the postcode of their Walthamstow home, East 17 sold more than 18 million records worldwide with their mix up of hip hop and R&B.  They had huge hits such as 'House of Love' and 'Let It Rain' along with the perennial Christmas favourite.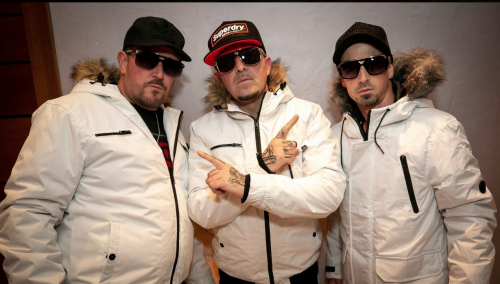 Max George is a singer and actor. He was a member of The Wanted who went on to global success, including two No. 1 singles.  In 2014 he landed his first acting role in the TV series Glee.
Local dance groups, school choirs and performers like Joe Hurst, Rocket Theatre School and Studio A Dance will join the celebrities.  The evening will be hosted by Barbara Nice and many will recognise the Stockport housewife from Britain's Got Talent.
The star-studded stage will be set up outside the Old Town Hall and acts will wow the crowds between 3.30 – 5.30 pm.   It's organised by Carlisle City Council and is packed with entertainment for all ages.
The Mayor of Carlisle, Cllr Marilyn Bowman will trigger a galaxy of Christmas lights in the city centre at 5 pm.
Visit www.discovercarlisle.co.uk for festive events information.
Whitehaven
17 November
 The Whitehaven Christmas light Switch is always an action-packed day as Lowther Street and the CFM Roadshow takes over.  The day starts at 10:30 and there will be loads of giveaways and local acts to keep the crowds entertained like the Committed2Rock Choir, Stage Stars, Bounce and Soundwave.  Pepper Pig and George will be on hand for meet and greets with the little ones, while stilt walkers and street performers will wow the crowds along with Taylor's funfair.  Find the perfect gift with over 30 stalls on the Christmas market and the lights will be switched on at 6 pm by the Ed Sheerin tribute.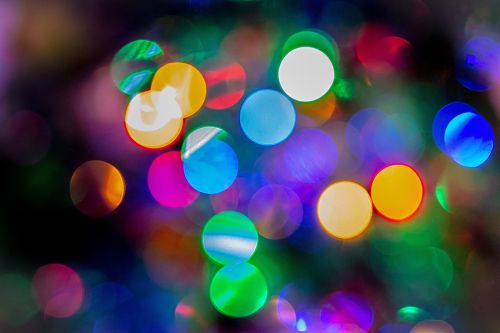 Cockermouth Christmas Lights
17 November
 Cockermouth Main Street will be shut down as the funfair and Christmas market take over.  The main stage programme begins at 2 pm and is packed with the likes of Harry Bibby, Mandy's Dancing Divas, Luke Matear and Mojo Rising.  The star of the show is the fantastic Christmas lights which will be switched on at 5 pm.  Come and meet the Ice Queen, Ice Princess and the Reindeers.  To get everyone in the festive spirit there's mulled wine, mince pies, face painting, Get Fizzed and a Giant Snow Globe.
Keswick Christmas Lights
22 November
Expect some tasty treats and great gift ideas as the food and gift fayre gets into full swing from 10 am in the Market Square.  The town will alight at 7 pm when Keswick's local firemen flick the switch and illuminate the spectacular display.  Peter Rabbit from Beatrix Potter will make an appearance on stage prior to the light switch on and the Committed2Rock Choir will bring some festive cheer from 6.15 pm.  There will also be a Christmas tree switched on in Packhorse Court along with various events organised by the local Rotary Club.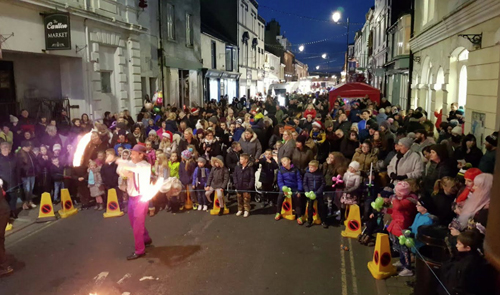 Maryport Light Switch On
23 November
There will be entertainment on the street and stage with performances by local schools and an afternoon of fun and entertainment and fairground fun for all the family on Senhouse Street which begins at 1 pm.  Find Santa in his grotto at the Labour Club, there will also be a range of craft stalls raising funds for local groups and organisations. The Town Council will provide plenty of free activities including face painting, glitter tattoos, umbrella decorating, crafts and music and hot drinks followed later in the day by mulled wine and mince pies in the Town Hall. Lights will be switched on at 5 pm.
Brampton Light Switch On
24 November
 Brampton Parish Council always put on a great day when it comes to the Christmas lights switch on.  The lights look fantastic and the event is always a festive favourite with an action-packed stage show running from 3 pm until 6.  A host of local performers will keep the crowd entertained and a fair will add a bit of festive cheer for the kiddies.  There will be plenty more taking place across the day and everyone should be prepared for plenty of singing, food, drink and activities.
If that's not enough the kids will also find Santa tucked away in his grotto in the Moot Hall where free refreshments will also be served.  The big switch-on takes place at 5 pm and with the lights on the festive season will really swing into gear.

Cleator Moor
29 November
The Christmas market will be held in the Cleator Moor Civic and Masonic Centre on Friday the 29th of November.  Commencing at 3:30 pm there will be a range of stalls selling Christmas goods and a variety of gifts.  Tea, coffee and food will available and to help bring in the festive feel there will be mulled wine and mince pies. The kids should keep their eye out for Father Christmas who'll be in attendance and if they're on the nice list they'll receive a free gift.  The Cleator Moor Brass Band will be playing and are sure to add a wonderful festive feel. The highlight of the day, the light switch on, will take place at 5:30.
Workington Christmas Festival
30 November
Celebrate Workington's Christmas lights with an amazing festive festival and a jam-packed day of entertainment including live music and performances, walkabout entertainers, face painting, funfair, storytelling, princesses, superheroes, magic and puppets. The Christmas market stretches onto the main street with a fabulous mix of independent local businesses selling tempting treats and beautiful hand-made gifts.  Committed2rock will be back for another and the lights will be switched on by the Mayor at 5 pm.  The festival starts at 11 am and is a great day out for everyone!
Wigton Christmas Lights Festival
1 December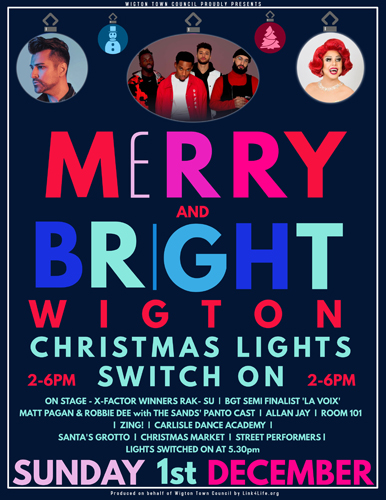 Wigton High Street will shut down to traffic as Christmas takes centre stage.  A market will be set up and a stage show featuring X factor winners Rak-Su and BGT semi-finalist La Voix will add a real festive atmosphere.  Other acts include Matt Pagan, Robbie Dee and the Sands Panto cast, Allan Jay, Room 101, Zing! and Carlisle Dance Academy.  Street performers and face painters will be on hand to keep the kids happy too and Santa can be found in his grotto in the library.
There will also be an indoor craft fair with over 20 stalls of quality hand made gifts and food – all made locally. There will be stunning artwork, jewellery, knitwear, preserves, fudges cakes and a range of other great gift ideas.  The day is organised by the Wigton Town Council and will kick off at 2 pm with the light switch on scheduled for 5:30 pm.
2 December
The Longtown lights will be on by early December and while there is not an official light switch that doesn't mean they do not intend to celebrate Christmas.
On Sunday the 1st of December there will be a festive market which takes place in town.  Last year there were upwards of twenty stalls selling a range of festive goods and local shops were open late so everyone can have a browse and enjoy a cup of mulled wine.  It's a great family day and is a real chance for the community to come together.
On Friday the 13th of December Arthuret Parish Council will host its annual Senior Citizens Christmas party.  Enjoy a full Christmas dinner with a bit of entertainment and a visit from the Mayor of Carlisle.  It's a free event open to anyone aged 70 and over who live within the Parish.  Contact the council to register your interest on 01228 791739
Share It: