Meet The RedFaces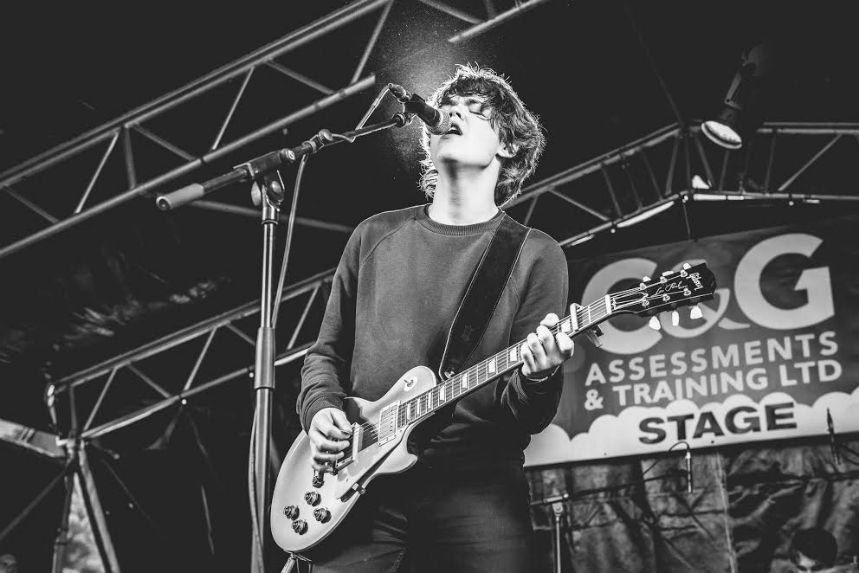 By Niall Spence
Cumbria's hottest new festival Milecastle 66 set the city alight at the end of summer and despite the weather's best efforts; the rain didn't dampen the spirits of thousands of Cumbrian revellers.
Niall Spence spoke to Harry and Isaac, from RedFaces, half of the band revered by many to be the band of the festival. Known for their fantastic hooks and melodies these Sheffield lads have just finished their A-Levels and are already taking the indie music scene by storm.
A gang of lifelong friends, this group of schoolmates put on a staggering live show at Milecastle 66 and are rightly winning plaudits up and down the country with their widely influenced and unique sound.  It is not only Milecastle 66 that the lads have ripped up, having played storming sets at both Leeds Festival and T In The Park as well as supporting acts such as The Strypes and The Courteeners (Visiting Carlisle 24 November).
RedFaces said:" Milecastle was great! We really enjoyed the show. We turned up early and it was pretty quiet but it soon filled up and was really busy. Everyone was really lovely to us hopefully we'll be up there again soon because everyone treated us so well"
This un-ignorable quartet have had support emblazoned upon them by the likes of BBC radio DJs Steve Lamacq and Huw Stephens and are now focused on their upcoming debut single.
 Consisting of: Harry Lyon, Andy Wynn, Isaac White, and Charlie Yapp the indie band's name comes from a rather embarrassing incident when they were first starting out.
Harry and Isaac explained: "It's a bit of a daft story, the name comes from when we were a lot younger and we were playing live shows and we got up onto the stage and we all had bright red faces. We still occasionally have hot sweats of regret when we're thinking about the name"
Coming from the northern music powerhouse that is Sheffield, a city now almost as renowned for its singers as its steel; it is easy to imagine that an up and coming band like Redfaces would feel dwarfed by the pressure of living up to the Steel City giants such as Arctic Monkeys, Pulp, Human League, Reverend and the Makers and Milburn.
 But the band seems genuinely unfazed by their predecessors stating:  "We've never really thought about it we do different things so we're not trying to compete with any of the bands from Sheffield. We just try to be what we are rather than imitate anyone else. We think our live shows are more interesting than a lot of bands"
"We like people to join in and be a part of something at our gigs. We've been trying to make other parts of the band more focal. We didn't set out to be a guitar band even though there are a lot of guitar pieces in our tracks"
Every part of the band has a significant role to play.Although far from imitating the band draw inspiration from such a cocktail of sources and it is this wide inspiration that gives RedFaces their unique twist.
 They explained: " There are so many different things that inspire us, we go through different phases.When we were first starting out there was the classic influences like The Beatles. You mature and
you have your own tastes develop more"
"At the moment we're taking some influence from an Australian band called Tame Impala. It's an ongoing process from everyone.Today's music scene is awash with potential talent and the charts littered with pop and dance acts, making it a real struggle for burgeoning young bands like RedFaces to break the mould and emerge to the top".
They argued:  "I don't think it matters a lot really, it's not really a problem we're not out there to go and compete for the number one slot. There are so many different types of music and we respect them all. We don't see ourselves going up against some acoustic pop artist for number one"
"We just want to do our own thing and make music. We want it to get as big as it can get. We've never been bothered about fame or money. We'd like to come on musically, develop our sound and creep into new musical areas".