New Support Service for over 55's in Millom and surrounding areas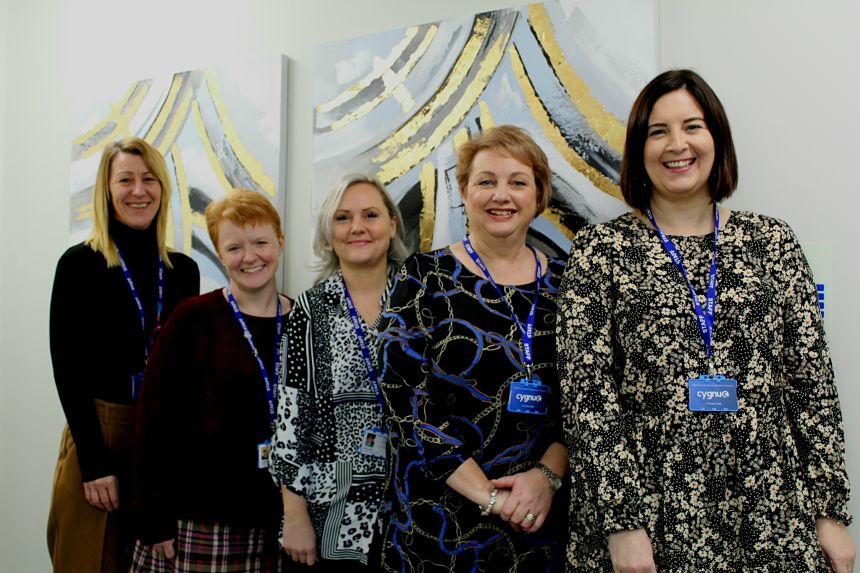 "Giving our older generation the opportunity to live fulfilled and independent lives, through providing personalised advice and support".
Copeland Age and Advice Service (CAAS) recently announced a formal launch of its brand new, not for profit, Social Enterprise in Millom. The service provides a home visiting service to provide information, advice and guidance to over 55's in relation to financial matters, housing issues and in enabling people to live safely and independently wherever they choose. 
CAAS will provide:  
Benefit checks and assistance with making relevant benefit applications

Advice and help on money matters  

Help to understand and access relevant Housing Options 

A form filling service i.e. Blue Badge applications, Power of Attorney Applications, grant applications including Disabled Facilities Grants, completion of housing forms (Choice Based Lettings) etc. 

Support with Independent living through an assessment of a client's home in relation to the recommendation of relevant aids, equipment and adaptions as Qualified Trusted Assessors.  

General advice and information on later life issues
Local ladies Becky Goddard and Lesley Amor decided to set up CAAS after they were made redundant from their roles when funding ceased for the Place Based Prevention Project, previously ran by Age UK West Cumbria.      
Lesley Amor, Financial Director says "We knew what a huge impact this service had on our clients and letting it go just wasn't an option for us.  We believe that to assess a client's needs fully we need to carry out a holistic assessment in their home environment, currently no other organisation provides this specialist support locally" said Lesley. "We know from experience that client's often do not know about the help and services available, and so will never approach anyone to ask for assistance, making them vulnerable and at risk".  
Operations Director Becky Goddard added "With a large proportion of the population living rurally, access to services can be challenging. Many areas have poor transport links and therefore a service that provides home visits for clients who are unable to access an office base, whether due to difficulties with their health or their remote location, means they will still be able to access our support". 
The staff have many years' experience in supporting the over 55's in Copeland along with a large network of contacts in relevant fields such as Health Care Professionals, Health and Social Care staff and a variety of third sector organisations. They are qualified Trusted Assessors as well as agents for the DWP and have a shared passion to support the vulnerable older generation in a caring and compassionate manner. 
Copeland Age and Advice Service are funded through Copeland Community Fund, Cumbria Community Foundation, The National Lottery Community Fund and Sellafield Charity Snowball. 
Keith Hitchen, Chair of Copeland Community Fund said "The Fund is delighted to support CAAS as a major funder with a grant of £52,445. We believe the range of information and support on offer will support independent living, increase household incomes through support in accessing benefits and generally improve the health and wellbeing of the increasing ageing population of Copeland."
Ellen Graham from Cumbria Community Foundation stated "Cumbria Community Foundation are proud to support such a worthwhile and much needed service for the older generation of Copeland. The staff at CAAS have many years-experience in supporting this client group, offering a bespoke personalised service for older people".
The service formally launched on Tuesday 1st October 2019. For more information on this service, visit www.caasteam.com, search for Copeland Age and Advice Service on Facebook or Instagram or phone 01946 552166.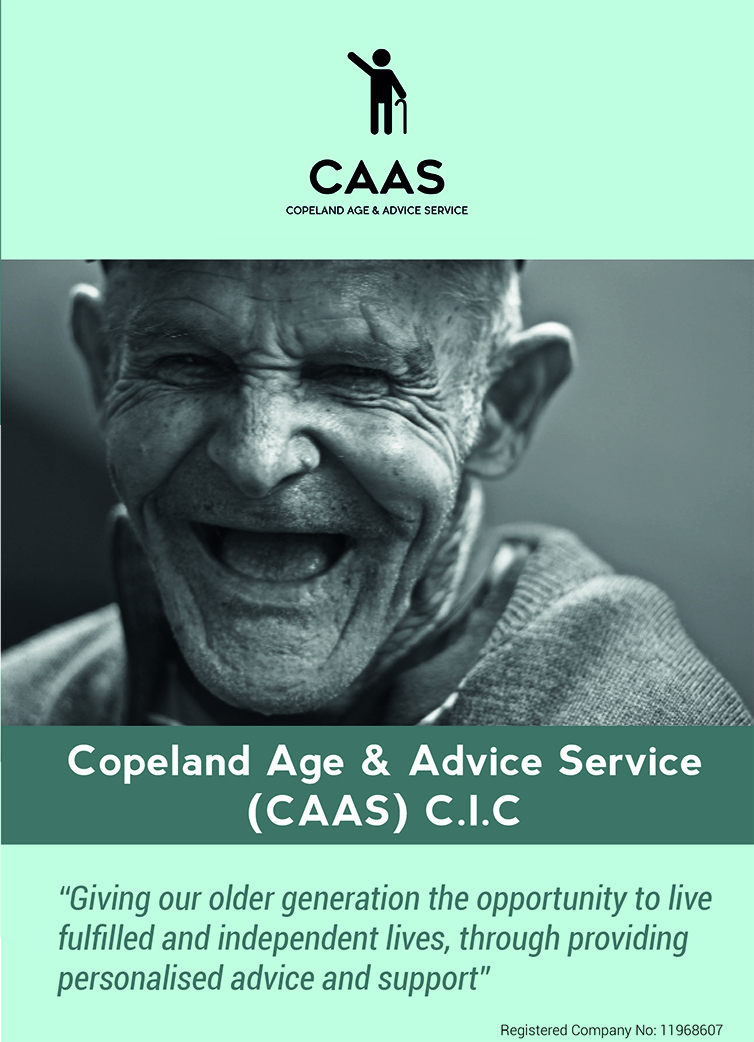 ---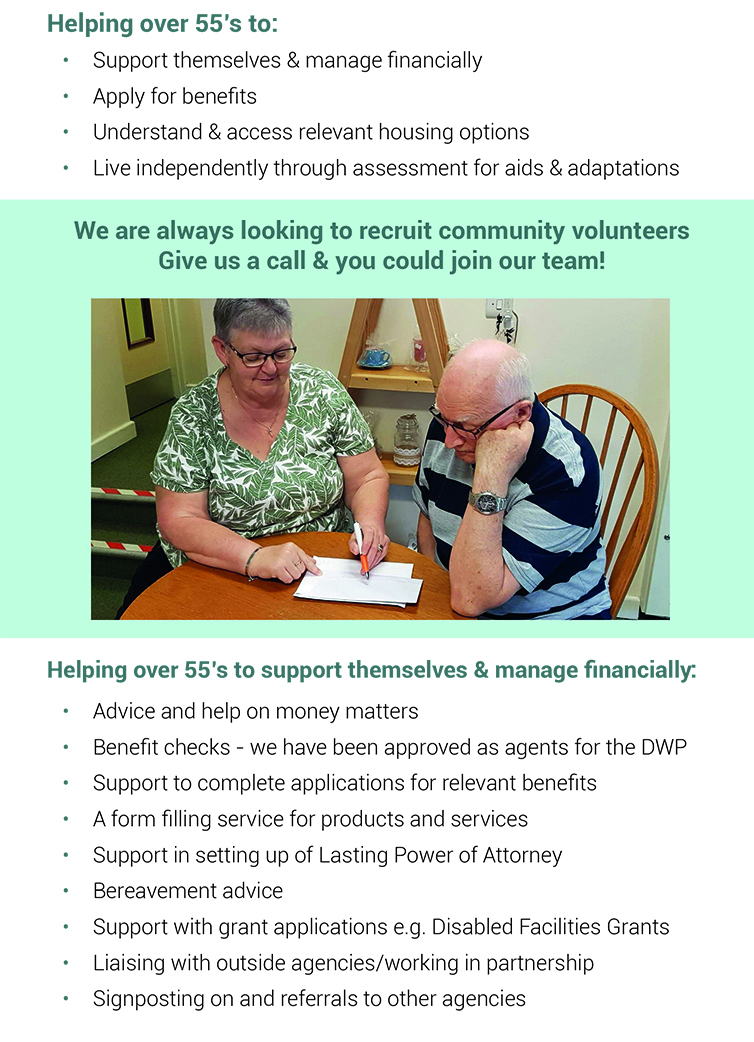 ---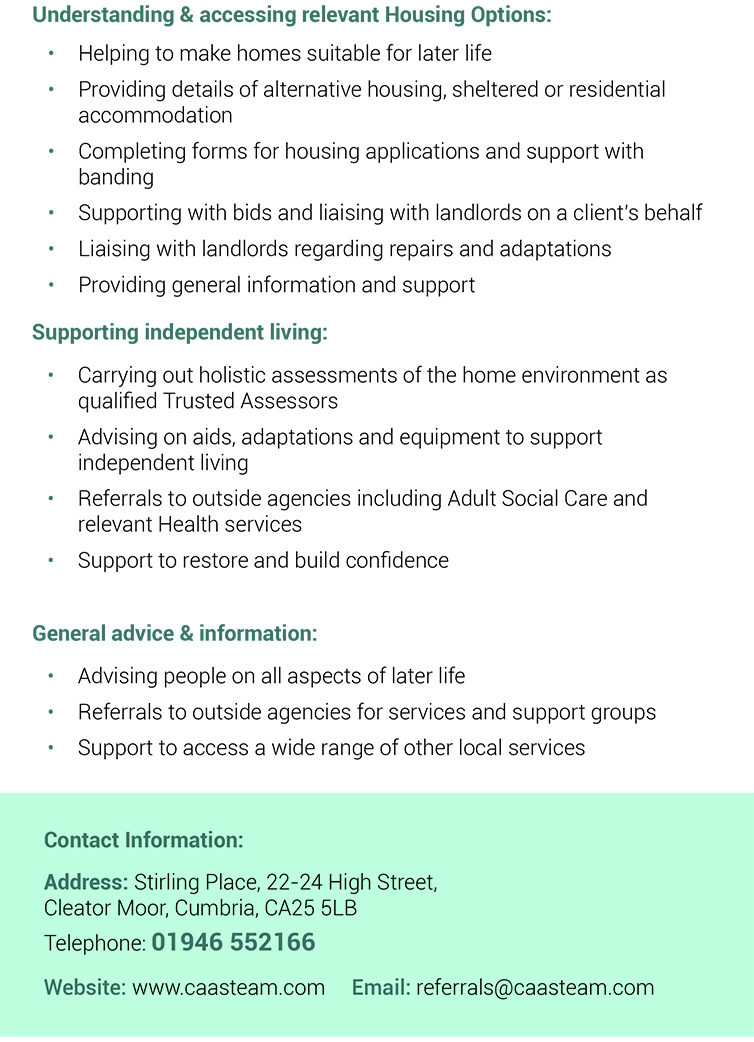 ---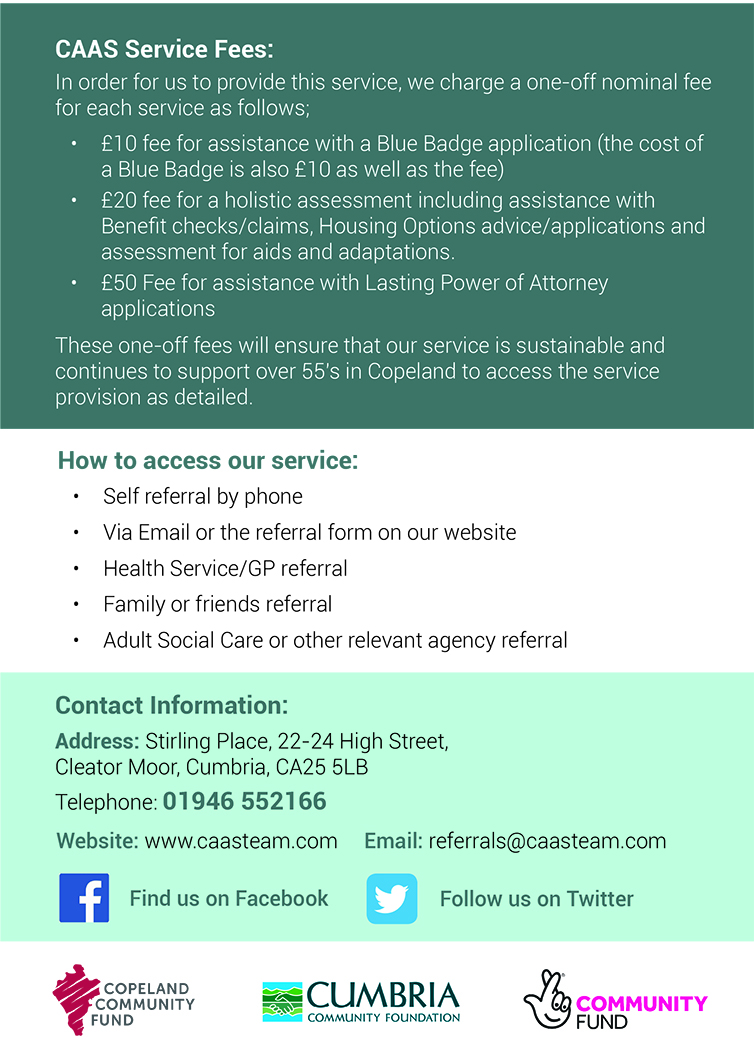 Share It: