Make a change that lasts a lifetime by becoming a foster carer this year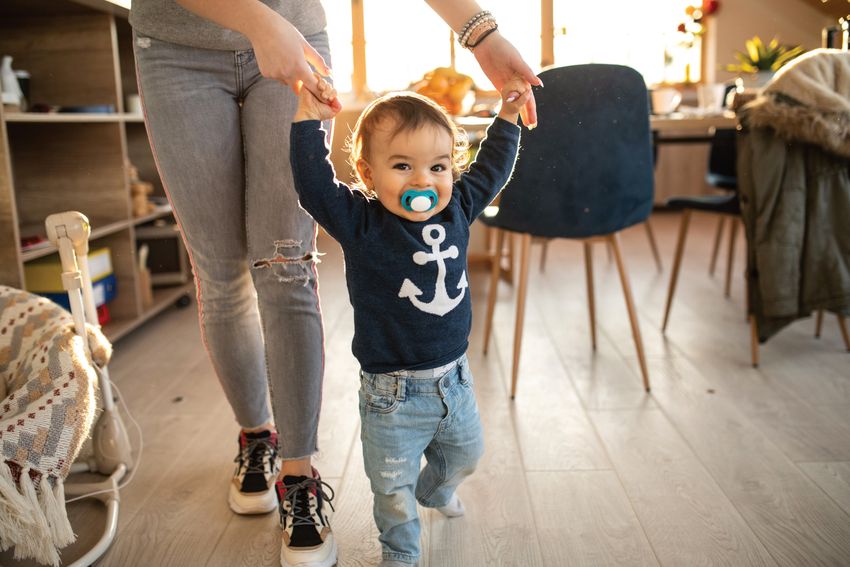 January is often the time when we re-evaluate what is important to us and think about taking a new direction in life or having a fresh start.
This month Cumbria County Council is asking those who are ready for a new challenge to think about fostering and making a lasting impact on the lives of vulnerable children.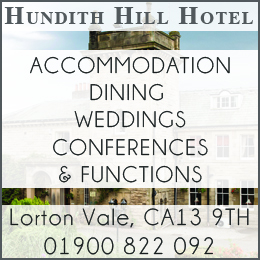 Children in your area need a safe and loving homes and you can change a child's life this year by becoming their foster carer. Fostering offers flexible home working, more time with our families and is an incredibly rewarding role where you can really make a difference to the lives of children and young people.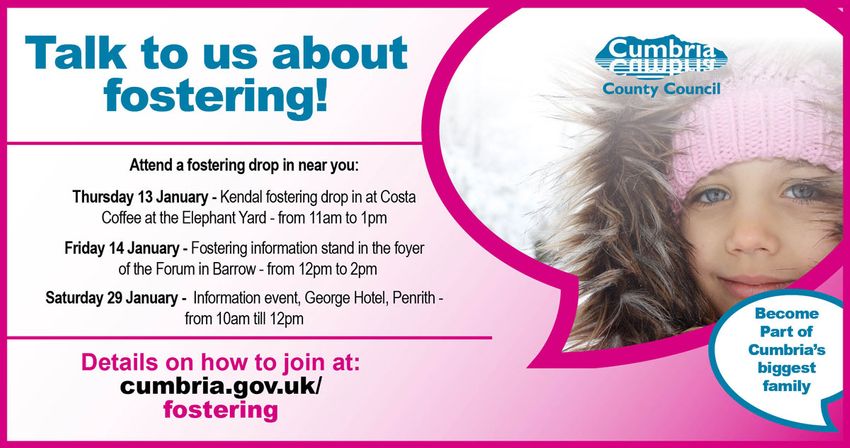 As part of a countywide campaign launched today (January 7) Cumbria County Council's fostering service is running a series of information events across the county, offering people the chance to speak to their friendly team and foster carers about different types of fostering, the children who need homes and the rewards of this challenging role.
Find out more about fostering at an event in your area this month:
Thursday 13 January – An informal fostering drop-in at Kendal's Costa Coffee at the Elephant Yard, from 11am to 1pm
Friday 14 January – Fostering information stand in the foyer of the Forum in Barrow, from 12pm to 2pm
Friday 28 January – Fostering information stand at The Lanes in Carlisle, from 12pm to 2pm
Saturday 29 January – Penrith information event (includes a short presentation on fostering) at the George Hotel, Devonshire Street, Penrith CA11 7SU, from 10am to 12pm
No need to book a place, just come along to an event near you and take that first step on your fostering adventure. Wherever you are on your fostering journey we'd love you to join us!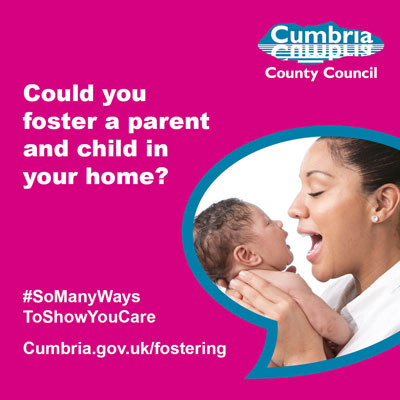 Cllr Anne Burns, Cabinet Member for Children's Services, said:
"Foster carers come from a wide range of backgrounds and professions, but what unites them all is a desire and ability to give children the start in life they deserve and to support young people in care to reach their potential.
"If you feel you could make a difference to the lives of local children by offering them a loving home, then we'd love to hear from you. Attending one of our events around the county is a great way to find out more about how you can change a child's life this year and your own!"
Our fostering service currently supports around 275 foster carers but with more than 725 children in care across Cumbria, there is an urgent need to recruit more carers for children of all ages this year.
If you have at least one spare room and the time and commitment to nurture a child or young person, then we'd love to speak to you at one of our events this month.
In return we offer excellent support and training, along with generous payments for each child you foster. Our dedicated team will be with you every step of the way.
To find out more about fostering come along to one of our upcoming events in your area or contact us today on 0303 333 1216 or visit cumbria.gov.uk/fostering for more details.
Share It: