Forget Bronze – Billy goes for Gold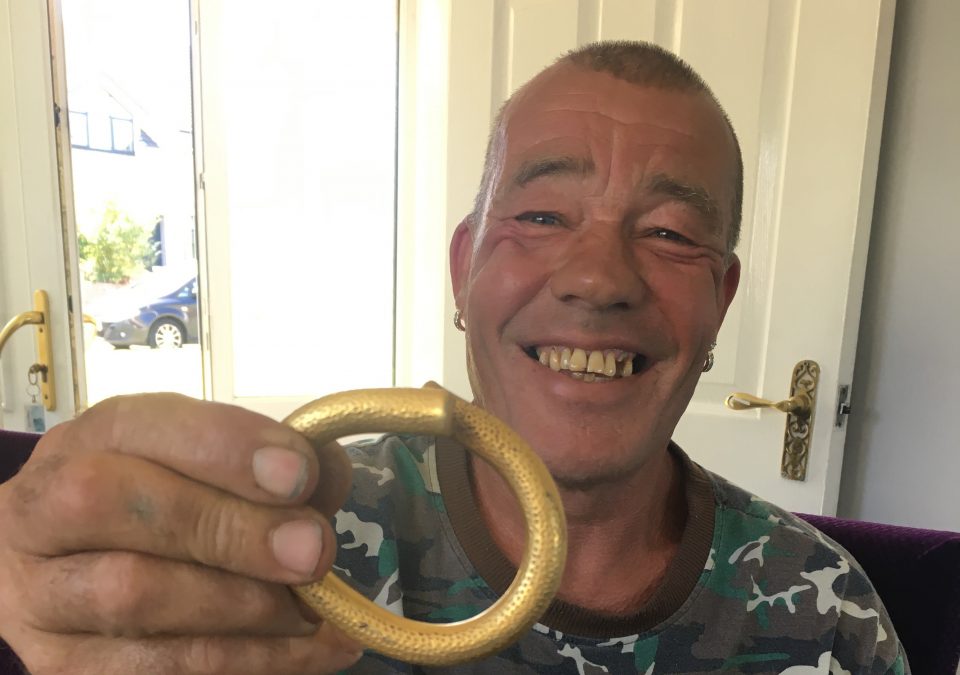 Not many of us get a chance to rewrite history but Whitehaven metal detectorist, Billy Vaughan, has done just that when he unearthed a nearly 4000-year-old gold bracelet from a West Cumbrian field.
The 22-carat, Bronze Age bracelet, weighs in at 310 grams – almost 11 ounces – and the find stunned Billy who has been detecting for a little over six months: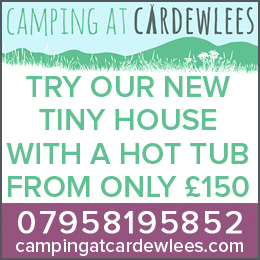 "I was happy finding buttons or the odd silver coin but this was unreal. I dug it up, put it in my bag and thought nowt of it.  I figured it was one of those clips mountain climbers use, I never believed it was gold, particularly because it was only 5 inches below the surface.  It was almost like someone placed it there.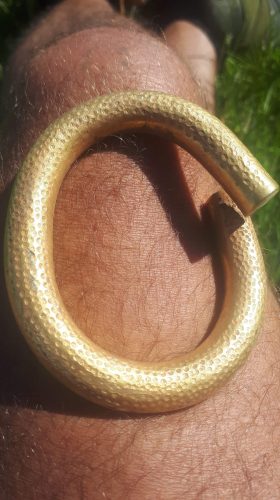 I carried on and when I stopped for a coffee I had another look.  I called a fellow detectorist Spud, to help ID it and sent some pictures.  His response was immediate and was of a type that is sadly not suitable for publication but he indicated it was gold and most likely Bronze Age."
Care worker Billy helps look after people with challenging behaviour, dementia and autism and his new hobby helps him get some fresh air and is his chance to relax.
But he's generated a lot of excitement and Julian Evan-Hart, who is the editor of Treasure Hunting magazine, believes the arm bracelet is up there with some of the most significant finds of the last half-century: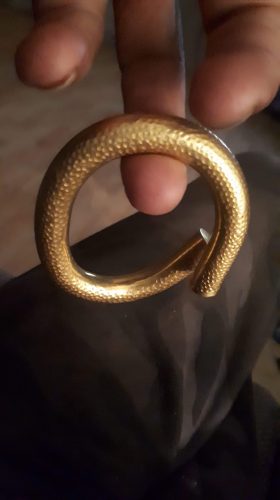 "It's quite a find, particularly considering its size and weight.  It's lovely because it's unusual to find decorated Bronze Age gold.  They seemed happy with plain pieces, so this asks all sorts of questions like, is this a one-off?  Or has it been in the ground for 1500 years and then found by a Viking, because the decoration is closer to something they would do.
Also, why was it bent?  Was it ploughed some years back or was it deliberately vandalised so it couldn't be worn, or was it some ritual we don't understand?  We just don't know."
Finds over 300 years old, need to be reported to the local Finds Liason Officer and Cumbria's is Lydia Prosser: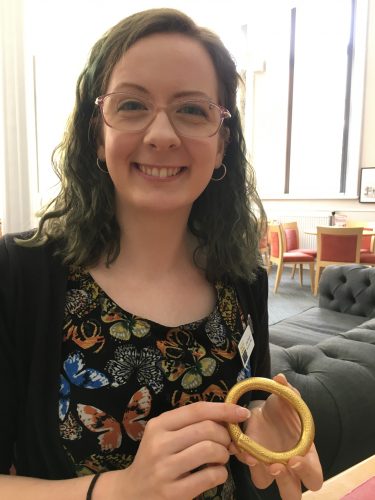 "I personally haven't seen anything like this in my years and I have worked across Yorkshire, Lancashire and Cumbria.  At first, there didn't seem to be any parallel with the unique decorations and it presented a lot of questions.
But experts have started looking into it and Neil Wilkins, who is the Curator of the Bronze Age artefacts at the British Museum, came across a similar arm ring of Irish origin.  So the latest thinking is it was brought over, or traded, in Ireland.  That may place it as late Bronze Age, around 1800BC."
Billy would love to see the bracelet remain in the area, as would the Director of Whitehaven's Beacon Museum, Elizabeth Kwasnik:
"It would be a significant addition to our collections, we don't have anything remotely similar and it would fill a gap in the record for West Cumbria.  Finds like this involve a long process and whether we are successful in acquiring it or not is for others to decide.
If it's defined as a treasure then the British Museum may have an interest in it.  Obviously, the Beacon would love to house the piece but we would need to look at various funding to allow us to purchase it."
From our point of view at The West Cumbria Guide, we think this would be amazing for the local tourism drive and create another reason to visit the area.  We believe it's imperative the wheels are set in motion now so this valuable artefact can be housed in The Beacon and enjoyed by generations to come.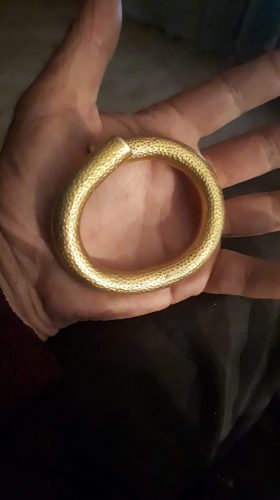 If you want to discover the treasures of yesteryear metal detecting is a hobby open to everybody and if you're lucky enough, you might re-write our history, just like Billy.
Don't forget: finds should be reported to your Liaison Officer, Lydia Prosser, on 01772 532 175 or email Lydia.Prosser@lancashire.gov.uk
A detailed nationwide database can be found at www.finds.org.uk
All images Copyright of The Guide Media Group
Share It: