Carlisle's Bitts Park Jubilee Programme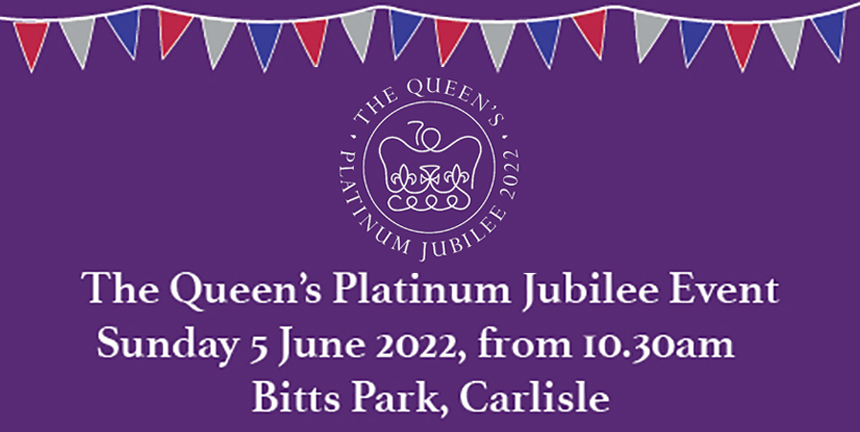 Carlisle's Bitts Park Jubilee Programme
The programme for Carlisle's Bitts Park Queen's Jubilee event has been announced.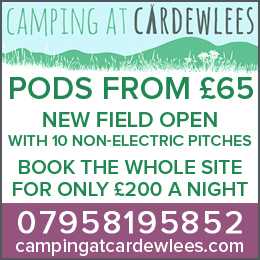 The free community celebration will be held from 10.30am on Sunday 5 June and will include a giant screen, family activities and community stalls.
10.30am: event is open to the public
11am – 1pm: Outdoor cinema screen showing the family sing-along film 'Encanto'.
1pm – 2pm: The Big Jubilee Lunch. Bring a Jubilee picnic and visit our Custard Cream Café (one free drink and treat per person – subject to availability). You can also buy food and drinks from the on-site catering or from Tribe Carlisle. Please note that no alcohol is allowed at the event.
1pm – 2pm: Entertainment and parade by Multicultural Cumbria.
2pm: Live screening of the Jubilee Pageant from London.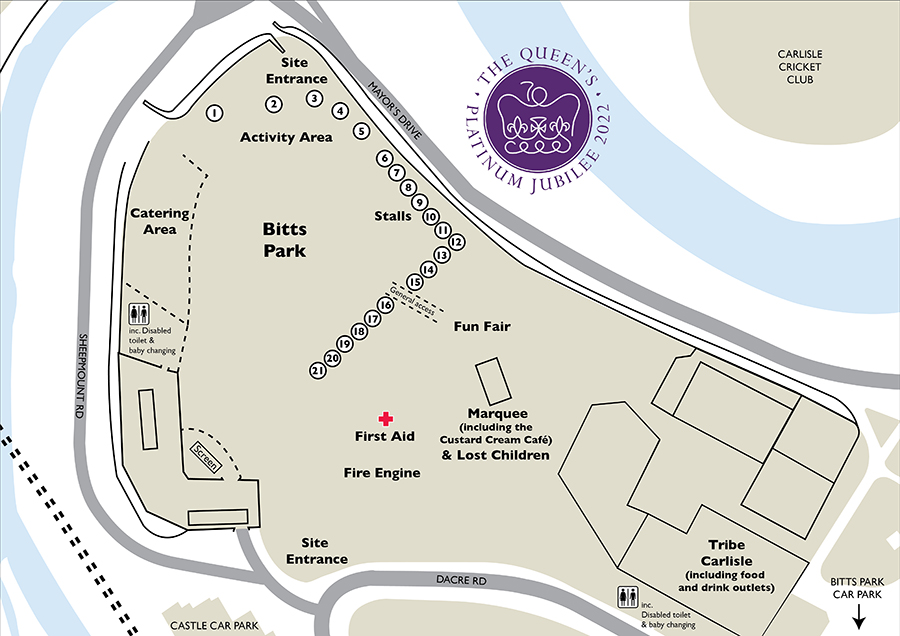 There will also community stalls, children's activities, Fun Fair rides (payment needed) and catering facilities (payment needed). Free activities include:
Cumbria Fire and Rescue Service will be bringing a Fire Engine and will talk about fire safety.
Cumbria Wildlife Trust – little actions for nature that can make a big difference for people, wildlife and communities.
Carlisle College – photo booth with dressing-up props, treasure hunt and face painting to commemorate the Jubilee. A jubilee themed canvass painting by local artist Paul Goffin will also be raffled off to one lucky winner (payment needed for raffle ticket/s). The artist has kindly produced this original painting for free and full proceeds will go towards the Carlisle Mayor's Charity Fund.
People First – a festival of mini activities.
Tullie House Museum and Art Gallery – hands-on Coronation and Jubilee treasures and family activities
Active Cumbria, Park Play and Carlisle City Council – promoting walking, cycling and active play.
Carlisle Community Cycle Hub – with a selection of bicycles for people to try out along with a demonstration of cycle safety.
Carlisle Cathedral – a labyrinth mat to explore and kite making.
Multicultural Cumbria – a variety of cultural activities.
iCan Health & Fitness – wheels of wellness and miniature trampolines.
History and Hope – connecting care homes and primary schools to capture stories of the past and hopes for the future.
Space to Talk – opportunities to talk.
Food Carlisle – encouraging local food growing and using 'Smoothie Bike' to make your own fruit smoothies. Plus, free vegetable plants to grow at home.
Cumbria's Museum of Military Life & Duke of Lancs Regiment – Royal linked activities plus collections from museum to handle along with items for dressing up.
Cumbria Pride – Royal crafts and children's activities (flag and badge making, decorating crowns).
Owl Magic – everything you want to know about owls.
Food at the Frontier – Roman Cooking with John Crouch and Roman activities with STEM Ambassadors.
Stu-di-doo – walkabout magic and puppets.
Lionel Playford – local artist offering mementoes of the day.
Football Cage – come and try out your soccer skills.
Rainbow Wishes Foundation – provides magical character entertainment that inspires hope, happiness and self-belief in children.
Nail bar – free Royal nail designs.
The theme of the Bitts Park Jubilee celebrations is 'Communities and Hope'. Carlisle City Council is one of the partners in organising the Bitts Park event.
Cllr Stephen Higgs, Portfolio holder for Culture, Heritage and Leisure said:
"It's been fantastic to see how many different people and groups from Carlisle have joined together to celebrate the Queen's historic reign. It's a day for them and the people of Carlisle to look to the future with confidence and with hope, inspired by the example of Her Majesty's 70 years of service and dedication."
"We know that times have been tough for everyone in the last couple of years and it's important that we come together to look after each other and celebrate the community spirit that will get us through to better times ahead."
"We would love to see as many people as possible come to the park on Sunday 5 June for a day of fun and celebration to mark the Queen's Platinum Jubilee."
The City Council has been joined by Carlisle Vineyard Church and Carlisle HealthCare Social Prescribing team in organising the celebrations.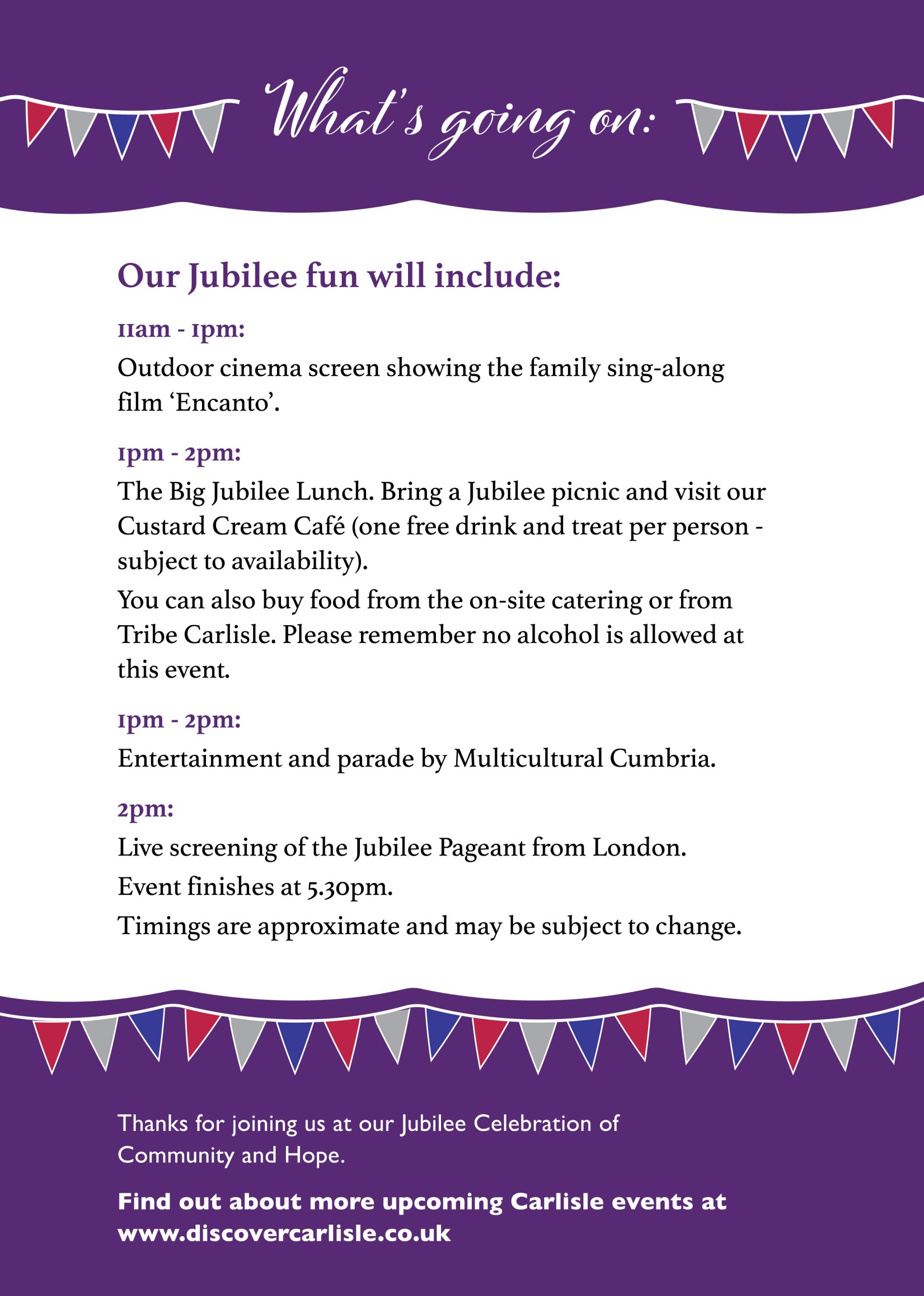 Share It: