Carlisle Guide Issue 41: July/August
Many ice pops were consumed during the making of this July/August issue of the Carlisle Guide – let's just hope that by the time you pick this up the heatwave hasn't completely cooled off.
What is it about summer that makes us feel inspired to channel our inner creativity? This issue is full to burst with people who have done just that; from the new owners of a Penrith music shop, to Wigton crafters and this month's 'Photographer in Focus'.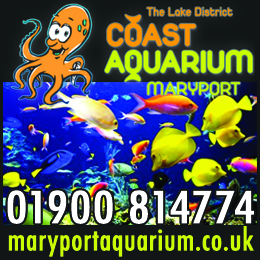 Carlisle Fringe returns at the end of August, with a bold selection of top notch comedy, theatre, music and dance. The jam-packed programme is real celebration of Carlisle, showcasing local talent alongside national work. This year's theme, 'Step Out of the Ordinary', encourages us to try something new and to delve into the diverse festival programme, which explores a range of themes, from female empowerment to disability, through established and emerging theatre, music, comedy and dance performances. Made in Carlisle, a fresh new addition for 2018, features lots of locally produced shows and exciting emerging artists who will present brand new shows exclusively for the festival. And the best bit? Most of it is completely free.
In keeping with the focus on homegrown talent, we tracked down the elusive Carlisle street artist known as 'Paz'. Those unique tiles which keep cropping up around the city – and much further afield as well – have been attracting attention for a while now, but who is Paz? We couldn't resist finding out more. Then there's a whole load of festivals, events and family-friendly fun coming up and of course, a newly-named World Heritage Site right on the doorstep just waiting to be explored this summer.
If all this doesn't leave you feeling inspired, I don't know what will. Maybe don't give up the day job just yet, but certainly do enjoy all of the great things going on over the next two months and take the opportunity to channel that creative spirit. And when you're done? We found the five best beer gardens around Carlisle to enjoy a pint in (you're welcome) so go put your feet up and enjoy the nice weather while it lasts.
Sarah
 x
Share It: